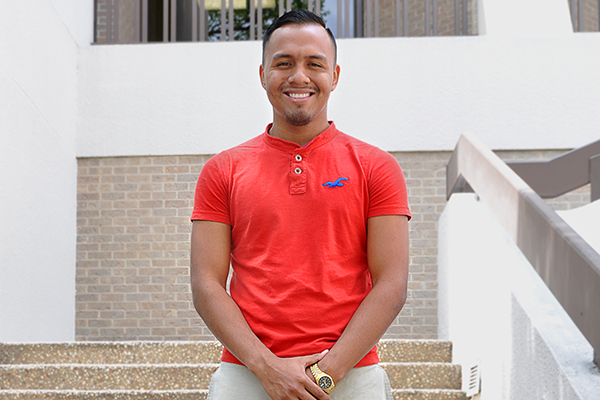 By DAVID RAMIREZ
Danny Garcia was announced as the new president of the Student Government Association on April 29. Garcia recently sat down to discuss his goals for next year.
Q: What do you hope to accomplish as president of SGA?
A: What I really hope to accomplish is the purpose of student government, which is getting students more involved with school. When students get more involved in school, they tend to be more successful when they see somebody cares about them. So basically, my goal is to get students engaged and show them that we care. I'm just a college student like you are. I'm young, I'm a teenager. I'm actually 19. I'm just striving for students' experiences to be better at Eastfield.
Q: Why did you want to become president of SGA?
A: I just like to serve people. It's a good thing to serve people. I felt like if I could take over this position and make an impact by serving my fellow students, friends and peers. That was a good thing to do.

Q: What does Eastfield mean to you?
A: Honestly, I think it means a lot just because I have been involved since I got here, almost since day one. I see Eastfield as a rocket launcher for students because you can go from here and become the next U.S. president if you really want to. It's just kind of like a land of opportunities for you to take on. I mean, look at me. I'm the SGA president. It's just things that can add to your resume that can launch you to a bigger position.

Q: Will you be taking any training this summer to prepare for the position?
A: Oh yeah, of course. I have to. I mean, you just don't take a big position and hope that you do all right. No, you have to go to some training. We have training for students that want to get involved as well. They can have a little knowledge of what they're doing so next year can be a really great year.
Q: Have you been a student body president before?
A: Not actually student body president, but I've been involved in SGA. I was actually a committee chair for the Campus Activities Board, which plans all the activities going  on around campus. I was part of the Men's Empowerment Coalition. Also, I've been part of the Science Club and other clubs as well.
Q: How will this position help you with your career goals?
A: I feel like the more leadership you take in, the more prepared you will be when you go into higher positions. For example, I might want to become a lawyer later, maybe a politician. So to already be able to familiarize myself with campaigning and what it is like to talk to people and socialize with them also helps me. Being in a leadership position just trains you for later on in life.
Q: What is your major?
A: I'm still deciding between liberal arts or political science.
Q: What university do you plan to attend?
A: Actually, I've been accepted into UTA, but I might change it if I get my grades to the right amount. I might be able to go to SMU or Texas A&M.
Q: What or who is an inspiration to you?
A: My dad. Since I was little, he's always given me the example of being a good man. He's actually pretty straight, if you ask me. Honestly, if it weren't because of that, I wouldn't be where I am now. He's always helping people, and he never asks for anything in return. He does it by heart, so that's why me working with him on cars as a mechanic has really helped me to just look at what he does and says. That is what really touches my heart and really drives me to be where I am and to help people.
Q: What are some of your hobbies and interests?
A: I like to do a little bit of everything. I like to play soccer. I like to run. I'm actually a video gamer as well. Also, I like to spend time with my family, friends, having fun and going out to eat at restaurants.