Garden organizers hope to give back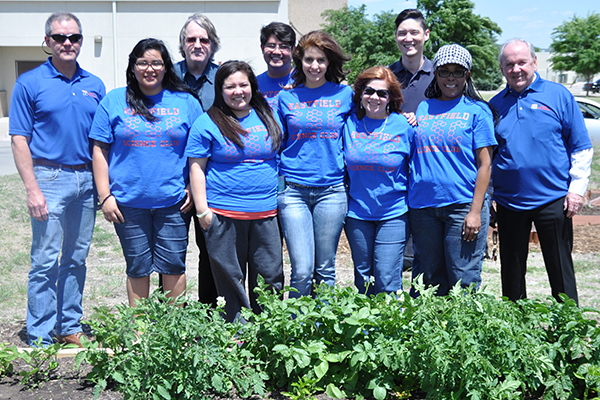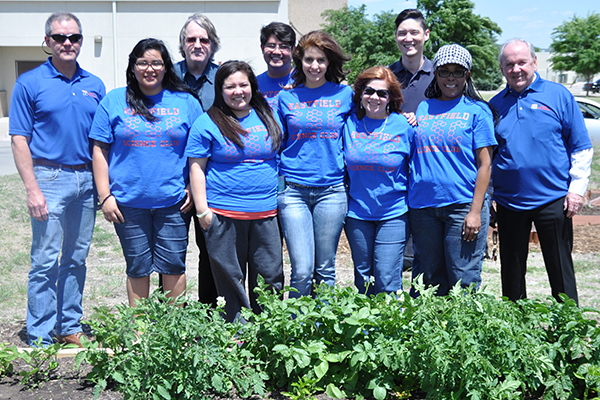 By MORGAN CORLEY
The college celebrated Earth Day on April 22 by showcasing the new Harvesters Community Garden at a special dedication ceremony.
Staff and students strolled among the plots, speaking with gardeners and examining their work.
The garden, which is located between the T and W buildings, has six raised plots, a star-shaped butterfly garden and a large shed for the gardening tools. The garden was assembled by the Facilities Department, headed up by Michael Brantley.
Two plots are maintained by the Art Department and Science Club. Upward Bound Program Services Coordinator Ida Stewart, government instructor Cindy Castañeda and Career Technologies Program Coordinator David Danforth all have their own plots, and executive deans Rachel Wolf and Mike Walker care for the sixth plot.
Each of the plots will soon be bursting with fruits, vegetables and herbs. While the surrounding area is still barren and dry, the first few plots have already livened up the corner of the campus.
"I've planted onions, three different types and potatoes, also three different types," Science Club adviser Jeff Hughes said. "I also have cherry tomatoes, jalapeno and habanero peppers, okra, mammoth sunflowers, romaine lettuce and dill."
Gardeners will continue to maintain their plots until harvest time. What they do with their harvest is up to them. Many community gardens donate a portion of their harvest to food banks and other charities, which is also a goal for the Harvester Community Garden.
"We're hoping that it will continue to grow," said ESOL instructor Vera Guillen, one of the garden's organizers. "We want to work with the community and schools, and eventually open an outdoor classroom. And eventually, as we continue to grow, donate to the food bank."
The butterfly garden will be filled with different plants and flowers that will attract butterflies and create a favorable environment for them to breed. Organizers have been using plants donated by the Texas Discovery Gardens. As they plant more, they hope to attract even more butterflies.
"We've planted seven different kinds of milkweed in the butterfly garden," said speech professor Laura Carr, another garden organizer.
"These will help to attract monarchs, whose population has been dwindling."
Applying for a plot in the garden is free and open to any student or staff member. It is up to each gardener to maintain his or her plot using organic gardening principles. No herbicides or pesticides are permitted.
Organizers want to expand and build an outdoor classroom. This new teaching area would be available to students and faculty, as well as students and teachers from surrounding elementary through high schools. The new classroom will be used for activities involving STEM classes.
"In the future, I plan on having my classes participate," Hughes said.
Hughes said he wants his biology classes to help maintain the garden, applying what they learn in their class to their gardening practices.
Donations for the garden were made by the city of Mesquite and the Mesquite Rotary Club. The Rotary Club purchased the butterfly garden, the storage shed and the tools. The city of Mesquite donated the compost and mulch used.
As the garden gains popularity, organizers want to open up additional plots and make them available to students, staff and faculty.
To apply for a plot, contact any of the garden's organizers, including Carr, Guillen and Arts, Language and Literature associate dean Sheneika Hathaway.