Retro expression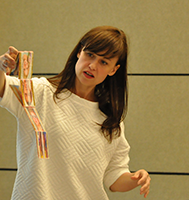 By ROBERT BURNS
Zines are a bit of a throwback in a world of blogs and social media. The ultimate goal of the small publications —  a cross between a comic and a magazine — is to express an idea. Any idea.
Shannon Driscoll, owner of Oil and Cotton art school in Oak Cliff, said zines can focus on any subject, no matter how controversial or mundane. Some are hand drawn and feature little writing. Others contain prose and poems, and some even have photographs like a normal book.
"Zines are a piece of ephemera," she said.  "Something that could be made easily by someone that is inexpensive. It is a way to communicate an idea or something that you are interested in."
On April 30, Driscoll led a zines workshop as part of the college's Literary and Fine Arts Festival. During the workshop, students were able to make their own zines.
As a child, Driscoll was introduced to zines in her hometown of Baltimore by an independent bookstore called Atomic Books.
"There was a rack of punk rock and indie rock zines," she said. "They looked weird and hand-drawn and rebellious, and so as a kid, I was immediately attracted to them and started collecting them."
According to fallofautumn.com, a few genres exist in the zine world. The most common is called a perzine, short for personal zine. It is non-fictional, depicting real events that happened to the author.
There are also litzines, short for literary zines, which contain original fiction, and compzines that are put together by a group of people.
Zines are circulated by distros, which are online stores that sell zines. They usually cost $1 or $2 and are distributed through the mail.
Zines can be traced to the 1930s with the advent of the Sci-Fi fanzine. According to zinebook.com, one the first fanzines was called "Wonder Stories," which was a promotional tool used by the Science Fiction League, an early science fiction club.
Like modern zines, these fanzines were cheaply produced using inexpensive printing technology. A community coalesced around these fanzines, eventually leading to other types of fanzines.
In the '60s, the underground press became prominent. This network of underground newspapers concerned themselves with particular communities and often talked about issues that weren't being discussed by the mainstream media, such as Vietnam, drugs and racial inequality.
It brought together all the different ideas and communities that would make up the "counter-culture" of the '60s.
In the 1970s, zines gained prominence with the new punk movement, and saw an explosion with the advent of new photocopying technology. Zines allowed ideas to quickly disseminate through punk culture. Zine creators could come up with an idea one day, then publish it the next.
The modern zine can be traced to Riot Grrl zines, which came out of the alternative and punk music scenes in America in the early 1990s.
Thousands of women and young girls began to publish political zines centering on women's issues. According to flavorwire.com, more than 40,000 zines were published during the early '90s. Most of them tied to the Riot Grrrl movement.
"Zines are a great way to express yourself cheaply, and anyone can do it," said art professor Iris Bechtol, who organized the event. "It teaches you a way to get your own voice out there, and it is a really inexpensive way to do it. So if you have a political rant or you want to promote something or even if you want to promote yourself as an artist, you can do a zine and pass it out for free."
HOW TO MAKE A ZINE
Zines are easy to make. You need a sheet of 8" by 11" paper, glue (the workshop used gluesticks), pens (Sharpies), scissors or a paper knife, magazines, old books, stock photography or anything you can cut out. You can also use rub-off lettering or a typewriter to get that vintage look.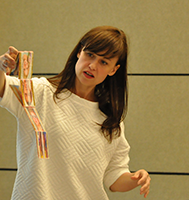 1. First, fold your paper in half horizontally so the edges meet.
Then fold it again the other way so the two shorter edges line up.
Fold it again the same way you folded in step two. It should be the size of a postcard. Now unfold it. You should have eight squares.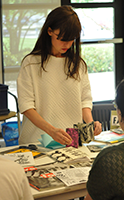 2. Cut along the center line that goes along the two center squares in your paper.
Then cut the top center squares apart,
forming a T shape.
Fold the top-center squares onto the top-outer squares, then fold the top-outer squares down onto the bottom-outer squares. It should look like a book at this point. Close the "book" and you are done.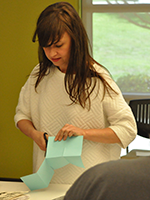 3. Now all you have to do is fill your zine with whatever you want. This is your master copy. When you are done, unfold it and make as many copies you want.
Then repeat the folding process for each copy.
Now your zine is ready to hand out or just leave it for people to find.