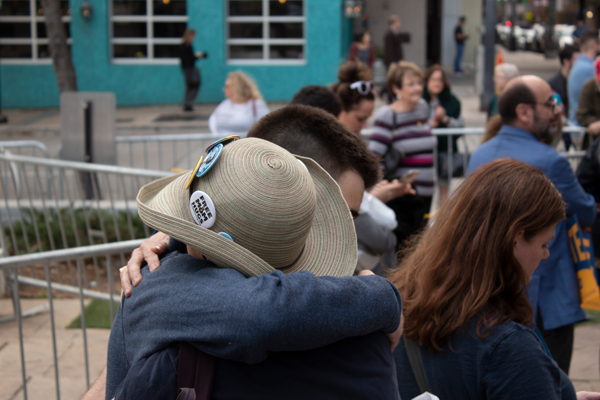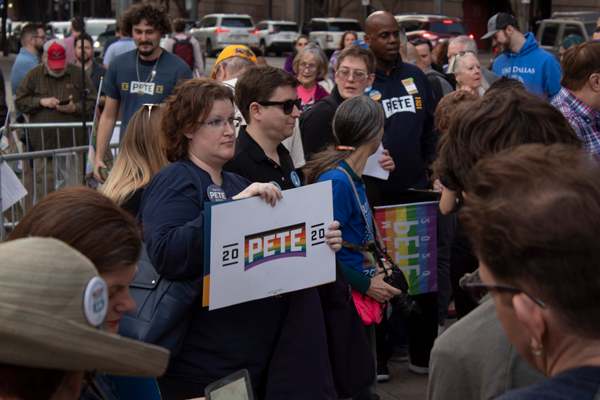 Pete Buttigieg, former Mayor of South Bend, Indiana and 2020 presidential candidate, announced he was dropping out of the Democratic race about an hour before he was set to speak at a rally in Dallas on March 1.
"I'm completely shocked," said Dvori Bird. "I wanted to cry when they said it."
Bird is a retired Austin resident who drove to Dallas just to hear Buttigieg speak. She was surprised that Buttigieg didn't wait until after Super Tuesday to announce his withdrawal. After already voting for Buttigieg in the early elections, she was disappointed, yet sympathetic.
"I think he himself is as disappointed as any of us who love him," she said. "He did what he had to do. And we do what we have to do by continuing to love and support him."
Bird said she doesn't have a second choice. She'll support whoever wins the Democratic nomination, but she no longer has a candidate that she can be excited or passionate about.
She's hopeful that Buttigieg will find rest and comfort with his husband, Chasten Buttigieg, before he returns to the political stage.
"When he's ready," she said. "I think he's going to come back with a vengeance."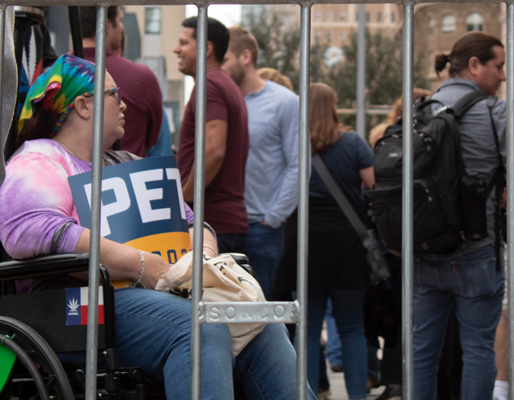 Buttigieg gained an early lead in the primary elections, but after little to no support in both Nevada and South Carolina he fell drastically behind in delegates to Vermont Sen. Bernie Sanders (60) and former Vice President Joe Biden (54). Buttigieg withdrew while in third place with 26 delegates. Minnesota Sen. Amy Klouchar (7) and philanthropist Tom Steyer (0) have also dropped out of the race after the results of the South Carolina primary elections.
"I've been really torn since the South Carolina primary results," said Buttigieg campaign volunteer Bruce Wittrig. "Hell, I came down to sign up people and wave signs [for Buttigieg]. But I might actually vote for Uncle Joe anyway."
Wittrig had concerns about how divided the Democratic platform is and said he supported Buttigieg because of his moderate stances.
Wittrig believes the nomination will most likely come down to Sanders and Biden. However, he does not believe that Sanders' propositions are practical. He intends to support Biden from now on.
Volunteer Bill Owen shared this same opinion but didn't disclose who he'd give his support to now. He believed that Buttigieg would have been enough of a centrist to be able to lead bipartisan discussions and appeal to the extremes of both sides. Owen said his support for Buttigieg is political and not due to personal affiliations.
"My friends in the LGBT community, they're like, 'Why are you supporting him? Just because you're gay?' No, not at all," he said. "I supported him because of who he was, the way he conducted himself and what his positions and platform were."
Owen was thankful for the chance to volunteer at the event, despite it being canceled at the last minute. He was disappointed by the announcement, but said he was glad that all the volunteers were able to find out the news together and grieve as a form of closure before moving on.
Owen still has high hopes for the future of Buttigieg's political career and was curious who the former candidate would throw his support behind now that he's no longer in the running.
"I know [Buttigieg will] do the right thing," Owen said. "Because he always does."
Buttigieg and Klobuchar have both endorsed Biden as the Democratic nominee.
Take a closer look at the 2020 U.S. Democratic presidential candidates