Alumnae leads lab, students to competition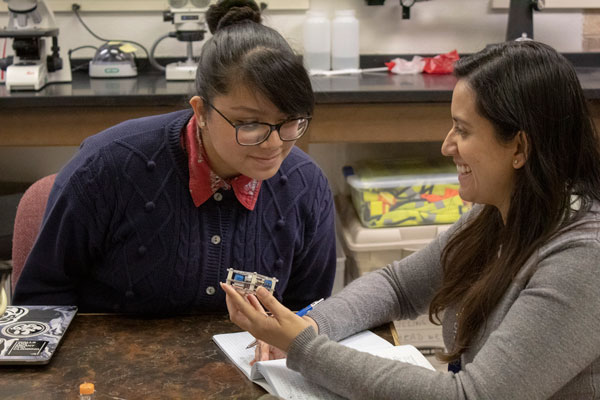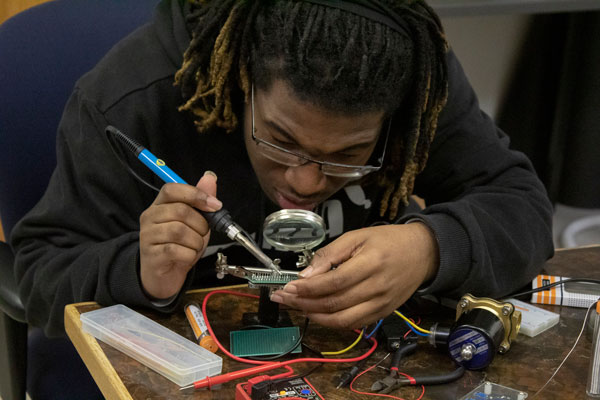 Bees, bacteria and cosmetics are just a few of the subjects focused on in the research programs in C-250 created by learning laboratory specialist and former Eastfield student Jessica Gonzalez.
"I wanted to create special projects for students based on their interests and see what happens," Gonzalez said. "What you see is they get into it and they want to do it and they want to be in here."
Gonzalez returned to her Eastfield roots in 2019 to develop an undergraduate research program. Her goal was to give students something to be a part of, rather than just attending classes.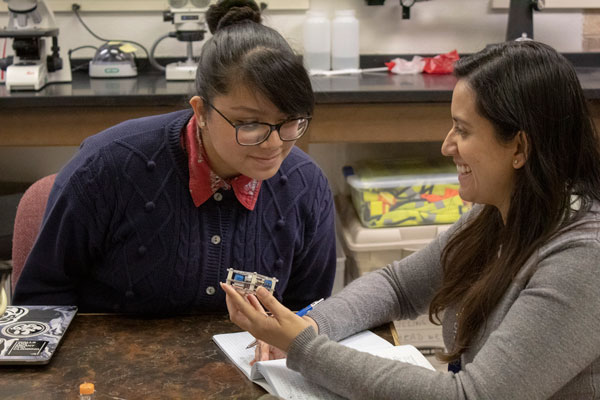 "If my door is open, they can come in, do work or learn how to use the microscopes. I try to make it a fun environment," Gonzalez said.
Gonzalez asks the students what they are interested in and they work together to build a research program which the students then design and develop on their own. The goal is for the students to create a research paper, poster and presentation they will take to the Texas Society for Microscopy Conference.
This year's conference takes place from Feb. 20-23 at Texas A&M University in College Station. Gonzalez is taking three students who have prepared different presentations. This experience will provide them with hands-on time in a lab and the possibility of a scholarship when they leave Eastfield.
One of the students, Monica Pinon, is conducting a research project on bacteria.
She has been growing bacteria since October and analyzing its changes. She is using a scanning electron microscope, also known as a SEM, which can see things invisible to the naked eye.
Another student, mechatronics major
Roderick Kines, wanted to recreate Spiderman's arm web shooter, so he is using the SEM to view spiders to replicate their spinner.
The final project is on chicken feathers. Isabella Carter feels that because chickens are such an important part of our food chain that we should know more about them.
She is doing her research by taking feathers under the SEM and breaking them into three different sections and analyzing those sections.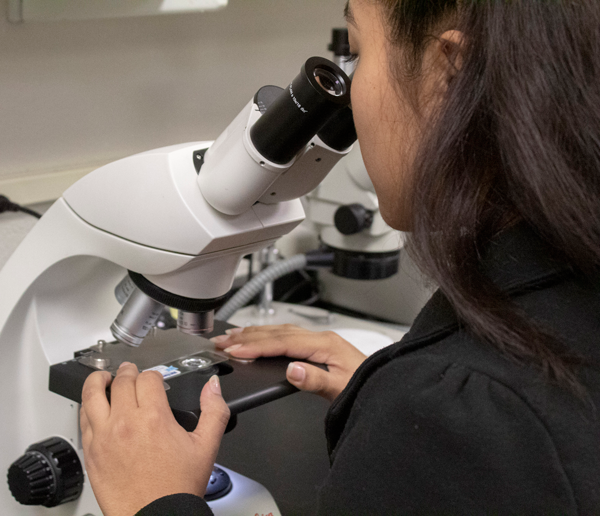 "I didn't know if I was going to be good enough [for a research program] but [Gonzalez] really motivated me," Pinon said.
Over the winter break, the three students and Gonzalez spent most of their time in the lab perfecting their projects. Gonzalez would provide them with lunches of pizza, doughnuts and El Pollo Regio.
"Most of the time it doesn't feel like work," Pinon said.
Several teachers gave Gonzalez the positive encouragement that she now gives her students.
"I had never considered it," Gonzalez said. "I just didn't know what I was capable of."
After a run-in with biology professor Carl Knight in 2002, Gonzalez flipped her career path from ballerina to biologist.
She recalls running down the hallway in search of a scantron when she met Knight. He gave her, a student he didn't know, what she needed and sent her on her way.
Knight became her teacher, then her mentor and inspired her to change her dream of being a ballerina to a career in STEM, eventually taking over the lab that he created.
"Jessica is a leader," Knight said. "She has the ability to lead people and they just like and respect her."
Kines said Gonzalez is helping him turn his dream of working on a research program into a reality. "She motivates me in a way no other teacher has," Kines said.
"This is a $1.4 million microscope we have here, and we got it for free," Gonzalez said. "I try to show students how cool it is and try to get them involved."
As a recent graduate, Gonzalez says she understands that school can sometimes be tedious and repetitive. For that reason, she aims to keep her program fun, different and fresh.
From graduating from Eastfield in 2004, graduating from Southern Methodist University in 2007 and eventually gaining her master's from California State University in Long Beach in 2018, Gonzalez never thought she'd be where she is today.
"Being a kid from Pleasant Grove, with no family history of going to college, that was a big deal," Gonzalez said.
She didn't plan on attending Eastfield but was persuaded to enroll by a friend. Gonzalez signed up for every dance class possible but was still taking the basic math and science classes. Her professors in those classes gave her the encouragement to switch majors.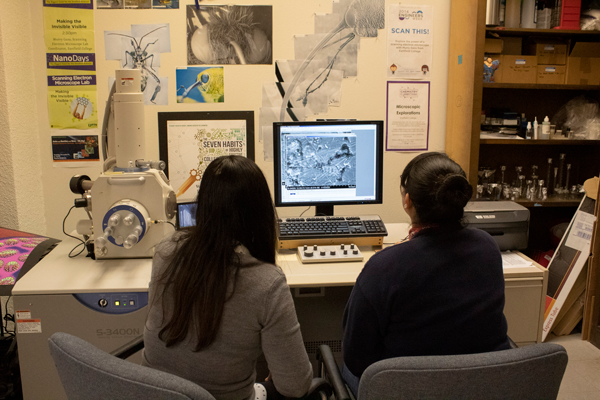 Her supportive and encouraging teachers here is where she credits her love of teaching and her eventual return to Eastfield.
"Even when I felt like I wasn't doing well or I couldn't do it they always reassured and told me, 'you can do it,'" Gonzalez said.
Her colleague, Christien Carter said she likes to "immerse herself" into her students' projects. This allows her to answer any questions the students might have about the project.
After graduating from Eastfield in 2004, Gonzalez applied to SMU with guidance from Knight. She recalls filling out her application and that being the moment she officially became a biology major.
"I remember scrolling down to the part where you select your major and, well B [Biology] comes before D [Dance]," Gonzalez said through laughter.
When she finished her time at SMU, she began teaching elementary school. She loved teaching that age group, but she yearned for something more.
After expressing her desire to Knight, he said, "you should come apply for a job here at Eastfield." This led to her first job at Eastfield in 2008 as a STEM tutor and eventually to the position of supervisor of the microscopy lab.
During her time as lab supervisor, she began helping and motivating students to transfer and in return, they inspired her.
Those feelings and interactions coupled with her realization that she had never been out of Texas before led her to her next chapter: moving to California to pursue a master's degree.
Upon finishing her master's degree in 2018, Gonzalez again gave her mentor a call. Knight replied in the same way he had before. "A position is open at Eastfield," he told her.
She applied here for two jobs, a faculty member of mathematics and a learning laboratory specialist. She was offered the latter position and began in spring 2019.
"Eastfield is home," Gonzalez said. "Right now, this is my life, and I love it. I want to continue Dr. Knight's legacy and be here for 50 years."