Sanders visits Mesquite amid primary elections with message of fighting establishments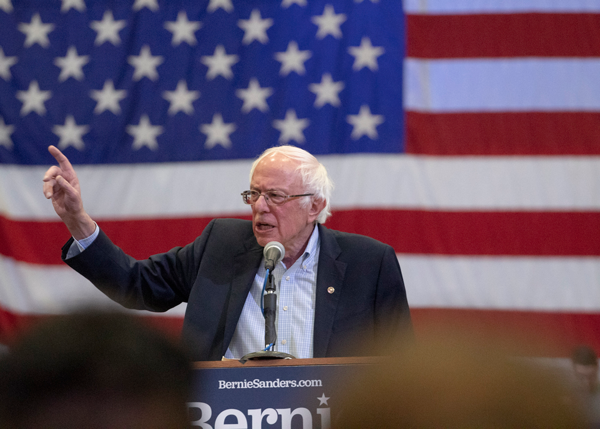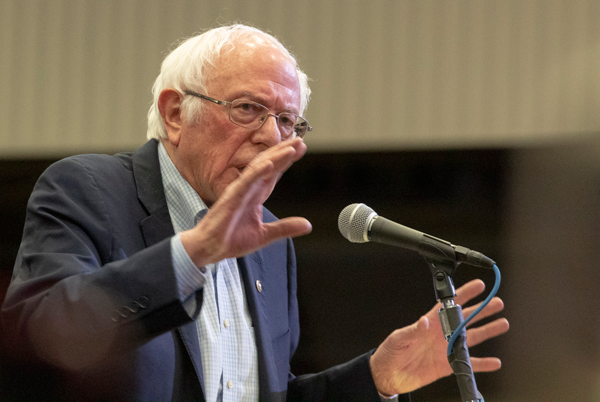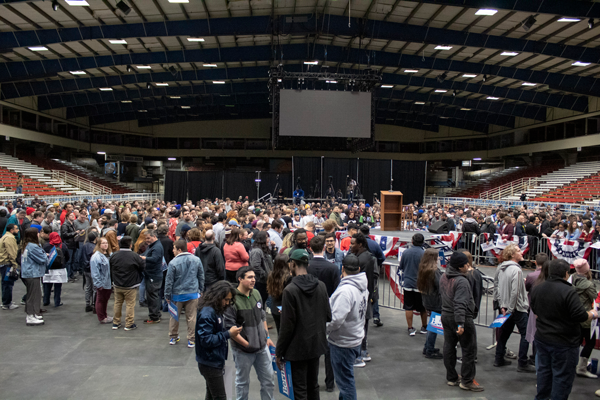 Democratic presidential candidate and Vermont Sen. Bernie Sanders said he will win the Texas primary election at his rally in the Mesquite Arena last night.
He is leading in the state with 24 percent of self-identified Democrats claiming they would vote for Sanders, according to a poll released the day of his visit by the University of Texas at Austin and the Texas Tribune. Texas has the second largest number of delegates in the country with 228 and will hold its primary election on March 3 with 15 other states for Super Tuesday, when a third of all delegates are awarded.
"We're gonna win because we're bringing our people together," he said to cheers from the crowd, which spanned generations and nationalities. From people wearing ten-gallon hats to women in hijabs to baby-boomers with Grateful Dead buttons standing near "Bern bros" dressed in "feel the Bern" apparel.
"Black and white and Latino, Native American, Asian American, gay or straight, we are all Americans," Sanders continued. "We're gonna stand together. We're gonna beat, Trump. We're gonna transform this country."
Sanders opened by saying he had never been to a rodeo before, but that he hears "a lot of bullshit," in Washington D.C.
[READ MORE: Trump supporters flood streets for Dallas rally]
After going on a tirade about President Donald Trump, which included calling him a liar and racist, Sanders began explaining his campaign slogan: "Not me. Us."
He said the slogan has two meanings. One is that it's about unity and that people are better when they come together. The second is that he wants to enact change from the bottom up, not the other way around.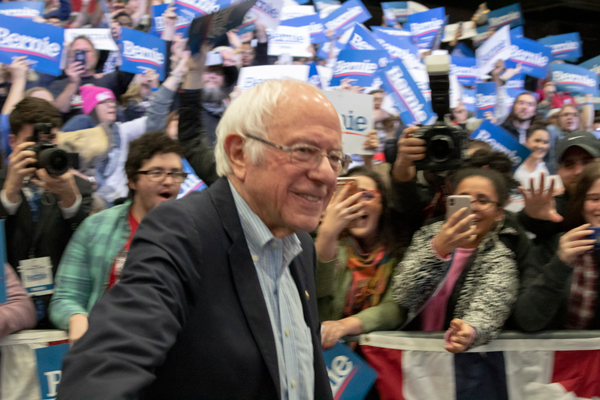 "We are going to defeat Donald Trump because we are putting together an unprecedented, multigenerational, multiracial grassroots movement," Sanders said. "All over this country, we have people who are knocking on doors, they're making the phone calls, they are working hard to make sure that we have a government and an economy that represents all of us, not just the 1 percent."
Over 5,300 people crowded into the arena best known for holding the Mesquite Rodeo. Tutoring coordinator at Eastfield Anand Upadhyaya was one of them. He said Sanders coming to Mesquite seemed to fit his persona because he chose not to visit a better-known place.
Upadhyaya added that he doesn't think any candidate is ideal, but he likes Sanders because of his consistency and bold stances on domestic and foreign issues. He said Sanders' policies of "Medicare for All," affordable and accessible education and livable wages are attainable goals that affect everyone. Upadhyaya added that Sanders' views on Israel-Palestine are an example of a bold foreign policy stance he likes from Sanders.
Sanders is a supporter of a two-state solution for Israel and Palestine, and has said the U.S. should be "pro-Palestine" and "pro-Israel" at the Dec. 19 Democratic debate in Los Angeles.
"A lot of what he talks about sort of connects with some things MLK was talking about towards the end of his life in terms of massive systemic changes we need to address rather than this little one-off policy," he said.
This systemic change is connected to the education system, Upadhyaya said and includes a plethora of issues from racial justice to healthcare. He said all of these issues affect Eastfield students.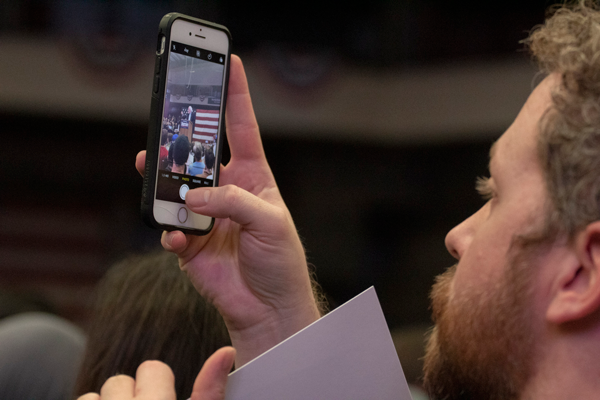 "We can't just say, 'Hey we're gonna offer education.' We need to offer everything holistically that a human being needs to be successful in education," he said. "I think [Sanders] speaks best to that compared to the other candidates."
Sanders trails 22-21 in delegates earned to Pete Buttigieg, the former mayor of South Bend, Indiana, after the first two primary elections. A candidate must secure 1,991 delegates to be nominated for president at the Democratic National Convention in July. A win in Texas would be big for the Sanders campaign.
Behind Sanders is Massachusetts Sen. Elizabeth Warren (8), Minnesota Sen. Amy Klobuchar (7) and former Vice President Joe Biden (6). Billionaire and former Mayor of New York Michael Bloomberg, Hawaii Rep. Tulsi Gabbard and environmental activist and billionaire Tom Steyer haven't received any delegates.
Marie Otokiti, a retiree and Mesquite resident for over 30 years, said the first two contests are not well representative of the diversity in the United States since both states have white majority populations.
"It's probably not a good indication of who the entire country is going to support," she said.
Otokiti said she has not picked a candidate to support yet, but added that most Democratic candidates will be champions for all races.
[READ MORE: O'Rourke rally focuses on bridges, not walls]
Juan Flores, a service technician with a gas company in Fort Worth, said he's heard a lot of support lately for Sanders in the Hispanic communities he visits. He said this is a switch from just a few months ago when many of his Spanish-speaking customers didn't know who Sanders was.
"They can trust him more than a politician in Mexico or in South America," Flores said. "Especially when you start telling them about his history. They really like him [and say], 'Oh yeah, he's one of us. … He's sticking up for us.'"
During his speech, Sanders outlined his immigration policies, which include passing bipartisan reform to the path for citizenship for undocumented people. He added that on day one as president he would reinstate the legal status of the 1.8 million Deferred Action for Childhood Arrivals recipients and their parents and end family separations at the border.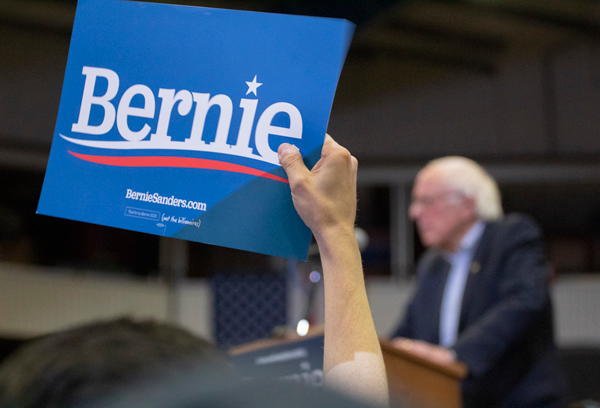 As his rally was coming to an end, Sanders said the establishment, meaning the Democratic Party, is getting nervous with his success and added that his campaign is taking on this establishment alongside Trump and other Republicans.
Sanders said as a senator he's seen the power of the 1 percent to buy elections, and added that it is happening right now.
"At the end of the day, the 1 percent is 1 percent," he said. "If we stand together and keep our eyes on the prize, which is creating a government and economy that works for all of us, no matter how powerful and how wealthy the 1 percent is, we will defeat them."
After disclosing 10 years of tax returns last April, it was discovered that Sanders had gained over $1 million after his presidential run in 2016, a lot of it from selling books. This put him into the top 1 percent of taxpayers.
In the years since his 2016 presidential run, Sanders has released three books, which have boosted his net worth to about $2.5 million, according to a report by Forbes last April.
Flores said Sanders' recent gain in earnings isn't a good argument against his character and added that as a multimillionaire Sanders stays true to his message.
"Bernie's a millionaire because he had a book that sold a million copies," Flores said. "He voted against the tax cuts. That shows more about him than anybody else. … I don't care that he's a millionaire."
Correction: This article originally said Sen. Amy Klobuchar was from Wisconsin and was updated to Minnesota on Feb. 15 at 8:54 p.m.
Correction: This article originally stated that Anand Upadhyaya supported Bernie Sanders because of his two-state solution for Israel and Palestine. It was updated on Feb. 17 at 9:55 a.m. to say Upadhyaya liked his bold stance on the issue. Sanders is a proponent of a two-state solution for Israel and Palestine. 
Clearing the clutter: Evaluating presidential candidates as 2020 race takes shape