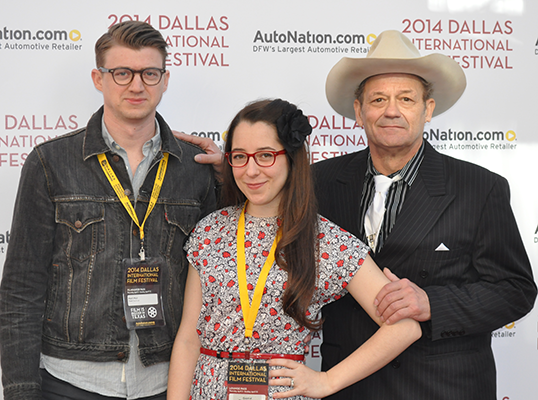 By BILLY DENNIS
The Dallas International Film Festival just concluded its best event in years with more than 175 outstanding feature-length, animated, documentary and short films. A ton of stellar films were available to choose from this year, and I saw many films that were as good as any big-budget studio movie. But the one that lingered in my mind for days was "Thank You A Lot."
This movie tells the story of a struggling small-time Austin city music manager named Jack Hand, played by Blake DeLong ("We Need to Talk About Kevin"). Jack is trying to break into the big leagues with his indie rock band. In order to do so and keep his job, he must sign his estranged father, a reclusive and weary country western singer named James Hand. As if this wasn't a tall enough challenge, his employer and fellow colleagues attempt to sabotage his efforts.
Director Matt Muir's guidance was outstanding. Muir, an Austin-based filmmaker and former University of Texas film student, was able to take several professional and untrained actors and guide them through visceral and memorable performances.
DeLong, the lead actor, is a friend of Muir's whom he met and worked with while attending UT. DeLong, as Muir said, has a knack for playing a lovable, yet shifty character. As the heart of the movie, the other characters play off his talent and are better for it.
I loved DeLong in this film, but it was the performance by James Hand that kept me glued to my seat. Hand is a country western singer based in Austin who received the job after being spotted by Muir at a local honky-tonk. Muir was so enamored with the raw magnetism of Hand that when he wrote the script he didn't even change his name. What a great name for a country singer, too.
Hand had never acted before, but the performance he turned in will have filmmakers making a pilgrimage to Austin to seek him out. He was also one of the nicest people I interviewed at the festival. Hand has the ability to covey a seemingly insurmountable number of emotions though his eyes alone. Professional actors the world over would kill to be able to achieve what he did in his first movie.
When you're watching Hand in this film, special relativity takes over and time slows down. When I walked away from this movie, I felt like I was taking Hand with me, and that feeling lasted for days. While he may not have been a professional actor, he is a performer. He has a presence that cannot be taught. You either have it, or you don't. James Hand has it in spades.
Another notable bright spot in this film is Kaci Beeler. Beeler plays an intern at Jack's workplace who desperately wants his job. Along with a fellow co-worker, she attempts to complicate Jack's efforts to do his job, albeit in the nicest way possible.
Beeler really provides an element that many independent films are lacking: the dry, cute, petite, lovable and ambitious character. She has this Austin, Texas-Aubrey Plaza thing going on that is very appealing. In fact, if Aubrey Plaza lived in Austin, she'd want to be just like Kaci Beeler.
Beeler is a polymath artist. Not only is she a fantastic young actor, she is also a painter, improviser, theater director, teacher and designer.
She has a bright future, and I intend on following her light to even bigger things.
I really can't find enough great things to say about this film. It was by far my favorite of the festival and one that I feel every red-blooded American should see.
"Thank You A Lot" will be available on Video on Demand in June.