Reading suffers decline as technology takes off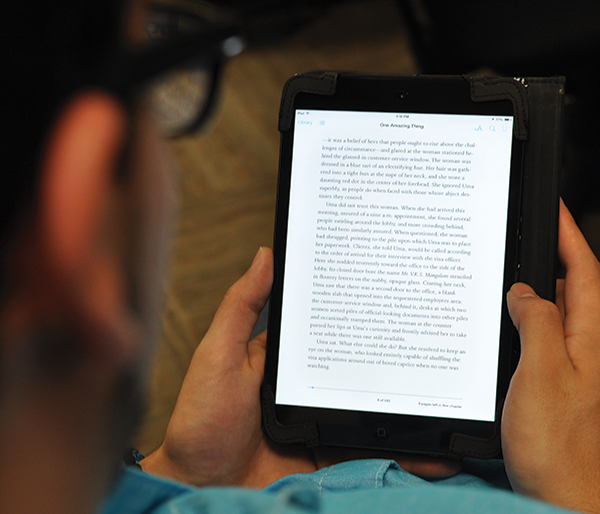 By MORGAN CORLEY
Learning to read is a major step in life. Reading opens your mind to a rich history of recorded human thoughts and emotions.
Countless studies extol the benefits of reading. So why aren't more people doing it?
Is reading dead, or simply on hiatus?
This decline in reading has been noted by many in the academic community, including Eastfield instructors.
"I don't know if it's gotten worse in the last five to six years," English professor Michael Morris said. "It certainly seems so. It wasn't good before. Most students don't read unless they have a vested interest in doing so."
Faculty members aren't the only ones who have noticed the decline.
"I think it's going to continue," said education major Aronda Frederick, who said she expects the next generation to lose even more interest in traditional books.
Some students believe that because children are surrounded by technology at an early age, the popularity of reading will continue to suffer.
However, not everyone is as doubtful.
"I think it will maintain and hopefully, pick back up," kinesthesiology major Candace Darden said.
Even if students aren't reading much for pleasure right now, they still see the value in it.
"I think it expands your vocabulary and it keeps your mind working," Darden said.  "When you're an adult and you're not in school, it's nice to have something to keep your mind active."
Eastfield faculty encourage students to read more, but they aren't always successful.
"They're not reading very much," Morris said. "Most students don't even read the assignments they're given in class, even classes that are for their majors."
Eastfield faculty have their own theories about the benefits of reading.
"The brain is like a muscle ­— you have to work it out," music professor Karl Lampman said.  "Let's say you were going to watch something on TV or read the same thing. Watching it would be like low-impact exercise, but reading would actually be like getting in there and working out the muscles."
Morris believes there are many reasons for the decline of reading.
"There's not a social incentive, there's not a family incentive and a lot of times there's not a school incentive to read beyond what [students] have to do," he said. "One of the reasons students don't read is because their parents didn't read.
Morris said most students are unable to devote time to reading books.
"While in school a lot of their reading has been in short bursts," he said. "For example: standardized tests, barrier exams, they'll have three or four paragraphs and they can handle that."
Today, instead of the focus being put on books and other printed works, it's being put on electronic publications. According to a 2012 study by the Pew Research Center, 47 percent of younger Americans age 16 to 29 "read long-form e-content such as books, magazines or newspapers."
Morris said that he finds the fact that students are still reading off their personal devices is a good sign.
"I see it as a positive thing, as long as education can keep up with it," he said.