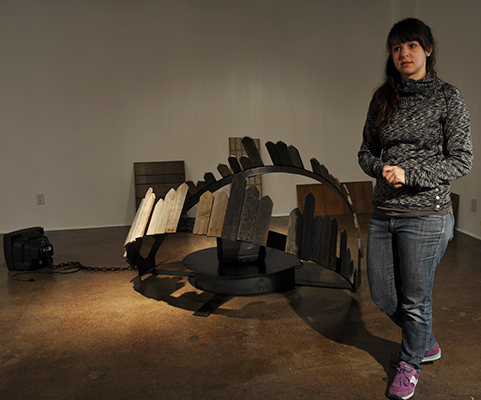 By DAVID RAMIREZ
Casey McGuire and Lindsay Palmer enjoy gathering objects found in the street or from foreclosed homes to use in their artwork. It's not only a creative way to use everyday objects for art, but it's also useful when on a budget. What separates the artists from each other is the way that they express their creativity.
Eastfield is featuring an art gallery exhibition — "Border Land" — that consists of a collaboration by McGuire and Palmer, who are expressing their ideas of boundaries and how they reflect in a rapidly changing world.
"This show really provokes one to think about both literal and metaphorical borders," said Iris Bechtol, gallery director and art professor. "With everything that goes on in the world, borders are an important thing to look at."
Students can check out "Border Land" from 9 a.m. to 4 p.m. through April 4 in the H building, which is located between the F and C buildings.
McGuire and Palmer started presenting together three years ago. They met in graduate school and discovered that they shared similarities in their art goals and styles.
"Collaborations are the best because the most amazing things happen and it opens up your mind while your ideas are always growing," said Palmer.
"We rely on each other's strengths and differences," McGuire added.
Art major and sophomore Luis Ruiz said he appreciates the artists' exhibit.
"I do value the work and effort that the artists put into their art," Ruiz said. "Their backstory and description of art was well thought out."
Palmer displays this concept of borders through her sculptures of walls. She has a strong influence from theater sets. She enjoys using threads and cloth-like materials.
"Have the courage to try something different and it can be really remarkable," she said. "Be comfortable with your own sense of achievement. Do not try to impress others."
McGuire's sculpture in the gallery had a concept of "luring" the viewer into a trap.
"I like my viewer to be immersed by my artwork," McGuire said.
Palmer said art boosts learning, and also provides social and emotional learning.
"Art can be a center hub toward other areas of study such as math and science," said McGuire.
McGuire and Palmer have some advice for upcoming artists.
"Thinking outside the boundaries. You shouldn't be trapped in society," Palmer said. "Create your own job. Have the courage to try something different and it can be really rewarding.  Do not try to impress others and you can really be comfortable with your own sense of achievement. Being bitter will destroy you as an artist. Make friends and keep them. Find people you like."
Palmer and McGuire said art shouldn't be about making money, but about doing what you love and making a difference in the art world.
"Happiness is the journey, not the goal," McGuire said. "Try everything, do everything and travel a lot. Find your own venues when displaying your art. Propel your work. It helps having a community and working with other artists."
They believe that art is limitless and knows no boundaries.