Paying for higher education explained at college fair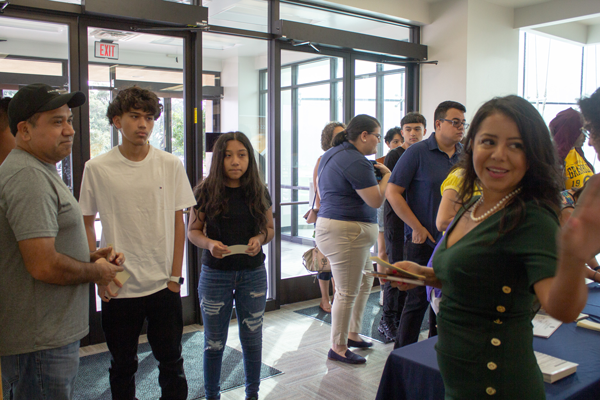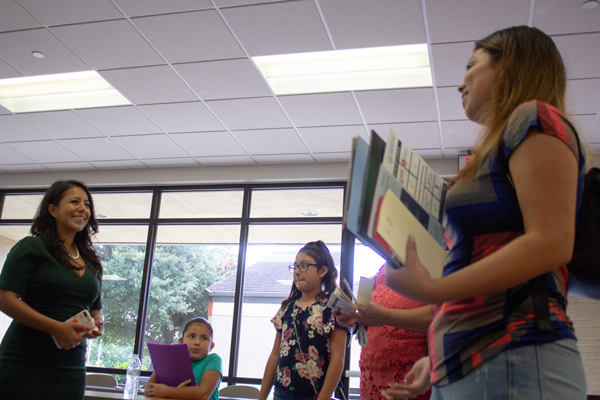 Crystal Zamora, a sophomore at Colony High School got the call from her sister at around 10 a.m. on Sept. 28 telling her there was a college fair in Mesquite and she should try to go.
Zamora, along with her mom and sisters, fought past traffic and made it with 30 minutes left in state Rep. Victoria Neave's third "How to Pay for College" fair in S101, co-hosted by Dallas County Community College District Trustee Monica Lira Bravo.
"In my area there are several fairs … every year," Zamora said. "Unfortunately, I haven't been able to make it out to those because they are always on a Monday or Thursday and my parents work and I can't get a ride."
Zamora plans to become a medical assistant and is currently a dual credit student, on top of being an athletic trainer for her high school. She said the event was informative and allowed her to ask questions about the college application process, and to spend time talking about her goals with Neave.
She wasn't alone in seeking this knowledge. Around 375 people crowded into S101 to hear two guest speakers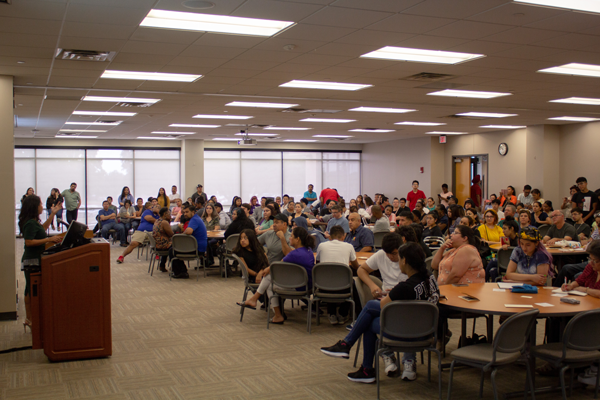 discuss the different routes available to help pay for higher education.. Attendees also had the opportunity to talk with representatives of different universities and to ask the speakers questions.
Neave said she wanted students and families to better understand the college application process, especially those of first-generation college students like herself.
"We wanted to break down those barriers and provide a forum for our community and families to be able to come and get their answers to questions and even learn the difference between what a grant, scholarship and loan is," she said.
During this past legislative cycle, Neave supported bills to help make college more accessible. House Bill 535 requires all students to apply for FAFSA before graduating high school, which she said would help Texans not waste the almost $300 million in federal financial aid that students fail to take advantage of. The state is ranked 27th in the nation for the percentage of people who complete FAFSA, with 60.5 percent of graduating students filling out the application.
Applying for FAFSA isn't an option for undocumented students,  because it requires that the person be a U.S. citizen. But workshops like this one let these students know that they have options like the Texas Application for Free Financial Aid, where the only requirement is that the applicant be a Texas resident. Neave recently made it easier for those students to apply for TAFSA by authoring HB 2140, which allows for online applications.
"We just want to make sure that the number of students who go to college or trade school increases in our community," she said. "We know that going to college can transform a family's trajectory and help them move out of poverty and into the middle class, just by earning that college degree."
The two speakers were Daniel Rodriguez, a coordinator for the G-Force program at Texas Woman's University, and Phillip Fabinn, the manager of college readiness and success for Dallas County Promise.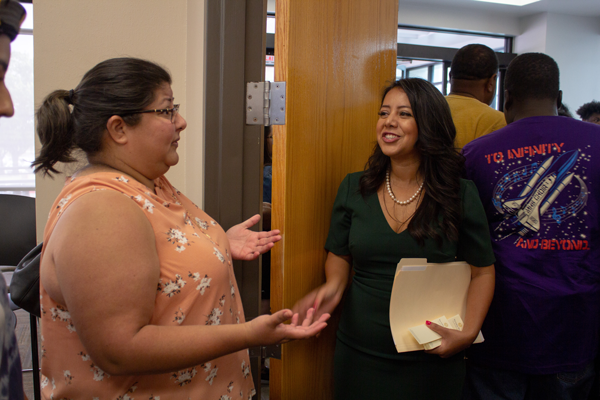 Rodriguez, a first-generation college graduate from Pleasant Grove who attended Eastfield, explained the difference among FAFSA, TAFSA, scholarships, loans and grants. He also gave information about deadlines and opening dates for the applications.
He said when he applied for college, he had no idea what to do and neither did his family. One of his teachers from Skyline High School filled out his FAFSA application.
"I'm very grateful to give back to students and parents and to educate them," he said. "It could be a scary process."
Attending the event were sisters Maria Olivas and Erika Mueck, who both transferred from Eastfield to the University of North Texas at Dallas. They came to the event to support their other sister, Jeniffer Olivas, a junior at Mesquite High School who wants to major in music.
With Maria and Erika both being DACA recipients and their sister being a U.S. citizen, the event helped clear up some troubles they were having with what types of financial aid would be available for Jennifer.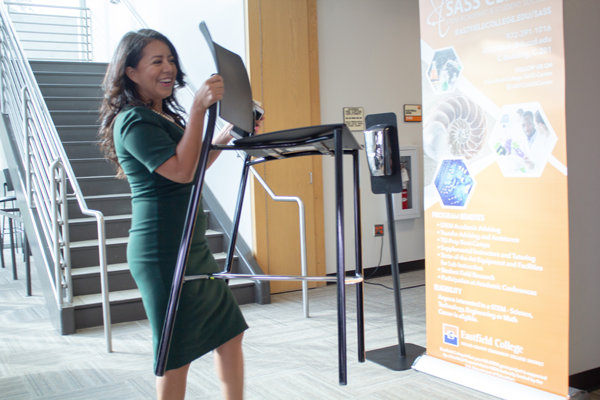 "Being undocumented, there's a lot of stuff that we're excluded from when it comes to help," Maria said. "We want to show her [Jeniffer] that there is a lot of help, that she doesn't have to settle for the bare minimum. And there are ways for her to get to the top and not have to struggle to do so."
Eastfield President Eddie Tealer said the college will look at hosting the next event in a different room to better accommodate the crowd, which filled room S101 to the point where people were standing along the back and side walls. He noted that whether students decide to enroll at Eastfield or not, they are serving the community by being a resource for families to learn more about the college application process.
Deysi Herrera, mother to Zamora, said she was glad they rushed to the event so her daughter could gain more insight, even though she doesn't speak English herself.
"With more support you can lift your child higher to succeed," she said through a translator. "In the same way I dropped what I was doing to bring my daughter, I wish other parents would drop what they are doing to bring their children to events like these."
                           —Jessica Ramirez contributed to this report
Fall 2020 tuition increase covers cost of books and supplies