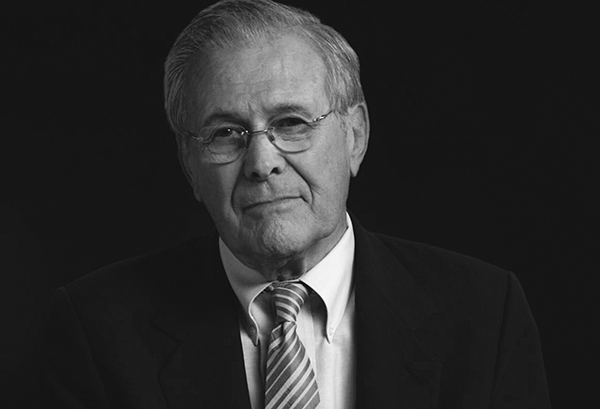 By BILLY DENNIS
Oscar-winning director Errol Morris attempts to put former Secretary of Defense Donald Rumsfeld on trial for the Iraq War in the "The Unknown Known." His mission is ultimately unsuccessful.
There's really no new information in this documentary that cannot be found on the History Channel or the nightly news. It basically rehashes the same fights we've been having for the past 11 years.
When I learned the famed director would be squaring off against one of the architects of the Iraq War, I was excited to watch the feeding frenzy. But the film was somewhat of a disappointment, falling short of his most praised piece of work: "The Fog of War."
In "The Fog of War," the film that earned Morris his Oscar, we see former defense secretary Robert McNamara as a man nearing the end of his life and trying to make peace with his past transgressions. The film was satisfying to watch regardless of one's political persuasion.
McNamara was essentially saying, "Mea culpa, and here are the lessons I've learned from my mistakes." Rumsfeld, however, provided no sense of guilt or obligation that he has anything to apologize for. He seemed smugly satisfied with himself.
One bared his soul. The other showed he doesn't have one.
I really just wanted to knock that smug smirk off his face. That would have been a great film: "Punching Donald."
After 9/11, the Bush administration was determined to not let the country down. This caused our leaders to speculate wildly over the next move our enemy would make, or who our enemy even was.
The Bush administration muddied the intelligence on 9/11 so much so that a 2003 Washington Post poll found that 69 percent of the American population believed Saddam Hussein was behind the attacks on the World Trade Center.
Rumsfeld said he felt 9/11 was a failure of imagination, the failure on our part to imagine every possible scenario in which Islamic radicals might attack the U.S.
He basically said that if you can perceive a possible attack, then you have the duty and right to act in self-interest to prevent said attack. What does this mean? It seems to me that he's saying, like the
Stand Your Ground laws, if you perceive your life to be in danger, you have the right to use deadly force to protect yourself, or in this case, the nation.
In the end, of have to give Rumsfeld credit for agreeing to the interviews. It's no secret that Errol Morris has a disdain for the Republican Party and certainly for the Bush administration. If I were to award a decision on who won the exchange, I would have to lean toward Rumsfeld.
I hate that.