Day of Action empowers survivors of sexual assault
By HARRIET RAMOS
Sabrena Wynn didn't feel safe with her boyfriend. When she wanted to go somewhere, he insisted on driving so he could control where they went. He hit her.
He asked her for money, even when he knew she was struggling financially. Wynn finally ended the relationship.
"I didn't do it by myself, though," she said.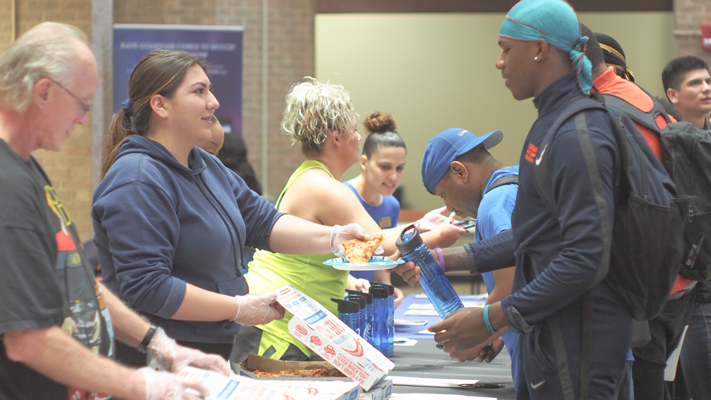 Wynn, an Eastfield student, got help because she reached out to her friends. But not all victims of domestic violence and sexual assault know where to go for help. And not everyone knows how to help friends or family members who may be in abusive situations.
Chris Schlarb, service learning coordinator, and Courtney Pickens, program coordinator for the Bee Aware team, aimed to address these issues with the Oct. 2 event "Day of Action: Justice for Survivors of Sexual Violence." It was designed as a hands-on experience for students to learn about the problem of abuse and discover concrete ways to combat it. There were five stations set up in the Hive with different groups at each one.
"The purpose for this event is to empower advocacy," Pickens said. "We want you to look at it as this is something that I have to do. This is something that I have to learn more about so that I can be well informed, and I can be an advocate for someone else who may be going through this."
Students stopped first at the station of Brighter Tomorrows, an agency that provides shelter and counseling for victims of domestic violence and sexual assault. There they were given information on how to recognize unhealthy relationships.
Erin Kincaid, senior director of education and prevention at Brighter Tomorrows, talked about the need for open conversation about sexual assault.
"There's a lot of guilt and shame around that for the victim," Kincaid said. "It's not her guilt and shame to carry. It's the perpetrator's. By having events that normalize the discussion, then we are allowing victims to come forward more freely and to know what resources there are."
Students learned about resources to help abuse survivors at the Dallas Area Rape Crisis Center station. At the Title IX table, Associate Vice President Rachel Wolf distributed pamphlets on how to report abuse.
At the next set of tables, Schlarb and a group of student volunteers explained how to contact state legislators about issues such as combating sexual violence.
"The cool thing about Day of Action: it's built to educate our students on a social issue and then give them an action to do around that issue," Schlarb said.
Texas Rep. Victoria Neave (D-Dallas) told students about a bill she had written to help rape victims get their evidence examined within a certain time frame. The bill, called the Lavinia Masters Act, was signed by Gov. Greg Abbott on June 4.  It aims to reduce the backlog of unprocessed rape kits in the state.
"In Texas, we know there is an issue on some of our college campuses with increasing numbers of rapes," Neave said. "We just need to understand what consent means. That no means no."
Neave said college students can make a difference by reporting rapes, contacting their legislators and attending events like the Day of Action.
Pickens said she hoped the Day of Action would help students.
"We're a family here at Eastfield," Pickens said. "And I want to make sure that my family has the resources that they need to heal."
Following physical and emotional hardship, Courtanae Calhoun is looking to strike back