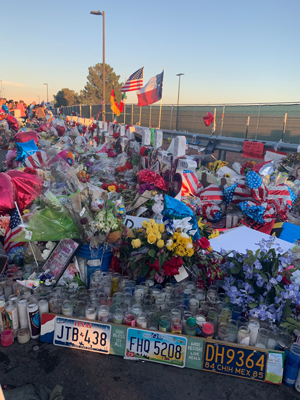 By SKYE SEIPP

@seippetc
History professor Kat Reguero-Vandeventer was on vacation when she read the news Aug. 3. A mass shooting had just taken place at a Walmart in El Paso, leaving 22 people dead and 26 injured. She was horrified.
"It took me a while psychologically before I was OK to go into a store again," she said. "It was really scary. I know this happens, but this one hit home."
Reguero-Vandeventer, an activist in the Hispanic community, said her fear was intensified because the shooter was targeting immigrants in what she called a "hunt."
Authorities believe the alleged shooter from the Dallas-Fort Worth area posted a 2,356- word manifesto titled "Hispanic Invasion" on the website 8-Chan. Authorities said he was targeting Hispanic immigrants.
"These people that had everything to live for were just doing some last-minute shopping for back to school … and they were gunned down," Reguero-Vandeventer said. "I think that's why it hit so hard. I was in la-la land on vacation, enjoying life, just going around doing my thing, and all of a sudden reality hit."
Since the shooting, Hispanics across the country have been living in fear of falling victim to crimes because of their ethnicity.

Carlos Revelo, a government professor and political analyst with Univision, said the political climate before the shooting was already tense, but the shooting in El Paso heightened it to new levels. Revelo emigrated from El Salvador in 1980. He said in 40 years he has never had to be this cautious about his actions.
"I love this country as much as any native U.S-born American," he said. "But this issue of immigration touches me close because I have an accent, because of my color and because of my exposure. So I can easily be the target, and I never felt that before."
While he fears for his own safety, Revelo said he is more worried about his students. Some are DACA recipients and others are afraid for their family's safety.
"I have to be on the look out, because you never know how you're going to be perceived by someone that already thinks that I'm the problem," he said. "If they [students] fear, I have to sympathize with them and tell them that I understand. That's something I've never experienced before."
Fernando Hernandez, who is working on an Associate of Arts degree, said the shooting was just another tragic event that has become normal.
"Well I was shocked, but at the same time, it was something that I found a bit predictable," he said. "Because it's something that has happened a lot over the past few years and yet nothing has been done."
Hernandez said laws to restrict gun purchases and high capacity rifle magazines should be enacted to limit the number of mass shootings. He also said the rhetoric of President Donald Trump gives people like the alleged shooter in El Paso an incentive to target members of mi- minorities.
Since his campaign began in 2015, Trump has been talking about an invasion of immigrants coming to America. His calls to build a wall along the Southern border to stop what he said was an influx of
"criminals, drug dealers and rapists"
from Mexico was a major part of his campaign. Last week the Trump administration
diverted $3.6 billion
from the Pentagon to pay for a wall.
Sociology professor Tasha Brown said that normalization and reoccurrence of mass shootings in America stems from a variety of factors, such as culture, value systems and leadership. She said the glorification of violence, easy access to weapons and corrupt ethos throughout the country are some of the factors.
"When you do not promote the message of acceptance, when you don't promote the message of unity, when you don't promote the value of diversity, well then people do not value those things," she said. "Further, when you promote the lack of unity and diversity and it is OK to engage in prejudice, discrimination, etc., well then that does provide a reference point for some people in terms of how they can interact with society and other people."

Guns and hate
In two years Texas has been home to two other deadly mass shootings. In November 2017, a shooter at a church in
Sutherland Springs
killed 25 people (and one unborn child) and injured 20. A shooting at
Santa Fe High School
left 10 dead and injured 10.
On Sept. 1, less than a day after a mass shooting in the
Midland-Odessa
area killed seven people and injured 22 others, new laws took effect that loosened restrictions on guns.
House Bill 1143 allows for guns and ammunition in school parking lots, as long as they are locked in a vehicle and out of plain sight. HB 1387 allows for more armed marshals in school districts.
Restrictions on guns in places of worship were also lifted during the legislative session. Senate Bill 535 allows for licensed handgun carriers to bring their weapons to places of worship, and HB 1177 allows anyone to carry a handgun without being charged with a crime in the days following a declared state of emergency.
Possessing firearms in homes is easier now with the passing of HB 2363, which makes it illegal for landlords or homeowners of rental properties to prohibit renters from lawfully carrying weapons on the premises. HB 2363 makes it legal for foster homes to keep guns in the house so long as they are locked in a safe.
A number of Texas lawmakers asked Gov. Greg Abbott to call a special legislative session to address the issue of gun violence following the shooting in El Paso.
On Sept. 3,
Walmart
announced it would stop selling ammunition for military style assault rifles, asked customers to not open carry in its stores and vowed to ask Congress to step up gun control measures, such as universal background checks. Kroger, CVS Pharmacy and Walgreens followed suit that week and asked customers to not open carry in their stores.
On Aug. 14, Abbott launched a Domestic Terrorism Task Force with the goal of countering acts of extremism in the state. The task force met for the first time Aug. 30 and, according to a news release from the governor's office, is expected to meet quarterly or whenever called by the governor.
The news release said the task force will be "conducting investigations on criminal gangs affiliated with Neo Nazi and White Nationalist groups and networks espousing terrorist attacks."
White nationalist groups had an increased presence on college campuses across the country. Research by the
Anti-Defamation League's Center on Extremism
reported a 7 percent increase in white supremacy propaganda on campuses between Sept. 1, 2018, and May 31, 2019, over the same period from the year prior, which had 292 cases.
In July, the
Dallas Observer
reported that campuses across North Texas had seen the group "Patriot Front" passing out flyers and putting stickers on campuses in the Dallas-Fort Worth area, including at Brookhaven College. These groups have protections under the First Amendment to peacefully pass out flyers or leaflets on campuses, however public universities can control when, where and how groups recruit.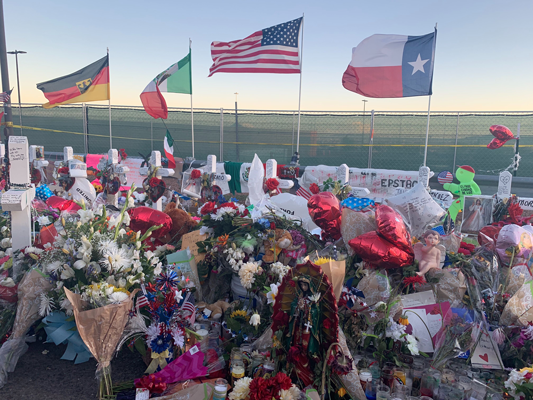 Call to action on campus
After the El Paso shooting, Eastfield's Student Success and Wellness Division sent an email offering extra support from the counseling services and the Center of Equity, Inclusion and Diversity to any students who may be dealing with any type of problems associated with the shooting.
Katy Launius, dean of Student Success and Wellness, said the events in El Paso left an impact on her, and the idea to offer extra support to students came from that feeling.
"I think knowing that kind of hate lives in our community was a concern," she said. "I can only imagine what it must feel like for our students. Then, knowing that the attack targeted Latinx folks, targeted immigrants, and knowing who our students are, that those are our students, that they might be thinking, 'It could have been me.'"
Launius said she wanted people to know that her department is here for the "holistic well-being" of students. She also noted that it's important for colleges to let their students know racist viewpoints are not necessarily the viewpoints of a college, but that those groups are allowed to peacefully participate in what she called "inflammatory speech" on campuses.
Counseling services on campus have not seen a rise in students coming in because of the events in El Paso, said Katie Neff, a licensed counselor on campus. She said people who are feeling a level of anxiety because of the shooting should seek counseling.
Neff also gave five tips for coping with emotions: seven to eight hours of sleep, a healthy diet, proper exercise, staying socially active and releasing emotions creatively or through meditation.
Mental health is not the only concern for students and employees.
Hevan Cathy, a childhood education major, said after seeing the news on Aug. 3 she thought about how easy it would be for something like the El Paso shooting to happen on campus.
"It's not that I don't feel safe, it's just that it's scary because of the fact that anyone can just walk in and out," Cathy said. "It's very open."
She said the college could be taking better safety measures by enforcing the ID rule that began in April, which she said not many people follow. Cathy also said the college should make visitors wear guest passes and students should be better educated throughout the semester about the emergency procedures.
Emergency procedures are typically told to students at orientation, but not all new students attend.
There's also a video located within the "Police & Safety" section of the school website that gives instructions on how to respond to college emergencies.
Brigham Wilcoxson, district emergency manager, said the problem with increasing safety measure is finding what he called "middle ground." He said people have to take responsibility for their own safety now and suggested people watch the emergency procedure
videos
found on the district website.
"Have more situational awareness," Wilcoxson said. "Go into a room and ask: 'How could I best handle the situation if it were to happen in here?'"
District Police Chief Lauretta Hill also sent out an email after the shooting to remind people about the procedures in place if an active shooter came on campus.
I'm angry 29 dead over 50 injured in #elpasotexas and #daytonohio The rise of hate rhetoric in this country is fueling the loss of innocent lives. Call it out #WhiteNationalistTerrorism Thoughts and prayers are not enoughFaith w/out works is dead. #WakeUpAmerica

— Lauretta Hill (@commisshill) August 4, 2019

Hill stated in the email that all officers on campus have received the proper training to deal with an active shooter.
She said campus police receive active shooter training every two years and other emergency training on a regular basis.
"We're trained, available and ready to respond to emergencies, and that's what we train for in our jobs," she said. "Our mission is to make a safe, accessible and welcoming environment for our students, faculty and staff, and they should have the confidence that we're able to deliver that."
For Reguero-Vandeventer, East-field feels as safe as any place. Whether she's at the store, on campus or getting her hair done, the worry of being another statistic has been on her mind since the El Paso shooting.