Two friends create unique art with common materials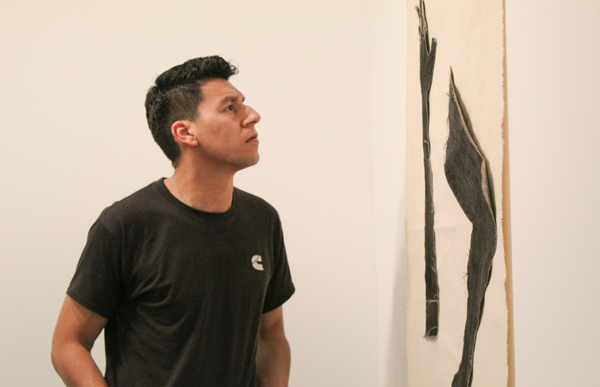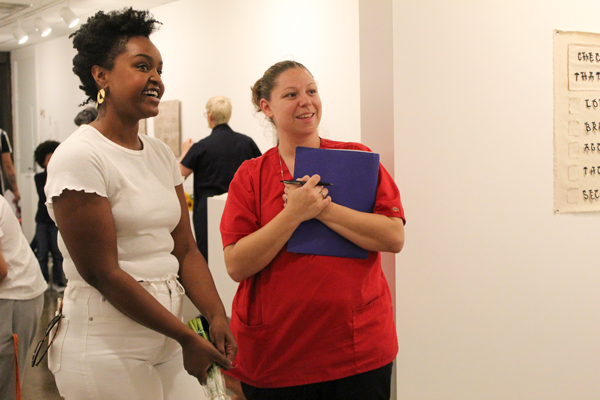 By ESON FELLERS
@EsonFellersETC 
"Holding Weight", a campus exhibition featuring the work of artist friends Taylor Barnes and Delaney Smith, showcases fiber-based artworks using handmade letter-pressed papers, duck cloth (a sturdier form of canvas) and charcoal.
Smith, the artist responsible for handmade and letter-pressed paper pieces such as "Breaking the Cycle," said her background in graphic design and training as a seamstress led her to making this form of art.
"I'm making these functional things for clients all day, but then I'll see a material and think, 'How cool would it be to make a sculpture with this?'" she said. "My brain would just always go there, so there's always been this natural inclination."
Smith said she is focused on the process when making her papers. She uses a procedure called letter pressing, which involves imprinting letter forms into paper while it is still wet as it's being made, creating a three-dimensional effect.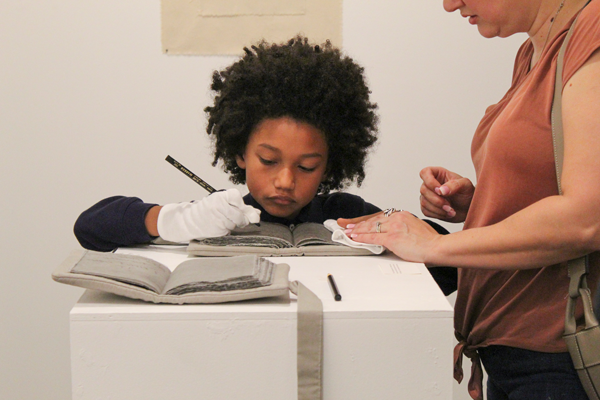 Smith said that her design professor at the University of Southern Mississippi had a major impact on her love for paper.
"He took a piece of cotton paper and shook it, and the sound that it made hit me in this really guttural way," she said, "and ever since then I've been obsessed with paper."
Taylor Barnes, the other half of the artist duo, hones her skills as a charcoal artist, creating works such as "A Small Sacrifice."Barnes said she loves how labor intensive working with charcoal is as well as the connection she feels to such a beautifully dark medium.
"I like that charcoal comes from a natural material, not something that went through a process to become something else," she said. "I'm connected to its process."
Barnes said that her art is for whomever resonates with it the most.
"I think any audience can look at it and relate to it," she said. "But it definitely has a lens that is my experience."
Eastfield students were involved with the making of one of the pieces, titled "Cast Words by East- field Visual Arts Students."
Planning for the gallery started when Smith came to Eastfield to lead a workshop on the cast paper process.
About 30 students from Design I, Drawing I and 2D and 3D design courses participated in the workshop over a two-day period during class time.
Iris Bechtol, art professor and curator for the gallery, said that the workshop allowed visual arts students to create different words using the same cast paper process that Smith uses.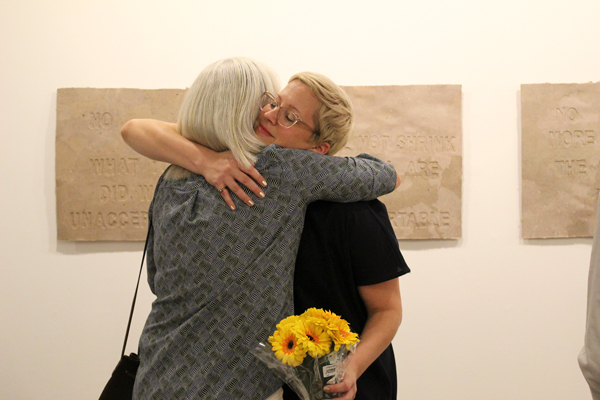 "I think that art making is a creative process," Bechtol said. "I think it's a way for us to explore our understanding of the world."
Several Eastfield students viewed the exhibition during its opening reception on Aug. 29.
Isaac Brady, a business major, said the work was creative, and he questioned the repetition of the word "no" in some of the pieces.
"Why are they saying 'no' a lot?" he said. "With the handmade paper, they could be saying no to waste."
The word "no" is a recurring theme in pieces. Smith said the pieces represent emphasizing the ability to stand up for oneself and make your voice heard.
"We're surrounded by paper all the time." Smith said. "Looking at it in a different way I think is really beautiful, looking at this everyday material in a different light."
The gallery is open for viewing from 8:30 a.m. to 5 p.m. weekdays through Sept. 27.