Clearing the clutter: Evaluating presidential candidates as 2020 race takes shape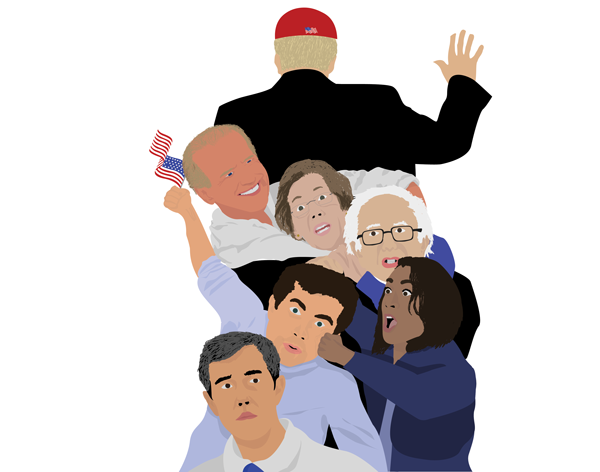 Following Donald Trump's 2016 upset victory over Hillary Clinton (can you believe that was almost three years ago?), members of the Democratic Party have been gearing up to ensure that Trump goes without a second presidential term.
John Delaney (who?) kicked things off in July 2017 as the first Democrat to formally announce a bid for the presidency.
Since then, 20 more Democratic candidates have announced their presidential bids for 2020, and one Republican will challenge Trump in the primaries.
So before somebody else decides to jump in, let's take an early look at how the 2020 election is shaping up, based on late April CNN polling numbers.
— Compiled by David Silva
Wait! Let's talk Republicans first


Donald Trump
Current job: President of the United States since 2017
Poll standing: 54%
Key issues: Restricing immigration and building a wall along the southern border. Rolling back international trade and climate agreements.
Hurdles: Recapturing moderate and centrist voters who may have been wary of his policies and rhetoric in 2016.

William F. Weld
Last government job: Governor of Massachusetts from 1991 to 1997
Poll standing: 8%
Key issues: Fiscal restraint. Immigration reform. Being a voice for mainstream moderates and mainstream conservatives.
Hurdles: Polling shows that most Republican voters don't even know who he is. He's running as a conservative but is far left of Trump.

Democratic frontrunners
Joe Biden
Poll standing: Leads at 39%
Notable work in politics: Beloved by the left as Barack Obama's vice president from 2009 to 2017. Considered a centrist senator from Delaware from 1973 to 2009.
Key policies/message: Strengthening protections and opportunities for middle- and working-class Americans. Ensuring that Trump doesn't "fundamentally alter the character of this nation" by winning re-election.
Biggest hurdles: Recent allegations of inappropriate or uncomfortable conduct toward women haven't substantially minimized Biden's lead in the polls, but it still may come back to haunt him. Biden may also be rejected by younger progressives looking for new leadership.
Bernie Sanders
Poll standing: 15%
Notable work in politics: Most recently known for his 2016 grassroots primary campaign against Hillary Clinton that electrified many young voters. Longest serving independent senator, representing Vermont since 2006. Self-proclaimed democratic socialist.
Key policies/message: Medicare for all. Free college tuition. Running on the same platforms he ran with in 2016.
Biggest hurdles: Despite bringing policies like Medicare for all to the mainstream, many of his fellow candidates are running on the same platforms, making him less distinguishable. At 77 years old, he would be the oldest president in U.S. history.
Frontrunners

Elizabeth Warren
Current job: U.S. Senator from Massachusetts since 2013
Poll standing: 8%
Key policies: Holding big corporations accountable. Ensuring opportunity for working Americans. Free college.
Hurdles: Standing out from the pack. Luring centrists.



Pete Buttigieg
Current job: Mayor of South Bend, Indiana since 2012
Poll standing: 7%
Key policies: Make the employment market more dynamic. Stresses his generational identity as a millennial.
Hurdles: Holding on to his early momentum as a rising star. Capturing conservative/religious voters because of his open homosexuality.



Beto O'Rourke
Last job: U.S. Representative from Texas from 2013 to 2019
Poll standing: 6%
Key policies: Immigration reform. Marijuana legalization. National unity.
Hurdles: Lack of perceived experience. Potential voter fatigue. Previous statements on hot-button issues may scare away centrists.



Kamala Harris
Current job: U.S. Senator from California since 2017
Poll standing: 5%
Key policies: Middle class tax cuts. Civil rights.
Hurdles: Breaking away from the pack. Capturing progressive voters despite her mixed record in justice system reform as a district attorney and attorney general in California.

Might have a chance


Cory Booker
Current job: U.S. Senator from New Jersey since 2013
Poll standing: 2%



Amy Klobuchar
Current job: U.S. Senator from Minnesota since 2007
Poll standing: 2%



Tulsi Gabbard
Current job: U.S. Representative from Hawaii since 2013
Poll standing: 2%

Who? (Candidates polling at 1 percent or fewer)
Julian Castro
Kristen Gillibrand
John Hickenlooper
Andrew Yang
Jay Inslee
John Delaney
Tim Ryan
Eric Swalwell
Marianne Williamson
Mike Gravel
Seth Moulton
Wayne Messam
Michael Bennet