Hidden Gem: Yia Yia's serves up genuine Mediterranean from an unlikely location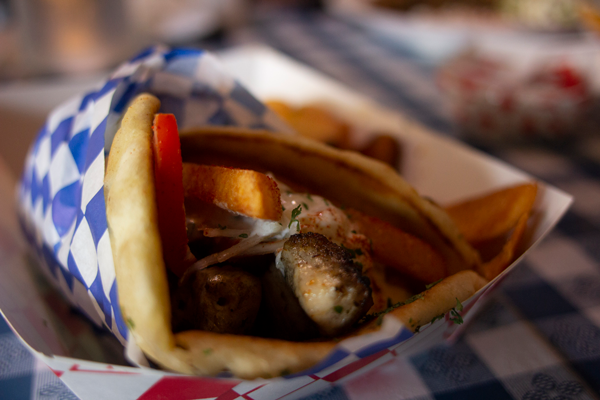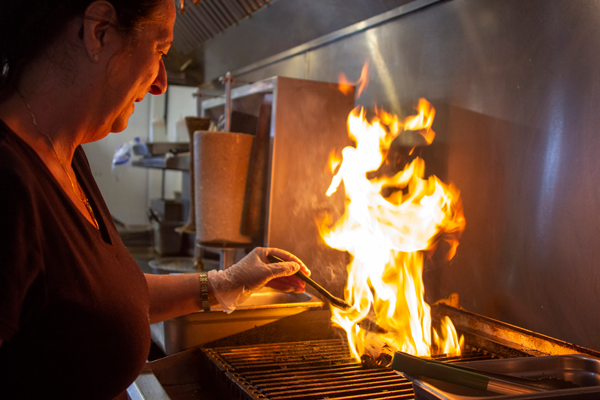 Positioned in a small shopping strip that looks like it might collapse if you lean against a wall too hard, Yia Yia's House of Gyros' unassuming exterior is deceiving.
The restaurant's outward aesthetic couldn't be less representative of the authentic Greek meals served up inside.
Victoria Kaprantzas and her husband Bill make art out of the food she plates, from dolma, or rice wrapped in olive leaves, to gyros to lamb souvlaki using Bill's yia yia's recipes. It's all made fresh to order in a kitchen where microwaves are forbidden (a sign on the wall opposite the open kitchen even says so) and served up on plastic foam plates.
The small space is decked out in blue and white. Family photos hang on the walls alongside signs reading things like "If you don't eat meat that's OK, we have lamb," and "Make America Greek Again."
A photo of Bill's yia yia, or grandmother, hangs in the center of the right wall. A mantle above her image is home to cloves of garlic to ward off bad spirits, an assortment of knick-knacks and a bottle of Windex, a nod to the 2002 comedy "My Big Fat Greek Wedding."
The restaurant business is tough, Victoria said, but years of experience owning a chain of Italian restaurants helps.
"The joy that we get from seeing a guest take a first bite of their food and smile and say 'Oh my god, this is great,' that's what we live for," Victoria said.
The Kaprantzases decided to open Yia Yia's after returning to the U.S. from Greece — they wanted their daughter, Sophia, to learn Greek so they moved to Athens — and realized they couldn't find food that felt Greek enough to them stateside.
[READ MORE: Mediterranean meets healthy at Maya's]
The main attraction is, as the name would suggest, the gyro. The Famous Original Gyro, made with a mix of beef and lamb and topped with onions, tomatoes, homemade tzatziki and a steak fry on a warm pita, is joined on the menu by pork gyros, chicken and pork souvlaki in pita, lamb souvlaki in pita and a veggie gyro.
Two years after opening Yia Yia's in Mesquite in 2014, the small cafe was doing so well Bill moved to open another in Rockwall. The Dallas Observer even featured the restaurant in their top 100 food joints in Dallas this year.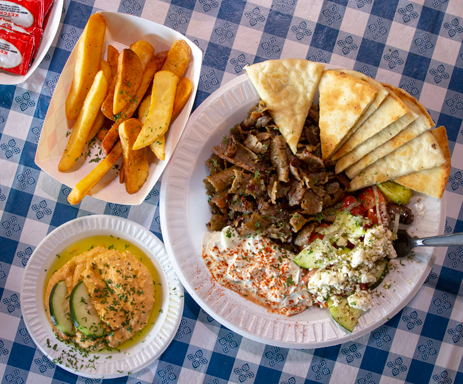 The family is looking for a location for their third store now.
The shop typically sees about 100 guests a day, going through two, sometimes two and a half to three spits of lamb.
All the orders are written by hand and slung down a clothesline in the open kitchen, something Victoria said kids usually get a kick of out.
If business keeps growing at this rate, she said they may have to introduce a point-of-service system.
The food and embrace of Greek tradition won't change, though, Victoria said.
Yia Yia's will always be a place for guests to come, bring a bottle of their favorite wine, order food and stay for a while, Victoria said. Just be careful: the large portions followed by complimentary loukoumades, which Victoria calls Greek doughnut holes soaked in a honey-based syrup, may be enough to put you into a food coma.