Graduation ticket errors leave guests searching for seats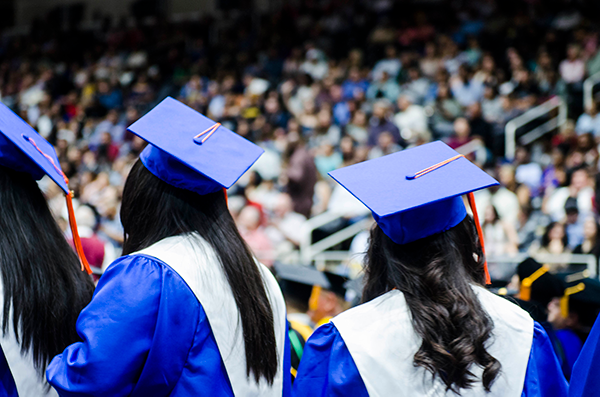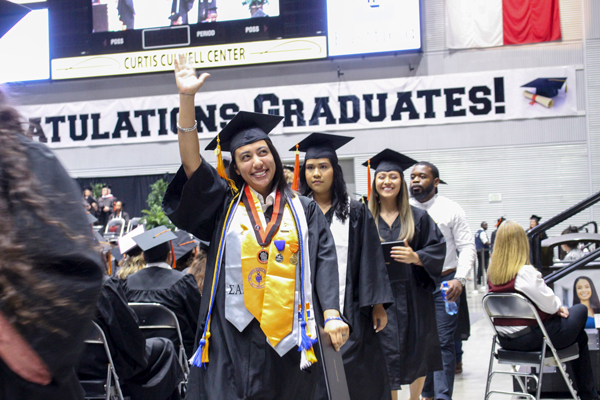 Editor's note: This story was updated after Eastfield's graduation ceremony May 8.
Rows of students could be seen leaving Eastfield's graduation ceremony early as a record number of graduates walked the stage May 4.
The Curtis Culwell Center had 912 students walking the stage, about 100 more students than the previous year, Sharon Cook, assistant to the president, said.
There were concerns in the weeks prior to graduation that seats may not be available for some students' families. After a series of mishaps in the Admissions Office, an unknown number of students didn't receive tickets for their guests to attend the graduation.
The administration ultimately worked with the venue to ensure that family members without tickets would be allowed inside.
Issues began when students who applied for the ceremony received graduation packets without tickets or with fewer tickets than initially promised. Some dual credit students were told about two weeks prior to the graduation that there were no tickets available for them.
Early college student Emely Ortiz said graduation should have been organized better.
"We've been talking about this for what, two months? And it's kind of sad the way they messed that up," she said.
Ortiz said she was excited to make her parents proud, earning her high school diploma from Skyline High School and a certificate from Eastfield and participating in two ceremonies.
She's a first-generation college student and the first among her five siblings to complete a college program.
"It feels really nerve-racking because I want to take my parents and my brothers, but they all work and they need their tickets to show that they have to show up to my graduation," she said. "I just hope everything works out and I can get the tickets to the people I really want to be there."
She said she was told to wait for her tickets in the mail, but the tickets never came. Then she was told there were problems with the tickets and she may not receive any.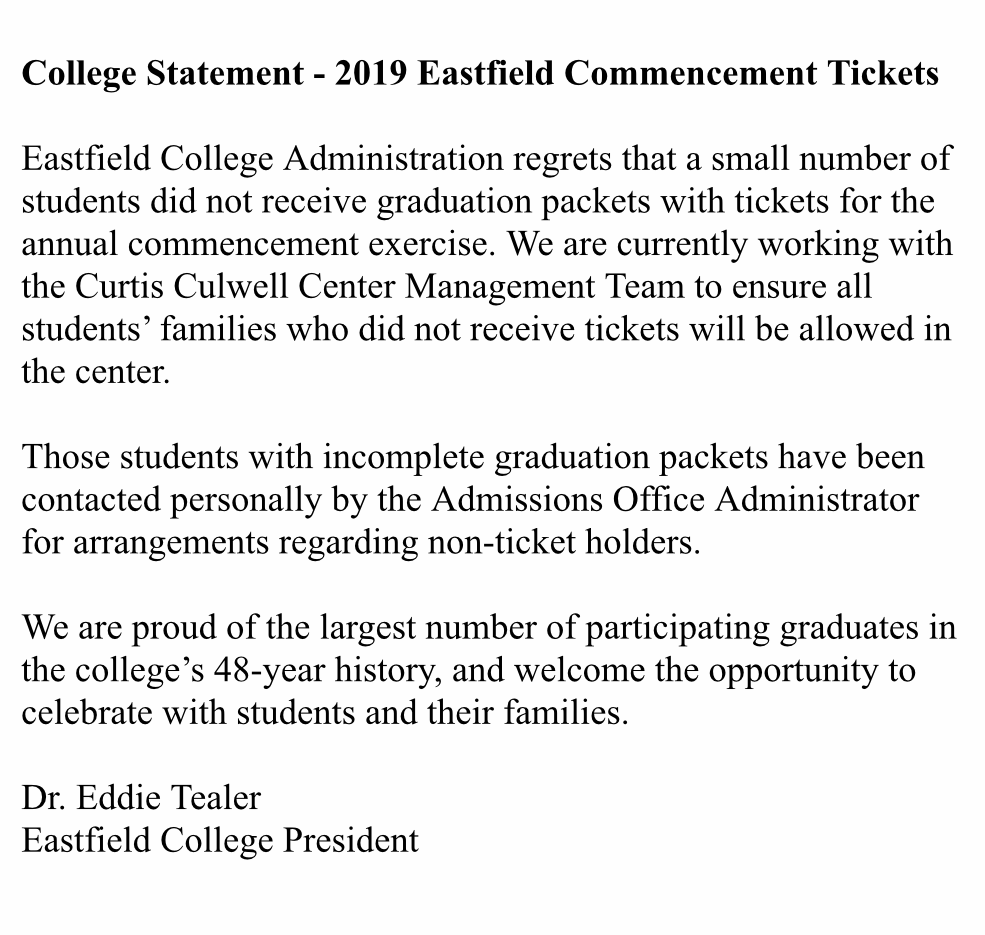 Three days before the ceremony, The Et Cetera received a statement from Eastfield College President Eddie Tealer that read:
"Eastfield College Administration regrets that a small number of students did not receive graduation packets with tickets for the annual commencement exercise. We are currently working with the Curtis Culwell Center Management Team to ensure all students' families who did not receive tickets will be allowed in the center.
Those students with incomplete graduation packets have been contacted personally by the Admissions Office Administrator for arrangements regarding non-ticket holders.
We are proud of the largest number of participating graduates in the college's 48-year history, and welcome the opportunity to celebrate with students and their families."
The Et Cetera has yet to verify the number of students affected or that they have been contacted.
Dean of Access and Enrollment Patty Young said April 24 that she was working with the administration to solve the problems by April 26.
On the following Monday, the administration had not made any communication to students or employees about the issue and could not be reached for comment.
"We sincerely apologize, and our role is to find a solution as soon as possible," Young said on April 24. "We're asking students to check their emails in the next few days in regard to this situation, and we want them to know that we are standing with them, wanting to celebrate with their family and friends."
She said that one mistake is that an estimated 50 packets were sent out with six tickets instead of the eight promised in the included letter. Some packets included no tickets at all.
The remainder of tickets that did not get sent out were included in a pool for students to request extra tickets on a first come, first served basis.
On the Eastfield app, several students have been asking others for extra tickets and offering to buy them.


Hermila Cuevas was given two tickets after making a post on the app. When she got her packet, she read the letter and thought she had eight tickets.
When a classmate told Cuevas they got six tickets instead of eight, and she saw posts appearing on the app about tickets, she went back into the packet to count them. That's when she realized she was short two tickets.
"So I'm sitting here like, 'Oh no, what am I going to do? I've already told [my family] that I have tickets and I don't'," she said.
She said six tickets was just enough for her kids and her husband. She still wanted her mother, aunt and sister-in-law to go.
While some students without tickets were contacted by the Admissions Office and told that up to four of their guests would be allowed inside without tickets, others were not.
When Cuevas went to the Admissions Office, she was told to email them, but still has not received a response to her April 18 message. Then Cuevas visited the office again April 25, where she put her name on a list to request extra tickets. She said she was told she would get a response by Monday but didn't.
Admissions and Records Management announced on the app April 22 that all extra tickets have been distributed and offered two solutions: live stream the event online or have their guests arrive early and take seats as available.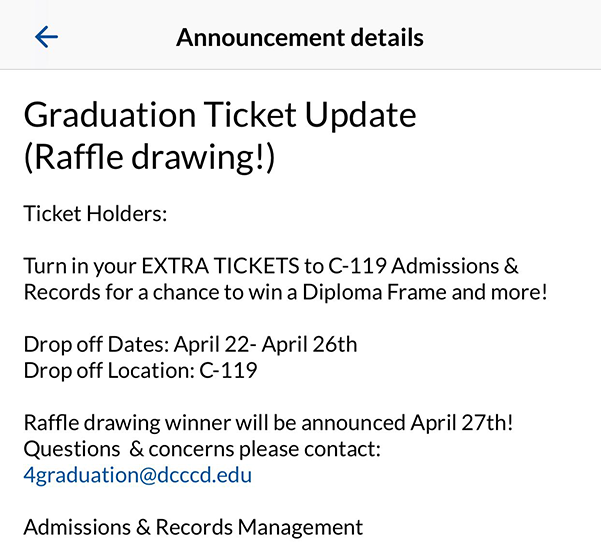 Later that afternoon, they announced a raffle on the app, where students could turn in their extra tickets to the Admissions Office in C-119 between April 22 and 26 for a chance to win a diploma frame and more.
An email went out April 26 announcing the winner who could pick up their frame six to 10 weeks after the spring term when diplomas are ready.
Young said a previous email was sent out asking students to return any extra tickets in order to distribute them, but several students who applied to graduate have not received the email.
Computer-aided design instructor Marques Washington said his dual credit students were told about two weeks ago about the two options they had for graduation.
Washington eventually collected enough tickets for his students.
"If you care, that's what you do," he said. "I mean, because I knew they didn't have tickets. We told these kids they were gonna graduate, and now we're gonna tell them that they can't graduate? No, I'm gonna try to get them tickets."
His goal is to get them all at least two tickets because some didn't want to attend when they found out their guests would not have tickets. He said on April 22 that he'd need 51 tickets for his students.
"I think walking across the stage is very important because a lot of people need to see that," he said. "Somebody in their family needs to see that. Even my kids, if they have children, I always tell them 'You need to walk so your kids can see you walk.' "
He said the statistics about college success are real, and some of his students may never attend four-year universities.
"Even when you go to high school graduations and see teachers crying or you see teachers get emotional, that's because they kind of know that may be the best thing that's ever going to happen for that kid," he said.
Washington said that while at first, he thought it was his 11 students affected, once he started looking for tickets he realized it was a larger issue. One of his students even received two packets and was able to give him eight tickets.
He also noticed that many of his early college high school juniors receiving a certificate, who do not typically get graduation tickets, received packets. So he started collecting the tickets, but he didn't know that other high school seniors didn't have tickets.
Washington said that he would probably put the tickets back into the larger collection for ECHS students. He believes the office should have made an announcement.
"I think they didn't because there's really no way to fix it," he said. "There's really nothing they can do but try to take care of the ECHS kids."


Young said it was reported to her that there were about 10 students who were juniors and received tickets. She said it probably had the least impact of all the graduation issues.
She said her office worked with the high schools to get many of the tickets back.
Young said one of the issues with this graduation season was that the projection for the number of tickets students would receive was based on attendance in previous years. She said there are about 925 graduates this year, which is more than usual, and there are a little more than 6,000 seats at the Curtis Culwell Center.
Young said another issue is that the deadline for graduation applications was pushed back because the campus was closed two days before the deadline. She said applications were also accepted after the deadline.
"We try to accommodate because we recognize students sometimes get busy and they may not be able to submit everything on time," she said. "Sometimes they don't always check their email every day… At the same time, when we do that we recognize that it may create other things that we have to resolve as well."
She also said the office did something new this year and sent an email asking to confirm their participation, which is how the graduation list was populated.
Young said this was done because students often say they're going to walk on their graduation application, and then several hundred students don't show up to the ceremony.
"Students kind of answer that question on the fly sometimes," she said.
Young said that while there have been vacant seats in previous years; this year could be completely different. She said she doesn't want people arriving on graduation day and waiting for a seat to be the only solution offered.
"Students have worked for the last two, three, four years to get to this point and we want this day to be extraordinary for them," she said. "So we're pulling out the stops right now to try to resolve it, and that's our focus over the next few days."
*This story was updated April 30 to include interviews with students and  May 1 to include a statement from administrators.