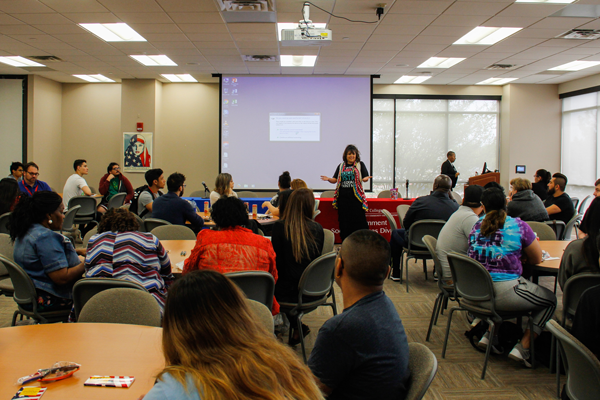 After asking students, faculty and staff to define feminism, professors Kat Reguero-Vandeventer and Tiffany Nacoste realized they needed to change campus misconceptions.
Some believed it was about equality, while others said they had no idea what is was. One administrator described it as a woman acting feminine, while a faculty member said he didn't understand why women were fighting for equality since they've had the right to vote since 1920.
This was the inspiration for the seminar they gave on April 11, "Carving Out a Space of Their Own: The Politics of Feminism."
Reguero-Vandeventer started the conversation by clearing up what feminism is. She described it as the "social, political and economic equality of the genders."
"Most people today, when asked if they are a feminist, will not raise their hand because feminists are 'angry,' feminists are 'man-haters,' feminists are 'wanting to put the men down,' feminists 'want power over men,' " she said. "That's been the perception. It is not the reality."
Nacoste used to be unaware of the social injustices found in the world. She described her early life as being "naive and optimistic" about the world because she thought everyone was equal.
"I grew up in a household where my dad did dishes. He did laundry. So I didn't know any different," she said.  "My dad did it all. There was never an ounce of, 'Oh I don't do that.' I had a Mr. Mom."
Reguero-Vandeventer came from a different cultural background. She said her family was "very Latino" and that her dad has yet to do anything in the kitchen.
However, an early attempt at activism when she was just 12 years old gave Reguero-Vandeventer another perspective. Seeking support to add a street light in her neighborhood, she met a woman who asked why the light was important. Reguero-Vandeventer explained that the boys on the next street were able to skateboard later due to their streetlight, but she and her friends couldn't play outside longer because they didn't have a light.
[READ MORE: Resource pantry opens, college prepares new staff]
"Well then, you're a feminist," the woman told her.
Reguero-Vandeventer said it's important for parents and media content providers to teach girls to be heroes rather than princesses.
"It's incumbent upon media to empower women, to empower men, to empower people to understand that we are equal," she said. "There should not be a gender bias. There should not be a gender pay gap. These things shouldn't exist. We must start at a very young age. It's when they're little that you teach them that they're equal."
The gender pay gap in the United States has been improving since 2006, but still in 2018 the gap remains at around 15 cents according to a recent Pew Research analysis. This pay gap is not expected to be fully equal until 2070 according to the jobsite Glassdoor, which would mark 150 years since women received the right to vote.
Phillip Ortiz, program coordinator of social work and substance abuse counseling, issued a challenge to the men in the audience.
"I have two daughters, and I worry about the world that they're growing up in," he said. "I would like to invite the young men in this room to not simply just sit back but challenge the status quo so that everybody can have an opportunity to achieve these things."
Kiersten Lewis, who is studying to be a teacher and attended the feminism event, said the idea of women being lesser than men is rooted deep in cultures due to religion.
[READ MORE: Staff member embattled by almost 30 years of stalking]
She said people lived their lives around religions like Christianity, which instilled the foundations of women being subjects to their husbands. Lewis said it can be hard for people to venture from their religious upbringings, whether or not they fully agree with what is being taught.
She said the church has always had problems with people who went against what was taught, from scientists to philosophers, but eventually those subjects become accepted.
"So obviously over time things can change. We just need to make the steps to be able to change those things in the world," Lewis said. "And I think over time a lot of
things will change."
Nic Nash, an undecided major, said the ideas of feminism have been misconstrued, but the idea of equality for all is something he supports.
Nash went to the seminar to figure out how to improve those negative connotations. He said the problem is with the name and that he would rather see the word "humanism" put in its place.
"I think the name itself makes people think it's only about women when really it's about everyone being treated equally," panel attendee Mariana Hernandez said. "If you know what it actually is about, it's hard to not support it. It is literally about being equal."
Nacoste sees changing the name as a "cop out." She said if the word makes some people uncomfortable, then those discussions need to be had to change the misinterpretations.
"I think it's going to be more rewarding to actually get people to understand, instead of just throwing the baby out with the bathwater and starting all over," she said.
—Ashleigh Amburgey, Daniel Durrett, and Alexis Rodriguez contributed to this report.
Law requiring government contractors to sign pro-Israel document may be revised