State law requiring government contractors to sign pro-Israel document affects campus speakers
Update: According to the District's legal office, 787 contracts have been signed.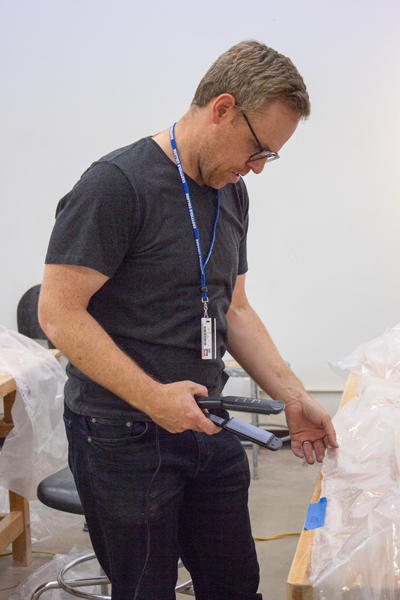 Art professor Eric Eley felt uneasy as he fumbled through the legalese of his contract to create a sculpture with the Austin Film Society. He downloaded it, printed it out, re-read it and set it down for two days before he signed it.
The contract included a required statement that Eley did not and, for the duration of his contract, would not boycott or harm the economic interests of the nation of Israel.
This part of the contract, often referred to as a pro-Israel clause, is legally required for any person or company working with a government entity in Texas. Texas isn't the only state that has this requirement.
To date, there are 27 other states with similar laws.
If Eley broke the pro-Israel clause while under contract, he would not be paid for his services.
"I didn't know if by signing I was saying I'm anti-something or if I was pro-something," Eley said. "It didn't seem clear on what its intent was or what the requirements of me were."
Eley said that the problem with signing was that it seemed to force an agenda on him.
His uneasiness came from not knowing where he stood on the issue. And he said in some ways he felt like the wording was telling him how to think about the issue.
"You just don't know where you land and you don't know what you're signing on to," Eley said. "Are you the frog and the water is boiling around you and you don't know it?"
Bills like this began to be passed to deter the boycott, divestment and sanctions movement, which is a Palestinian-led effort to end the Israeli occupation of the West Bank, and has been called anti-Semitic by some critics.
House Bill 89, or the Anti-BDS Law, was authored by Rep. Phil King (R- Parker and Wise County) and was passed in 2017.
[READ MORE: College resource pantry opens, prepares new staff]
"Anti-Israel policies are anti-Texas policies, and we will not tolerate such actions against an important ally," Gov. Greg Abbott said about signing the bill.
Groups that support the bill made similar statements and many argued the bill does not diminish a company's right to boycott Israel, but companies that choose to will not get money from the government.
Supporters of the bill argue that it is fundamental to protect trade between Texas and Israel and that this law is key to maintaining that relationship.
Currently, artists, guest speakers or companies signing a contract to receive payment for their goods and services with the Dallas County Community College District must sign a similar clause.
The form says that the DCCCD cannot enter into a contract with that company without written verification they do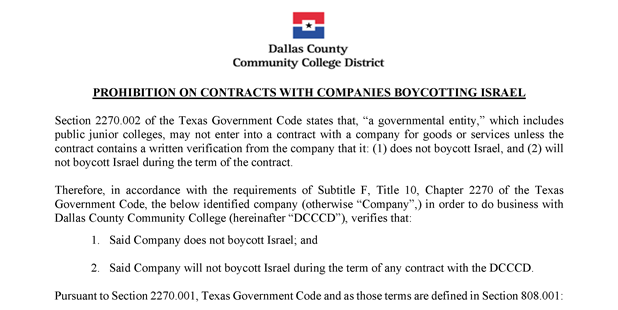 not boycott Israel and will not while under contract, and was signed by people like Tesa Morin and Ian McMahon when they visited Eastfield.
The form also makes the company verify they are not listed on the State of Texas Comptroller's Companies that Boycott Israel List.
The list so far has identified four companies the state will not do business with.
According to Maria Garza in the DCCCD Purchasing Office, the contract has not restricted business between companies and the district.
Speech professor Nick Vera said the reason why legislators passed the bill should be clearly explained. He said that if it is for economic purposes, then why is Israel the only country Texas has a law to protect, when other countries also trade with the state.
"People have the right to be against what they're going to be against," Vera said.
He said that lawmakers should not pass legislation like this based on their religious beliefs, since Israel has been known to get support based on religious sympathy. He said that America is a democracy and not a theocracy.
The bill passed in the House with a 131-0 vote and in the Senate with a 26-5 vote. But the bill is making its way back to the Texas Legislature.
In the current legislative cycle, King has made amendments to the bill with HB 793 that would stop sole-proprietors like Eley from having to sign the bill.
[READ MORE: Booze, weed, tuition: Six bills to watch in the Texas legislature]
The new bill would only require companies with 10 or more employees and contracts greater than $100,000 to sign the clause. Whereas now the bill applies to anyone that is classified as a business.
The law came under fire when speech pathologist Bahia Amawi, a contractor with Pflugerville Independent School District, refused to sign her contract and was terminated after nine years of service.
She and the American Civil Liberties Union of Texas have both filed lawsuits against the state of Texas arguing that it is unconstitutional to require individuals to sign the contract.
Problems also arose when residents of the city of Dickinson were forced to sign the contract to receive aid in the wake of Hurricane Harvey.
This prompted King to say that "It's a complete misunderstanding of the statute," in an interview after hearing of people being forced to sign it to receive aid.
Morin had to sign the clause when she came to Eastfield to give an artist lecture. She was surprised by the contract but signed it anyway. She said she was confused as to what exactly Texas had to do with Israel.
"In that setting, I didn't imagine anybody would be contacting me because of a show I had at Eastfield to try and purchase art and that I would have to make that decision," she said. "In that way, it feels very insignificant. But then within the broader picture and you think of how many people this affects, it does matter."
Morin said the bill is a breach of an individual's right to free speech, and that by not signing the bill, you're forced to become an activist.
It has been months since Eley signed his contract. He said it's the only contract he has ever had to question whether signing was the right thing to do.
Although he does not regret signing it, he does wish he had asked more questions.
"It's like sending out my own ripple of uncertainty and hoping that it helps other people ask the right questions, people with power, or more influence than I have and keep that going," he said. "That's all you can do."
Blazing toward reform: Texas Legislature considers 4 marijuana bills