Family recipes, Le Cordon Bleu chef's creativity combine at Dia de los Tacos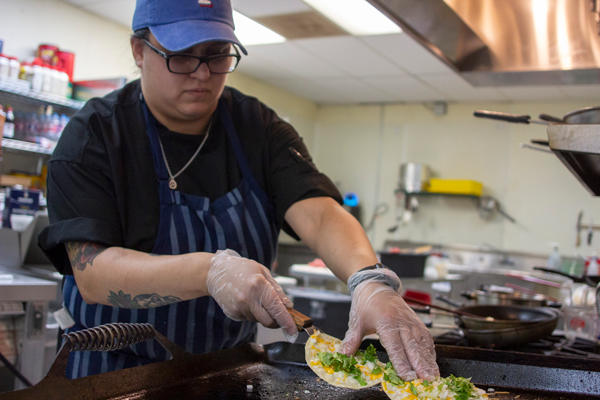 Dia de los Tacos in Mesquite isn't your everyday taco shop. It starts with the pristine environment at the front of the shop (the best taco shops are usually a hole-in-the-wall, but not this one) and continues back into the kitchen.
That's where Jessica Rodriguez, Le Cordon Bleu trained chef turned taco master, does her work. There are no microwaves, no frozen foods, no shortcuts. And it shows in the food, made with family recipes and a touch of her own flare. From the filling breakfast tacos — a fresh tortilla nest for a generous serving of eggs and meat — to the perfectly seasoned fajita tacos to the crunchy on the outside, juicy on the inside chicken flautas, everything at Dia de los Tacos is made with extra thought.
Jessica Rodriguez and her mother, Mary Lou Rodriguez, opened the joint in November. The business is thriving without any paid advertising because of the food, Mary Lou Rodriguez said.
"It has always been my dream to own a small restaurant," Mary Lou Rodriguez said. "I'm lucky to have my oldest daughter who has a culinary degree."
Jessica Rodriguez has been in the food service industry for about 10 years, working all across Texas. From opening her own restaurant in San Antonio with a fellow chef, to working at Rapscallion, a fusion restaurant in Lower Greenville that combines Southern cooking with Southeast Asian flavor. Coming back to Mesquite wasn't really in the plan, Jessica Rodriguez said, but in the end it made sense: get back to her roots, both with food and location.
Jessica Rodriguez grew up in Mesquite and went to John Horn High School, just a few minutes down the road from where Dia de los Tacos is located. Tex-Mex was a staple in her family, so opening a small taco restaurant near home was like coming full circle. While this gem truly is hidden in the shopping center on Faithon P. Lucas, the same as Kroger, its location is intentional.
"I used to stop for breakfast when I took the kids to school and the only options were doughnuts," Mary Lou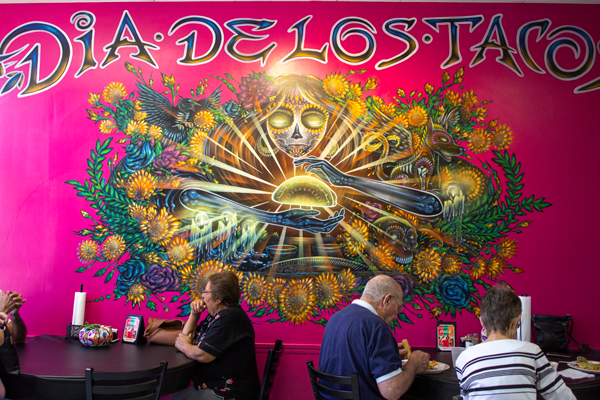 Rodriguez said. "The nearest breakfast tacos were 15 minutes in the opposite direction."
Still, with a location picked out and a determination to open the store, Jessica Rodriguez wasn't on board right away.
"I remember telling [my parents], 'You don't know what it takes to run a kitchen,' " Jessica Rodriguez said.
Prep time, cleaning, supply and food runs and all the other work that goes into managing a kitchen requires more time than most people think, Jessica Rodriguez said. Mary Lou Rodriguez admits that she didn't really understand the difficulties.
"We do now," she said. "We've been here till 9 p.m. prepping food before, and we close at 3 p.m."
The 6 a.m. to 3 p.m. time allows the Rodriguez family to enjoy dinner and evening activities together, things that weren't possible when Mary Lou Rodriguez worked in the medical field before opening the restaurant.
The idea was to provide a breakfast and lunch spot, so missing the dinner rush was always a part of the plan. When they do extend hours to 9 p.m., usually the 25th of each month, Dia de los Tacos gets slammed, with the order rail full the entire evening.
They haven't turned a profit yet — five months is too soon for a new restaurant to start seeing the money, Jessica Rodriguez said — but the enthusiasm from the community is encouraging. When the Rodriguezes closed down for vacation three months ago, they stayed open late their entire first week back. There were more orders than prepped food. It was a reminder that the three-person staff wasn't ready for dinners.
Jessica Rodriguez said there is still more to come. Fresh horchatas (none of that powdered stuff) and elotes may be available soon. She's also perfecting her queso recipe, hopes to expand their space in the near future and would like to one day offer special nights with five-course meals, which is what she trained for.
"I can't get too crazy yet," Jessica Rodriguez joked. "I don't think Mesquite is ready for that."