Working in a man's world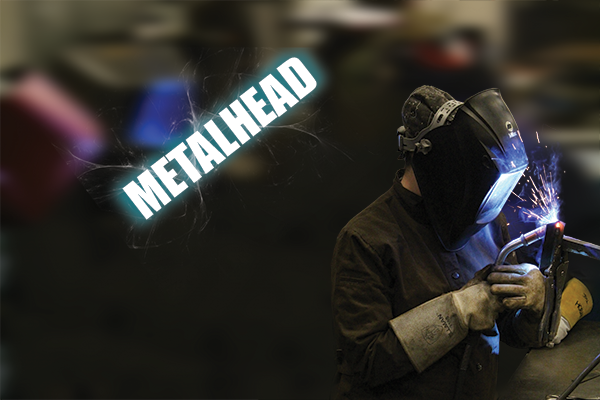 By KARINA DUNN
Stephanie Dibble doesn't have a typical faculty office. A car panel covered in blue eyes hangs on one wall, and a drawing of a female mechanic, frozen in a no-nonsense pose, graces another. Various tools and equipment, including a pair of goggles, are within reach of her desk.
Visitors can quickly see that Dibble is a unique instructor. She teaches refinishing, auto body and welding, courses typically taught by men.
Her interest in cars dates back to her high school years when she performed repairs and paint jobs on motorcycles while her stepfather raced in the Central Motorcycle Roadracing Association.
"When I was 16, my birthday was spent in the pits," she said. "Within a couple of months, I was tired of sitting on the sidelines, and my stepdad got a bike we could both ride. We did endurance racing."
Organized chaos surrounded the races. Before competing, the crews pitched their tents and joked around with one another.
"If you wrecked, you'd have several guys help you out … like a small community," Dibble said.
She watched older men make fiberglass repairs and complete welding jobs. Often, they taught her their skills and allowed her to help.
Dibble enjoyed it so much she decided to pursue an auto body career.  Her mother, who was a teen mom, questioned her decision at first, concerned that she wouldn't have a stable future. Other family members called her crazy, but Dibble was determined.
"I was pushed by the fact that my mom never finished high school," Dibble said. "I wanted to do more because she didn't have the chance to."
Dibble was the only female in the auto body program when she began her studies at Eastfield in 2004. Soon she encountered harsher critics than her family.
"An older gentleman went through classes with me," Dibble said. "He snapped at me the first day, saying, 'You're a girl. Why are you here? You don't belong here.'"
Jeff Mitchell, coordinator of the welding program, instructed the auto body class in which the confrontation occurred.
"[Dibble and the older gentleman] ended up teamed together," he said. "They had more success than the others in the class."
When Dibble showed her skills, Mitchell said the two bonded. At the end of their two years, the older student was one of her greatest supporters.
"Actions speak louder than words," Dibble said. "If you can do the work, you get the respect."
After completing her associates degree, Dibble studied paint and metal fabrication at Virginia College Tech in Pelham, Ala., which cemented her passion for shaping metal.
However, Dibble quickly realized she needed resilience to succeed in the auto body industry. Prior to Eastfield, she worked in body, sign and welding shops. Dibble faced discrimination and doubt from potential employers.
"I had people flat out refuse to hire me because I was female," she said.
Dibble never let it discourage her. Instead, she honed her craft while waiting for her opportunity.
When Gerald Kozlowski, executive dean of Career Technologies, first met Dibble, he admired her outgoing, creative personality. He hired her as a visiting scholar in 2010 and as a full-time faculty member in 2012.
"I was pleased with her work and anxious to bring more women into faculty ranks in career and technical programs," he said.
Dibble was also part of a team that built a replica of the late Carroll Shelby's original race car, the Terlingua Mustang. Working with Bill Neal, who designed the car's original logo, they restored and modified a car for the replica.
Dibble takes pride in the accomplishment.
"Getting the pieces to fit together, each car was like a puzzle," she said. "The small things make the car, not the flashy paint jobs."
Dibble has incorporated lessons from her own experiences into her classroom. Kozlowski said she makes a strong impression when high school students tour the Career Technologies department to meet faculty and learn about the field. There are three female students in the auto body program this semester.
"Stephanie gives the young ladies touring a chance to see these are professions they may want to and can pursue," Kozlowski said.
In her welding class, Dibble has started breaking the stigma of women in auto body. Her male students often rethink their perception of women in the field.
Derrel Walker, who studies auto body technology, once considered it a man's world. When he took Dibble's class, he appreciated her zero-tolerance policy for excuses and negative attitudes. He said Dibble's knowledge amazed him.
"She's better than any man I've been around, except my granddaddy," he said. "She can do it all."
Dibble said many students are unaware that women have succeeded in male-dominated professions since World War II.
Women supported the war effort as factory workers and engineers while men fought overseas.
"Women were welding and doing the metalwork that men had done," she said. "It's not that it's something new. We've done this for a long time."
Rodney Manning said he wants to open his own auto body shop. He took Dibble's welding class to round out his skills.
"The first thing that came to mind was, she must be a trailblazer," he said.
Dibble looks to other women making a difference in the auto body industry for inspiration.
"I admire Jessi Combs, who had run into the same stuff I had: stigma, people not wanting to give you a chance," she said.
Combs, a well-respected speed racer, co-hosts the TV show "All Girls Garage" on the Velocity Channel. She recently earned the title "Fastest Woman on Four Wheels" with a record of 392.954 mph.
Dibble met Combs at SEMA, a trade event where professionals demonstrate their abilities, in 2010.
Dibble said it's good to see other women performing well and making history.
"I hope it gets to the point where people judge you based on what you can do, and not on who you are," she said.