Piano Man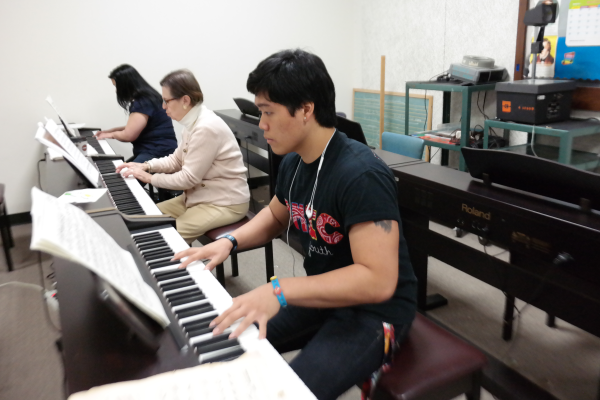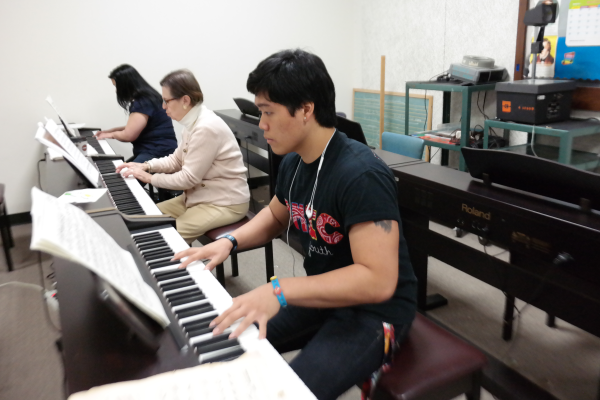 By Robert Burns
Justin Flores' hands dance over the black and ivory keys as he plays the piano, filling the room with music.
The mood is lighthearted as Flores and classmate Julia Chin settle in to practice for their juries — the equivalent of finals for most classes. The difference is they have to perform multiple pieces from multiple eras in front of faculty members.
"He really knows his stuff," said Chin, a piano major. "When we play duets and stuff, we fit well together, and he is really fun to play with."
Flores, 18, is majoring in music with an emphasis on teaching, conducting and performance. He practices under the guidance of Professor Pierrette Mouledous. She also leads the weekly music recitals for faculty, which is open to all students.
This is only his second semester, but Flores' skills have impressed Mouledous.
"He is very talented," she said. "If he wanted to, he could be a concert pianist."
Since learning the piano in the first grade, Flores has entered numerous events and concerts, including the University Scholastic League competitions and a concert at Nordstrom department store.
"I knew I wanted to play something," he said, "and my parents suggested that I play the piano. I picked it up really quickly."
Flores' father is a music minister at his church. When Flores was a young boy, his father took him to choir rehearsals, and that is where Flores' love for music began.
In the fourth grade, he started playing the drums. Flores still plays drums at his church and plans to lead worship in a church band after he graduates.
"Ever since I saw the movie 'School Of Rock' and I saw [the character] Freddie playing the drums, I knew I had to learn to play," he said. "For me, the movie was inspirational, at least when I was a little kid. Seeing a kid about my age or a little older playing an instrument was really cool to me, and it looked super fun. It looked like it needed a lot of energy, and I felt like I had a lot of energy to get out."
His favorite classical musician is Hungarian composer Franz Liszt, who was a child prodigy and pupil to Ludwig van Beethoven. His favorite piece by Liszt is a fast score called "La Campanella."
"'La Campanella' is a monstrous piece," Flores said. "I really like the speed. I love playing fast. It really works on technique because you have to play fast chords and there's a lot of big jumps. Your hands are all over the piano."
However, Flores isn't only into the classics.
"I'll be listening to hip-hop, then my phone will play some pop, like Ariana Grande or Justin Timberlake," he said. "Then out of nowhere, my phone plays classical."
Flores doesn't just get to play the piano all day. He also takes classes, such as music theory, where he analyzes music to be able to hear certain things, and music literature, which focuses on the music of major composers.
Flores also enjoys singing.  While he doesn't perform in concerts, he does like to sing for his friends.
"Music for me is singing. It is a big emotion for me. Whatever I am feeling is what I want to do music-wise," Flores said. "If I am feeling lovey, then
I want to sing some love songs. If I am sad, then I will sing sad songs all day."
Flores will perform in a quartet at the college's spring recital on May 2 in F-117.