Students and faculty mourn chemistry professor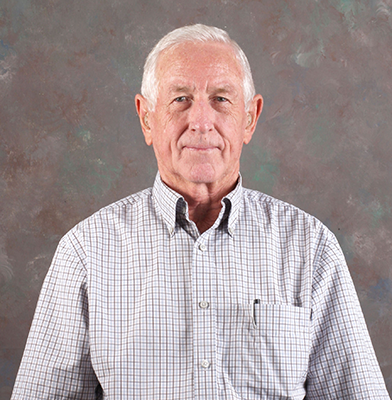 By Justin David Tate
Charter faculty member and chemistry professor Jerry McMahon died unexpectedly last week.
McMahon's death left a hole in the Science and Physical Education division, where he befriended veteran professors and helped mentor young instructors.
When Sal Frisella arrived in 2002, McMahon took him under his wing. The two became close and even went hiking together. Despite a 35-year age difference,
McMahon was able to out-exercise an easily tired Frisella. He referred to McMahon as a ball of energy, which made the news of his death harder to take.
"He was a fit guy," Frisella said. "When he passed away, it was a kick in the stomach."
McMahon was popular with students as well.
Moments before his chemistry class started on the morning Feb. 5, computer engineering major Rommel Jensen received a text on his cellphone from a friend stating that McMahon had passed away. He assumed it was a joke.
When he arrived at his classroom, Dean Gretchen Riehl of the Science and Physical Education division shared the news that confirmed the earlier text.
"He's part of the furniture; he's been here forever," Riehl said. "It's always sad when we lose one of our own. … I spoke with the students. They were rightfully upset. He was a good teacher and a nice person."
McMahon, a hard worker and lover of science to all who knew him, died at age 79 in his home on Feb. 4.
He is survived by his wife Sylvia and two adult children. He will be remembered by the thousands of former students he instructed over the course of his five decade-long teaching career.
The left many without the council of someone they respected, including McMahon's son, John.
"My dad was a phone call away or there for me with an answer," John said. "With his passing, the toughest thing to deal with is not being able to pick up the phone and talk to him. I got to lean on my memories of him and learn from all of the things he gave me during my lifetime."
Many of those who attended McMahon's funeral on Feb. 8 said they learned life lessons from him.
Frisella was mentored by McMahon for so long that he began to develop a McMahon-like personality. His colleagues call him a "younger version" of McMahon. Frisella considers it a compliment, calling McMahon honest and open.
"You never had to guess what he thought," Frisella said. "He would tell you."
Around 1995, McMahon's honesty proved critical in helping one of his students succeed. High school straight-A student Christiana Bivins was taking chemistry in college — and failing miserably.
She went to McMahon in tears midway through the semester.
"'Why am I not smart enough to pass your class?'" Bivins recalls asking. "'I know I'm smart.'"
McMahon responded kindly, "Yes, yes, sweetie, it's not that you're not smart. You had a bad teacher and a bad foundation in chemistry."
McMahon worked extensively with Bivins after class to help rebuild her foundation. She eventually passed the class with a C.
Bivins, not accustomed to earning a C, left the class proud of her accomplishment, she was excited to go forward with her next class, geology, after McMahon took the time to figure out which science would be right for her.
"I sucked at chemistry, but I enjoyed going to his class because I knew I was going to learn something and I knew he genuinely wanted [students] to be excited about that," Bivins said.
McMahon even taught his future wife, Sylvia, at Navarro College in Corsicana before they began dating.
The two were married in 1968 after McMahon accepted a job at El Centro in 1967. In 1970, he came to Eastfield.
Of all the memories Sylvia had with him, their nights at Stickerburr Farm stand out the most.
"We went down and spent the night, roasted marshmallows by the fire," she said. "This is pretty much every year the day after Thanksgiving. … Our children were smiling quite a bit."
Though McMahon had hinted at retirement before to his fellow co-workers and students, Assistant to the President Sharon Cook believed he would probably never retire.
Before the spring semester began, she shared a laugh with him about his future.
"He asked, 'So Sharon, when are you going to retire?'" Cook recalled. "And I said, 'Well, when are you going to retire, Jerry?' And we both kind of chuckled and we said, 'When Carl Knight retires.' Carl has been here for 45 years. We always say Carl will die teaching here."
Memorial contributions may be made to the Library Fund at Lake Pointe Church in Rockwall.