myPortal connects campus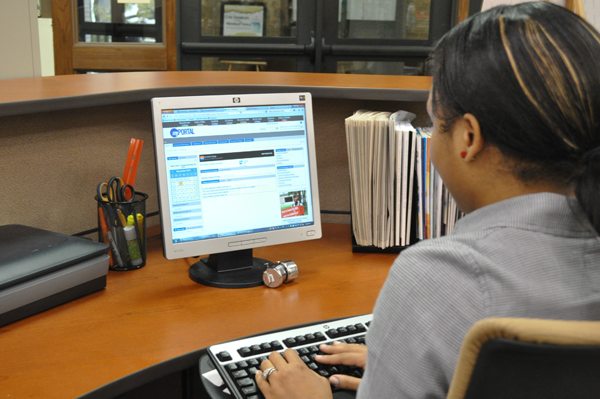 By María Yolisma García, Staff Writer
A new wave of social media has hit the DCCCD.
myPortal, a website intended to be a "single login site" for various district websites including eCampus and eConnect, was launched earlier this fall and is still in its introductory stage.
It will serve as a platform for students and professors to be able to share documents and  join collaborative groups through user profiles.
Jack Thiehoff, interim director of education and administrative technology, said one of the goals of the single login option is to allow students, faculty and staff to access eCampus and other resources through an assigned email account.
There are other benefits as well.
"It will serve as a great opportunity for students to further engage with their professors in a new and more effective way," psychology professor Kim Chandler said.
Georgeann Moss, a myPortal team member from the district office, said the site will give students easy access to different tools and functionalities such as announcements, team sites and online service links.
"We can target announcements to different groups of people," Moss said. "[For example] If you don't receive financial aid you won't see FA announcements. We can target those students who do receive FA to see FA announcements. It's a way to lessen the clutter in your inbox."
Team sites are a new way to interact with officially sanctioned groups like Phi Theta Kappa, Student Government Association and many others.
Campus groups can create a website on myPortal and are able to share meeting minutes, calendars or any other information pertaining to the group with their group members.
"Team sites will enable us to enhance productivity," Moss said.
Instead of having multiple Facebook pages for one group, myPortal can be used as a central location for students who are members of the group to share information and read weekly updates from the club.
A myPortal account is automatically made for students and faculty who have access to eConnect. When a user changes his or her password, a myPortal account is created. In 24 hours the user can sign into myPortal with the same login information for eConnect. From there, users gain access and can edit their homepages to tailor their content for other students and faculty members to see.
"It's a great tool and it's going to be even greater a year from now if we all learn and grow together on how to use it," Moss said.