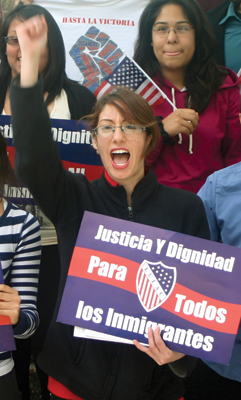 By Justin David Tate, Life & Arts Editor
Student protests at colleges across the state, including Eastfield, led to the disintegration of an event known as the "Catch an Illegal Immigrant Game" at the University of Texas at Austin.
On Nov. 18, a group called the Young Conservatives of Texas announced the game would be played on the UT campus in two days.
Within 24 hours, public outcry from students led to the event's cancellation.
The object of the game was to find people on campus wearing shirts displaying the words "illegal immigrant." Students who caught these people would be awarded $25 gift cards.
The day the game was announced, students such as University of Texas at Dallas political science major Abi Zapote immediately reached out to thousands of students at Southern Methodist University and the University of North Texas, among others.
"I was disgusted by their actions because I was undocumented for 15 years," said Zapote, who is also the district deputy director for young adults at LULAC. "Knowing that these people went out of their way to plan this game, knowing that it was UT [Austin], a really great university in Texas, knowing that racism is still prevalent there, it just bothered me a lot."
Her coalition of students organized by 5 p.m. on Nov. 18, placing phone calls to the president of UT Austin and the college's board of trustees. A counter protest was planned for Nov. 20 in Austin at the same time as the YCT event was originally scheduled.
The protests attracted thousands of supporters on Facebook and about 500 students in person, eight of whom rode with Zapote in two cars from Dallas to join the demonstration.
America Ferrera, star of the ABC comedy "Ugly Betty" and co-chair of Voto Latino, a group reaching out to young Latin voters, spoke at UT Austin to voice her support for the protests.
"The dreamers I know are the students who press on with their education through great financial hardship in order to become doctors, teachers, business owners, lawyers, scientists and innovators," Ferrera said through a megaphone. "Those dreams are more powerful than any obstacle that comes before them."
In a statement sent Nov. 19, YCT-UT Chapter President Lorenzo Garcia said the decision to award $25 gift cards was "misguided."
"I believed that our event would spark this discussion on campus," Garcia said in the statement, which also announced the cancellation of the event. "And though we will no longer be holding the event, I hope that the publicity surrounding the event will create debate among students."
Former Eastfield LULAC President Chris Enriquez agrees a discussion should happen, but he doesn't believe this was the right way to bring up the topic.
"For a lot of people, the fear of getting caught is very real," Enriquez said. "And then to make a game out of it and give out $25 gift cards, that's kind of mocking the issue."
Enriquez was sitting at a table in the back of the Student Life office when he saw the news on his phone. He immediately organized Eastfield LULAC members to stage their own demonstration on campus in support of the protests held in Austin.
Enriquez is a former member of the North Texas Dream Team that helps lobby for laws to allow undocumented students and workers to remain in the United States legally.
Deferred Action for Childhood Arrivals (DACA) was considered a small victory by the Dream Team. The order from President Barack Obama sent on June of last year allowed undocumented students ages 16-31 who came into the country before they turned 15 to apply to remain in the country legally.
For Eastfield student Gabriel Estrada, who also participated in Enriquez's on-campus demonstration, the order meant he did not have to fear deportation any longer. It also allowed him other privileges he didn't previously enjoy.
"Now I can be a part of the American dream," he said. "I can get a [driver's] license. I can get a job. Those things, some people take them for granted."
As the second anniversary of DACA approaches, many DACA students will have to apply again. Zapote believes the protest was an inspiration.
"I think that it's such a positive thing to know that college students aren't just sitting down and waiting for things to happen," she said.