Faculty president resigns after controversial email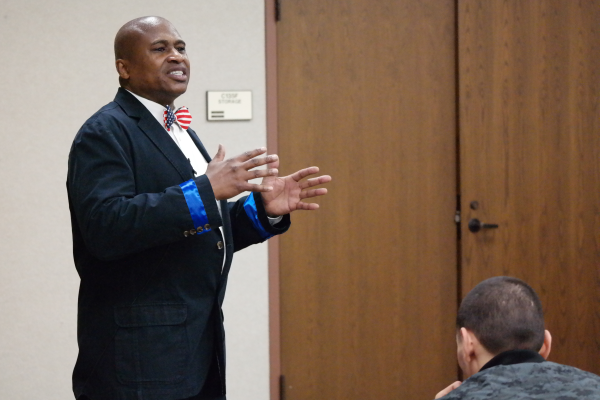 Government professor Stacey Jurhree and history professor Mike Noble have unexpectedly stepped down from their positions as Faculty Association president and vice president following a dispute at a Nov. 16 association meeting.
Noble, who is in his ninth year at Eastfield, and Jurhree, in his 25th year, resigned Nov. 16 and Nov. 18, respectively, in what some faculty members say was an unprecedented event.
The dispute stemmed from an email Jurhree sent to faculty members the night before the meeting in which the professor seemingly links Eastfield's increasingly minority student body to a perceived lack of an "academic environment."
In the email, Jurhree begins by advising faculty to be wary of administration, proclaims that the new eight-week course format is not effective for the Eastfield student body and criticizes the Office of Student Engagement and Retention for "having loud music blasting in the Bee Hive while classes are going on."
He goes on to say: "Finally, when I came to Eastfield College 25 years ago, the student population was about 97 percent white and we did not have all of this foolishness going on. Eastfield College then was more like an academic environment. Now it has turned to ghetto fabulous and I am very grieved by this."
According to fall 2018 enrollment records, 48.3 percent of Eastfield students are Hispanic, 20.8 percent are Caucasian, 19.2 percent are African-American, 4.4 percent are Asian and 7.3 percent identify as other.
Multiple faculty members, all of whom asked to remain unnamed, said that the Nov. 16 meeting began as any other would, with members discussing current events and upcoming proposals relating to campus.
Then the topic of the email was brought up. Noble, who was sitting in the front of the room, stepped in, openly deeming it racially offensive.
Exchanges about the email ensued with multiple faculty members criticizing Jurhree, and some Faculty Association officers attempting to explain what Jurhree meant in his email.
Noble suddenly left the meeting as multiple faculty members continued to press Jurhree on the issue.
Noble resigned from his vice president position through email later that day.
Jurhree officially stepped down Nov. 18, stating in an email that he wanted to focus on his teaching.
When asked about whether the pushback over the email was behind his resignation, Jurhree said no.
He also said that the contents of his email were misunderstood, claiming that he was expressing his frustration about the college's treatment of minority students.
"I was asking, 'Why now that we have more brown and black students, do we feel the need to have to entertain them?' " he said.
Noble declined to comment.
Various faculty members stated that this isn't the first time Jurhree has sent controversial emails.
A March 2007 issue of The Et Cetera reported that Jurhree was placed on paid administrative leave after sending an email criticizing administration, Dallas County Community College District leaders and members of the Faculty Association.
The email was sent to the entire Eastfield mailing list, as well as then-DCCCD Chancellor Wright Lassiter.
In it, Jurhree specifically criticized then-faculty President Rita Lewis and Vice President Gloria Jackson, stating that association members "have to come to realize that we now have no viable voice" under their leadership and that he was told that "individuals have used their association positions to further their own personal agendas."
His absence from class led to a student-led rally over concerns for the professor's return and their grades.
Jurhree returned to campus several days later.
In regards to Jurhree and Noble's stepping down, Eastfield College Vice President Mike Walker said in an email that leadership changes within the Faculty Association were independent of administration.
"I can say that while our faculty may have disagreements about issues they deal with, I am certain that they are fully invested in, and fully committed to, excellent teaching and students' success," he said.
Walker also said that administration wants to completely understand the situation before making a further comment.
"We have limited knowledge of the content and the context of the overall situation; the email, resignations, etc.," he said. "For that reason, there has not been a statement by administration about the email."