Plano offers local eats, laid-back fun for students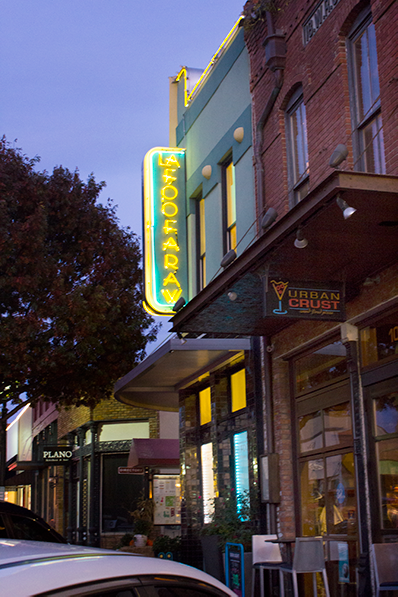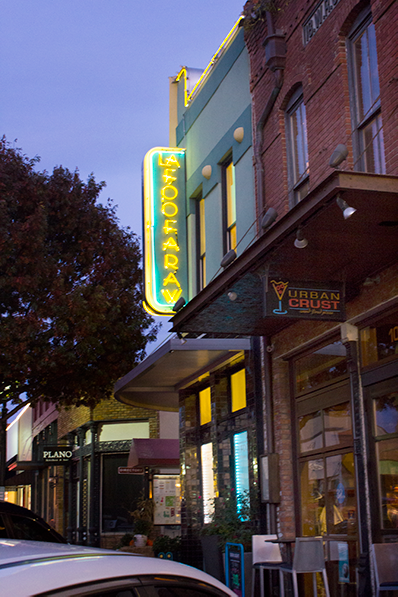 DCCCD provides free DART passes to most students. But you can visit many destinations besides the Eastfield campus. Reporter Cameron R. Cook and photographer Jesus Ayala hopped the rail and headed north on the red line, second to last station. Third stop in our series: Downtown Plano.
A stream of vines emitting white lights hang above and between red-brick buildings of classic design, greeting you with a personable and friendly vibe as you walk on cobblestoned sidewalks.
The scent of cake balls and coffee is just steps ahead.
Within two streets on either side of a rounded corner, surrounded by many new and modern apartments and lofts, Downtown Plano is one of the hippest places in DFW.
Urban Crust hostess Morgan Wenger commutes to work, a wood-fired pizza spot, from her home in Deep Ellum.
She said the area is like a milder version of Deep Ellum and Downtown Dallas, which she said can get crazy.
Plano is "more mellow and calm," Wenger said. "I can drive here and not get frustrated."
You can get to Downtown Plano by riding the DART Rail Red Line and hopping off at the station located in the middle of this historic and turn-of-the-century region.
Visitor Selena Hearn said she came to town from her home in Central California to see a friend who lives in McKinney.
They were looking for a place to hang out for the night before taking a trip together up to Arkansas, Hearn said.
She said they Googled a bar in Plano and decided to pick the 32 Degrees Rooftop Ice Bar that is on the third floor of Urban Crust.
"It's quiet, there's good drinks and it has a nice patio where you can see the outskirts," Hearn said.
With so many places in Downtown Plano to choose from, you can start the day having coffee at XO and shopping for chocolate gifts at Dude, Sweet.
Then end it out by getting some dinner at BRIX where you can watch sports and eat pub fare like Shepherd's Pie or Chicken and Waffles.    
Lockhart Smokehouse gives a cozy Texas feel with tin-sign-covered red-and-black-colored walls, neon signs and wood flooring. Here you can match a meal of beef ribs and brisket with cole slaw and a Revolver High Brass beer.
The bar serves a rotating tap of drafts and the barbecued meat is sliced right in front of you.
Lockhart Smokehouse employee Kelly Radnitzer said he lives and works in Downtown Plano.
"I'm down here all the time," Radnitzer said. "I like all the bars, they just have a good selection of beer. All the locals are pretty cool, you get to know everybody. Just the atmosphere, it's the old-school vibe, that's what I like about it."
He said he sees all kinds of people visiting the area who know it's a place to enjoy a fun day out.
"A lot of businesses come here to entertain their guests," he said. "[It's the] same idea with the families who are coming to hang out. It's downtown. You want to do something, you go to downtown."
Radnitzer said that since Lockhart's closes early, he'll usually send night visitors down to Fillmore Pub.
As a local, he said he chooses ZaLat for a late-night slice of pizza.
Local resident Jeremy Duffy said he enjoys all the local spots.
"BRIX, Vickery, ZaLat, all of them. It's a pretty cool area to hang out in," Duffy said.
He said since he moved back to Plano a few years ago, the downtown area has seen a lot of growth and soon there will be much more.
"It's about to blow up," Duffy said. "With all this new construction coming in, it's changed the idea of the area [of] downtown real quick. It's very chill. I would say personable, for sure. Slow to progress, but the things that will happen will be big."
Like any other entertainment area, shopping takes as much of a place as food and drink.
Lafoofaraw boutique owner Julie Higginbotham said she and her partners bought the building and opened their shop nine years ago to sell lotions, jewelry, gift wrap and currently a lot of Christmas products.
"One of the partners had been down in this area probably almost 12-15 years ago and he liked it and so he said, 'Let's give it a shot and see what we can do,' and here we are," Higginbotham said.
Lafoofaraw also does custom floral work, weddings, custom parties and anniversaries.
"You can't come buy a dozen roses from us, we don't have a cooler," she said. "We don't do that, but we do custom work. We have an interior service and then we have all the gifts. So, we have three entities and it's quite busy, and so it keeps us going."
Higginbotham said they have customers who come from all over the metroplex, with many hailing from Richardson, Frisco and McKinney.
"The new building in the back that's under construction is three stories underground with about 400 spots for parking, so that is wonderful," she said. "There will be apartments on top with also some retail around the bottom."
Higginbotham said there is a Cotton Belt coming, a train that will be four blocks down and run east and west.
"It's been in the works for about eight years now, and when it comes, this whole corridor will change to a huge mecca of shopping," she said.