Early voting numbers surge, students embrace campus poll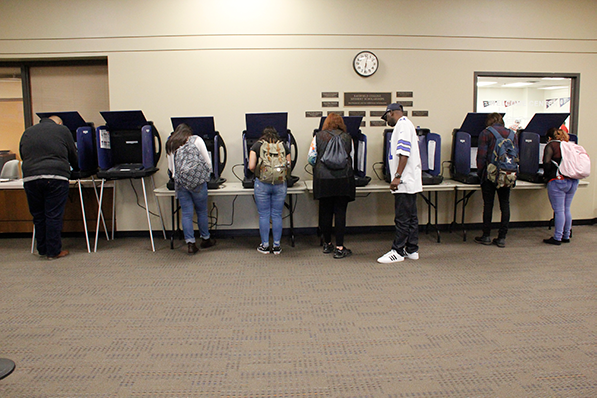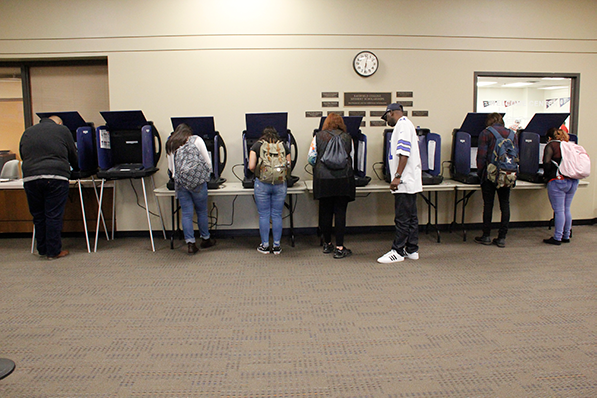 By DAVID SILVA
Senior Videographer
@DavidSilvaETC
Long lines, and often hours in wait times, were seen at early voting locations around the country.
Nearly 39 million Americans had already voted before Tuesday's election, surpassing the total number of votes from the 2014 midterm election, which saw 27 million votes cast.
That amount of turnout is largely unprecedented for midterm elections.
Midterm elections generally see about a 20 percent drop in voters compared to a presidential election cycle.
But many states, including Texas, have not only surpassed their 2014's total voting percentages through early voting alone, but have also surpassed the early voting percentage they saw during the 2012 presidential election.
Texas, the second most populous state in the country yet the 47th-ranked state in voter turnout in 2016, saw over 4.8 million early votes in the state's 30 most populous counties, which include Dallas, Tarrant, Collin and Denton.
The 4.8 million make up 39.9 percent of registered voters in the state.
In comparison, 2014 saw just over 2 million (18.8 percent) early votes, and 2012 just over 4 million (39.2 percent) votes.
The largest portion of increased votes came from young, first-time voters like electrical engineering major Brianna Hill, who expressed concern for women's rights and the LGBTQ community and wanted to make that clear at the ballot.
"I have been dissatisfied with the last few years politically," Hill said. "I am finally able to be heard as a citizen."
Statewide Democratic candidates, including Beto O'Rourke, saw the surge of early voters as a sign that their campaigns would win their race.
At a Lewisville rally on Friday, the U.S. Senate candidate pointed to winning North Texas counties as a path to victory.
"If North Texas continues to turn out in the record numbers that we've seen, shattering every midterm total for as long as we've been looking at them, in some cases rivaling presidential voter turnout, then we're going to win this race," he said.
Younger voters, even in conservative Texas, were expected to lean towards Democratic candidates.
Jeffery Seals, a 61-year-old social work major who has been a consistent voter, has been urging his younger classmates to hit the polls.
"I believe in having a voice, and without a vote, there is no voice," he said.
Eastfield's main campus was an early voting location from Oct. 29 through Oct. 31, while the Pleasant Grove campus was an early voting location for the entirety of the early voting period.
This was accompanied with "Get Out the Vote" events on Oct. 29, 30 and 31, including Halloween-inspired events that had Uncle Sam urging students and employees to vote.
"I felt guilty I didn't vote in 2017, so I made it a priority to vote this year," Diana Tezock, a biochemistry major who first voted in 2016 said. "Convenience was also a big factor. Having the early voting booths on campus made it easier for me to vote and gave me a convenient reminder."
This is the second time Eastfield has been an early voting location, the first being in 2016.