Chancellor champions student-first initiatives: 'High performing faculty' and other plans discussed at forum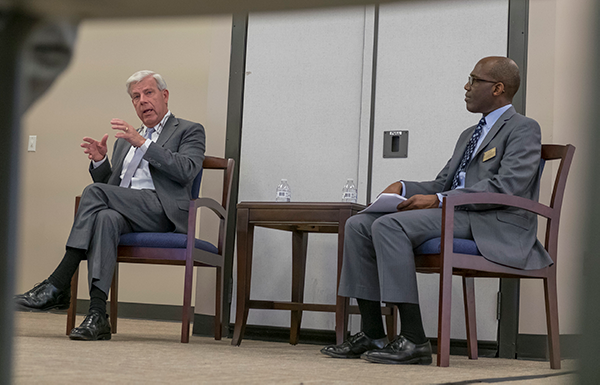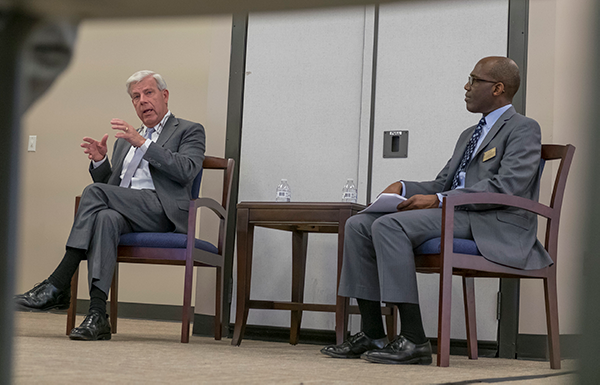 Faculty concerns about rating professors to determine teaching schedules are unfounded, Dallas County Community College District Chancellor Joe May said after a forum Nov. 5.
May said that while the details of a multi-year master schedule are still being worked out, rating faculty and giving those with higher scores better class times has not been discussed.
Concerns about giving "high performing faculty" preference in class scheduling were sparked when May started touring colleges to talk about the future of the district.
"There's been nothing developed, this is all really just to get input from the faculty as we move forward," May said after the forum about the future of the DCCCD.
May said discussion about high performing faculty refers to new professors who have skills and experience in the classroom, specifically to visiting scholars the district lost the chance to recruit.
He said that master faculty, also referred to as high performing faculty, deserve different treatment. He did not talk about how master faculty will be determined.
"I've always expressed my frustration that everyone was kind of treated the same, and we know that it takes a long time to become a master faculty." May said. "We want to leverage that."
He referenced Dallas Independent School District's higher pay for better teachers as one reason for determining high performing faculty.
Faculty Association president Stacey Jurhree said faculty have serious concerns about the idea of rating professors to determine who is high performing.
New college president Eddie Tealer said he has heard these concerns and is doing what he can to communicate them to district officials.
"As I learn more, I'll bring that information back to the college to make sure we're all understanding and make sure the communication is clear," he said. "And also any problems or any challenges at the college level, communicate that back up."
May and Tealer discussed the future of Eastfield and the DCCCD at the forum, touching on topics of increased tuition to cover textbook costs, online education, early college high school programs, corporate partnerships and district master planning.
May said the district plan to raise tuition by $20 a credit hour to provide textbooks for students would make college more accessible.
Under the plan, students would be given access to an online textbook where available and, where unavailable, would get a hard copy with no extra charge.
Students who receive a digital textbook and want a physical copy would be able to either print out the textbook or pay extra for a hard copy.
"I've known for a long time, from talking to the bookstore providers — Barnes and Noble, Follett and the former CEO of Pearson — … it depends on who you ask, but somewhere between 30 and 40 percent of students are not receiving their materials," May said during the forum.
"We began the quest of how do we basically just cook this into the tuition so that there's not a textbook fee, basically."
May said the district had trouble locating partners for the plan. Textbook publishers wanted to offer discounts to carry their textbooks exclusively but the district wanted to leave the choice of textbooks used in class to professors.
"We realized that only in working with our bookstore provider could we get what every faculty needed for their classes," May said.
The Et Cetera has been unable to find the source of information and statistics the district is using to support the plan.
May expects to take the plan to the DCCCD Board of Trustees for approval in March and implement it in the fall 2019 semester.
History professor Liz Nichols moderated the forum, but audience members were not permitted to address May or Tealer directly. Instead, they were required to submit questions electronically.
Nichols said the questions she asked were provided by the district, though some questions, like one about Blackboard malfunctioning during finals week, were off script.
Mike Noble, a history professor, spoke out during the forum to ask about high performance faculty and Jurhree, a government professor, expressed concerns about eight-week terms.
"We have to be worried because when we hear about these master faculty but we don't hear any specifics, we let our imaginations run to the worst place," Noble told the chancellor during the forum.
May said that faculty will be involved in the design of master faculty requirements and that it's just a recommendation at this point. He said master faculty are those who have been here "10, 20, 30, 40 years."