Update: Professor Cattanach loses bid for Texas House following recount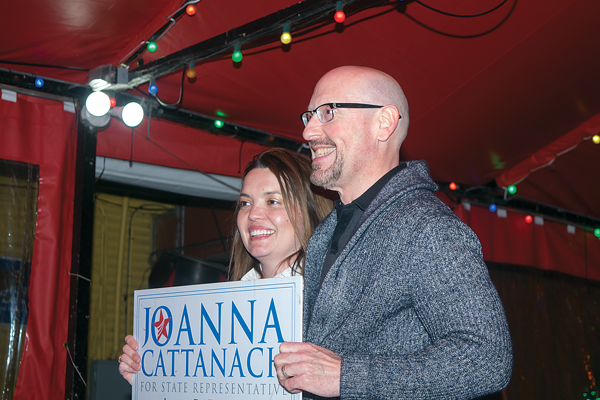 Updated Nov. 29
Eastfield professor Joanna Cattanach loses her bid for Texas House Representative for District 108 following a voter recount.
Cattanach was running against incumbent Republican Morgan Meyer to represent the district, which includes Park Cities and Old East Dallas.
Despite Hillary Clinton winning the district in 2016 by 6 percent, Meyer was heavily favored as a moderate Republican and outraised Cattanach throughout the campaign.
However, Cattanach managed to make the race competitive, associating herself with well known Texas Democrats and campaigning extensively.
On election night, the race was considered too close to call with less than 500 votes separating the two candidates.
After mail-in and provisional votes further narrowed the gap to just over 200 votes separating Cattanach and Meyer, her campaign requested a recount.
Dallas County Republicans Chairwoman Missy Shorey called the recount a "political charade" in an email to supporters.
"This recount is clearly a waste of time and a lot of money," she said.
Cattanach said that her campaign's recount request was not abnormal for such a close race.
"We owe it to everyone to make sure every ballot is counted," Cattanach said before the recount began.
The recount confirmed Meyer as the winner.
Under state rules, Cattanach's campaign paid a $7,000 deposit for the recount.
Updated Nov. 14
Journalism professor Joanna Cattanach has requested a recount in her race for Texas House Representative for district 108. Cattanach's opponent, incumbent Morgan Meyer, declared victory.
According to the Secretary of State of Texas, a candidate can request a recount if the difference in votes between the two races is less than 10 perfect of the total votes received by the leading candidate. For district 108, the difference in votes would have to fall under approximately 3,900 votes to qualify. Currently, the difference between votes is just over 200, with Meyer in the lead.
Updated Nov. 12
The race for Texas House District 108 is still to close to call, according to a spokesperson for the Dallas County Democratic Party. Neither Republican Morgan Meyer nor Democrat Joanna Cattanach has declared victory in the race.
The party said polling places are waiting on documentation from the Texas Department of Public Safety to determine if about 1,000 provisional ballots will be allowed in the race. Meyer currently leads Cattanach by 248 votes following an incomplete count of mail-in and provisional votes, according to the Dallas county election results website.
Original story:
The race between former Eastfield adjunct professor Joanna Cattanach and Morgan Meyer remains too close to call.
First-time candidate Cattanach is trying to unseat the lawyer in state House District 108, which includes the Park Cities and East Dallas.
With all precincts reported, Meyer led by 440 votes.
This does not account for provisional and mail-in votes.
On, Thursday Cattanach's campaign released a statement saying the candidate will wait until provisional and mail-in votes are counted before proceeding.

If Cattanach loses the race, she may qualify to request a recount if the race meets the Texas Secretary of State requirements.
Cattanach ran an aggressive ground campaign, block walking nearly every weekend and greeters voters at the polls each day of early voting. She aligned herself with U.S. Rep Beto O'Rourke, and an artist created a mural of the candidates in East Dallas.
O'Rourke lost his Senate bid to Ted Cruz.
"Her teaching and foster child background make her more connected to the children," said Liz Wally, a supporter who attended Dallas County Democratic Party's watch party Tuesday night.
Supporter Ken Duble said he admires Cattanach's dedication to education reform.
"Joanna is very oriented towards education, and particularly disadvantaged children because Joanna came from a disadvantaged background herself," Duble said.