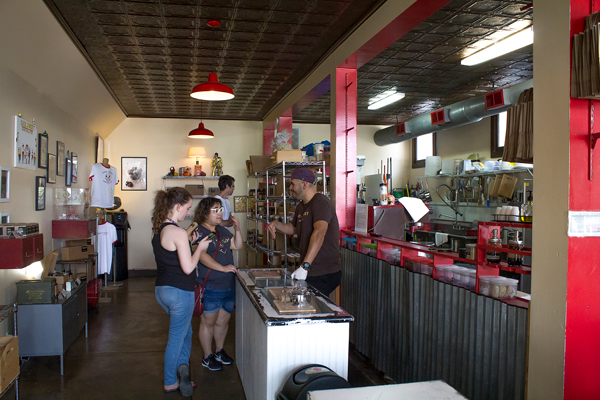 DCCCD provides free DART passes to most students. But you can visit many destinations besides the Eastfield campus. Reporter Cameron Cook, photographer Jocyln Ventura and videographer Giovanni Di Roma hopped the rail and headed into the heart of Dallas. Second stop: Union Station in Dallas, then a street car to Bishop Arts.
Walking into Hunky's Burgers, you'll find an old-fashioned joint with tater tots, cherry coke, and of course, burgers. There are fresh, 1950s style, green-and-white interiors, and laughter abounds while people eat and hang out in the family-friendly restaurant located in Bishop Arts District.
Windows along every wall give a view from the city corner to streets that provide the feel of a hometown square. To get there on DART, ride the Blue Line on the rail system to Union Station then hop on the free streetcar.
Frequent patrons of the businesses in the area, Loreen Bennett and Leif Erickson said Bishop Arts is their go-to hangout spot.
"The vibe of the area is relaxing and toned-down, not too crazy," Bennett said. "It's different. Kind of a New Orleans feel."
The drinks are what attracts them, Erickson said.
"We come down here on a semi-regular basis to get some tequila straight-up or whiskey and soda and just chill," he said.
The district, a flourishing area in north Oak Cliff has experienced a growth in businesses and visitors.
People can visit to experience the trendy restaurants, bars, dessert shops and clothing boutiques taking residence.
There are 60 shops in Bishop Arts to choose from, according to the district's website.
Robert Owen, owner of the antique shop M'Antiques, said that the area has changed dramatically since he and his wife opened their store seven years ago. When he moved his business into the small neighborhood, there had been only a few shops and restaurants on the main street, he said.
"None of these big apartment buildings were here," he said. "And the CVS now by the streetcar station was a small Mexican restaurant then."
You can find cool stuff from bygone eras at M'Antiques. A wide range of metroplex customers go to buy things that could become props in TV shows or décor pieces in interior-designed houses, Owen said.
Walking the city streets in the district, you'll see bright signs lit up outside old and colorful brick buildings. The area is perfumed with sweet apple pie and marinated Texas barbecue.
After shopping and eating, you can catch an art house film or specialty screening at the Texas Theatre, a  zany place with peculiar paintings everywhere and a back-of-house drinking lounge.
To end the day, Picolé Pops offers desserts like banana with nutella popsicles. The majority of their customers, employee Ariana Aymee Ortiz said, are definitely tourists, many from around the world.
"People love this place," Ortiz said, "I would hang out here with my friends all the time, even before I worked at this store."
She said she and her friends eat breakfast at nearby Norma's Cafe before exploring the area and riding rentable scooters for fun.
"(Bishop Arts) is a small little place to relax in," Ortiz said. "We usually come here first for that smaller feeling, and then ride up to downtown where things are busier and more fast-paced."
Felix Mugica, manager of FroYo, said he and his partners opened their frozen yogurt shop in the area two years ago.
The district also contains a tight-knit community between store owners and they often frequent each others' businesses, he said.
"I will often hang out around here, getting lunch across the street from FroYo at restaurant 303, eating dinner at Dallas Grilled Cheese, or playing pool at night at The Social Club."