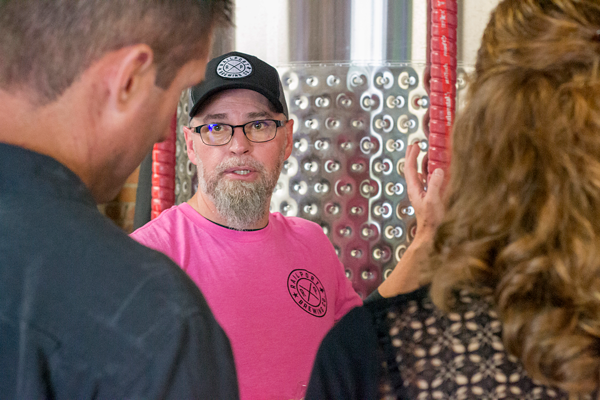 Two years ago, Richard Womack returned to school at 48 to pursue his dream: making craft beer. And only a year and a half after completing the Journeyman Brewer Program at Eastfield College, he opened his own operation in Waxahachie.
He officially opened Railport Brewing Company with his wife, Shannan Womack, on Memorial Day weekend.  After spending more than a year building their brand, he said they instantly saw the demand.
"We went through 31 kegs in 3½ hours," Richard said. "There were over 600 people here and they wiped us out. We couldn't open for two more weeks because we had to brew more beer. … It was sad to tell everyone, "We ran out of beer.' But it was pretty cool."
The brewery is now open to the public 4-8 p.m. Fridays and noon-6 p.m. Saturdays.
Richard's decision to go into beer came after being affected by the recession. He was part of the natural gas and oil business when it took a dive, and he asked himself if he wanted to have the same experience in the technology industry.
"He was getting really tired of doing computers, networking, and he wanted to try something new," Shannan said. "We talked about it and I wanted to support him because I know he loves doing it and it makes him extremely happy."

— Video by Yesenia Alvarado and David Silva
Richard still works outside of the brewery, but Shannan said he spends time every day of the week there, making beer or cleaning. Shannan, who works a full-time job, also visits the brewery two or three days a week to help keg beer, clean or taste new beers.
Shannan credits Eastfield for giving Richard the extra boost of knowledge he needed.
"I think it really affected the way that his beer is coming out now," she said. "I think he uses that knowledge every single day. I think that's one of the best things he ever did."
Eastfield has the first brewing program of its kind in Texas, teaching the processes of beer making and the chemistry of the ingredients. Richard learned the technical aspect of making beer from being in Peter Boettcher's brewing class at Eastfield.
He said returning to school was a struggle at first.
"I'm sort of older, so my first week I was having a hard time learning how to study again and staying awake," he said. "Cause it's so much at one time, but it's essential. It's everything you need, and you just are able to apply it."
The internship offered by the program, where he worked in a local brewery two days a week, allowed him to see the different processes each brewery has when making beer.
"Really what I took away from it was that you have to make it your own," Richard said. "A lot of the breweries have different equipment, different ways they brew beer, all of that stuff."
[READ MORE: Former Eastfield Student Kwinton Gray strives to tell stories through his music]
The Business
Richard said going into the brewing industry can be tough and he has faced setbacks.
"You definitely have to have a passion for it because you're going into one of the most highly regulated industries," he said.
He said that he and his wife spent about 11 months just going through the permitting process.
While Richard and Shannan had investors initially, he said the long process caused them to leave.
"They just didn't want to wait," he said. "Plus, there are a lot of things that could go wrong along the way so they didn't want the risk."
Most counties in Texas fall somewhere in between wet (allowing sales of alcohol) and dry (banning sales of alcohol), with precincts inside the counties allowing alcohol sales and others prohibiting them outright, according to the Texas Alcoholic Beverage Commission.
Richard said when he tried to open a brewery in Midlothian, where he lives, he found out that the street they were on was part of a dry precinct. In January of 2017 he said he drove out to Waxahachie after Shannan got an unexpected email about a space for lease.
The building, he said, was once one of the world's largest cotton gins back in the late 1800s and there is an area for the gin under the building.
The process, from that point on, sped up. He said 20 minutes after walking in, he was in front of the city manager and the mayor. A week later, he went in front of the 14-member Planning and Zoning Commission, and six weeks later the zoning was changed to allow a microbrewery.
"Just like that we were off and running," he said. "The rest of it was federal and state stuff that we had to go through."
Richard and Shannan said they have a distribution license in the works. Their ultimate goal is to sell the beer in stores and restaurants.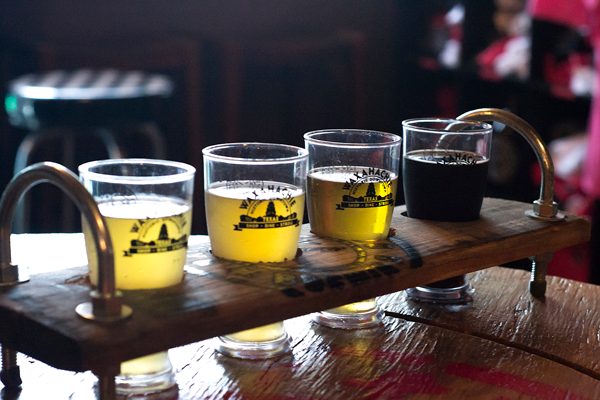 The Beer
Railport has four flagship brews.The Honey Hush is what Shannan said is the No. 1 requested beer. It's a blonde ale with a malt base and includes earthy and spicy citrus notes from local Texas wildflower honey and paradise seeds. It's what she recommends to customers who've never tried a beer.
The Railyard Ghost is wheat ale that includes German pilsner, oats, coriander, orange peel and chamomile. The Caboose, a smash Indian pale ale, uses pilsner malt and citra hops. The Bandit is an American sweet stout with notes of whiskey, vanilla bean and cocoa nibs.
Nick Petrichenko, who is a home brewer from Ovilla, said he enjoys the atmosphere in the brewery and it's nearby, so he doesn't have to go to Fort Worth or Dallas.
"My favorite was the Caboose," he said. "I'm definitely coming back to try some more."
Richard said his competition isn't other craft breweries but big brewing companies like Budweiser and Coors.
"A lot of us don't even worry about that because we like doing our own thing," he said.
Local breweries, he said, work with each other to brew different types of beers. Richard said some of his favorite beers from other breweries are from Lakewood, Deep Ellum and Revolver.
Shannan said Richard spends a lot of time at the brewery because the biggest part of brewing beer is cleaning.
"It's the hardest part. It takes the longest," she said, "It really takes a lot of dedication. Because if you're not really into it and you just want to brew a beer, but you don't want to clean up and sanitize, it's probably not going to work out for you."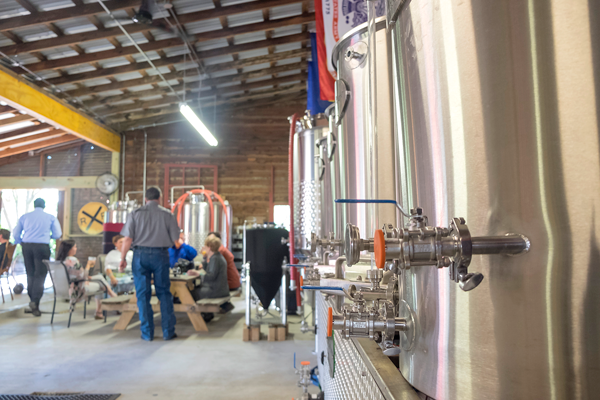 The Brew House
The name, Railport Brewing Company, refers to the railroad that runs through Ellis County.
"We're like 100 yards from the railroad," Richard said. "The train comes by two or three times a day. So it's perfect."
Located at 405 W Madison St. near downtown Waxahachie, the space itself needed a lot of work so that it could open for business. It had been vacant for a year and the previous tenant used it for storage.
"The roof out there was terrible," he said "The concrete was terrible. This was all sheetrock in here, but I saw what it could be."
Richard said he exposed the original brick in the tasting room and made repairs so the brewery would be a space that could be used. The ceiling, he said, still included some of the original beams from when it was built.
The tasting room allows natural light to spill through large windows. Edison light bulbs, maps and photos of old Waxahachie, and a dark wood finish give the brewery a rustic feel. A few modern touches, with televisions, photos and maps of old Waxahachie adorn the walls.
In the main area of the brewery, Richard had fresh concert put down. Picnic tables and wood chairs are set out to sit and watch Saturday football.
The doorways are industrial size, allowing in the outdoor air. Along the walls, Richard has a towering brewing system with large drums and a mill for crushing grain.
Richard uses a smaller brewing system for experimentation to avoid $500 mistakes from bad brews in the larger one.
Guests can play cornhole and giant Jenga in a large backyard-style area and the business can host live bands on an outdoor stage.
The Community
Kids and dogs can be found in the brewery when it's open to the public.
Richard said they give Capri Suns and juice to kids for free, have games for kids to play and offer milkbones at the bar for dogs.
Mitchell Smith, who is part of the Good Shepherd Rescue, said the dog friendly atmosphere has been helpful, allowing them to network and show that German Shepherds are good family dogs.
"In fact, some of our dogs have even been rescued or saved or adopted just because of the networking we've done up here," he said.
Shannan said she and Richard enjoy meeting people and being part of the community. She said she likes to raise money for issues that are close to their hearts.
For October, the brewery is selling pink shirts for Breast Cancer Awareness Month. They host charity events for people in the community.
"That's what's great about craft beer," Richard said. "It just brings people together, by enjoying something that was crafted, made by somebody's creativity, really."