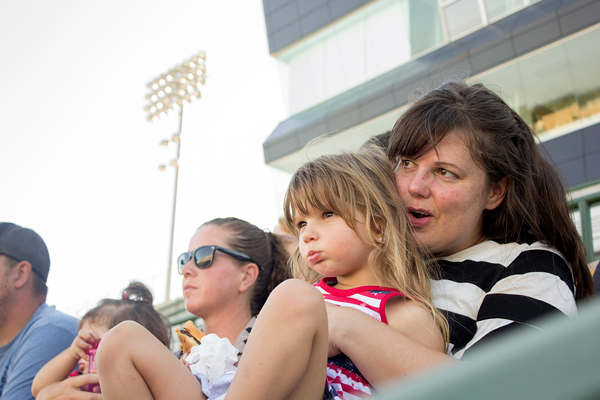 With eyes locked on the stage of the eclectically laid out Pocket Sandwich Theatre, Dusty Reasons-Thomas watches a cast of local actors as they run through a performance of "The Foreigner."
Chuckles can be heard throughout the theater from crew members as Charlie, the focus of the play, talks in a made-up language over the phone, winding the phone cord around himself and getting tangled up in the process. Some cast members study their coffee-stained playbooks in booths around the stage.
During the rehearsal, costume designer Sarah Hern shows Thomas some of her ensembles. Hern compliments Thomas for incorporating her humor into the play and casting the production so well. As director, Thomas has to make sure the cast and crew are meeting her vision for the work.
"Theatre is the most collaborative art," she said. "We have visual art. We have movement. We have sound and music. And so many people working together to create a product that is enjoyable but also a piece of art."
Thomas, the Drama Program Coordinator at Eastfield, doesn't get frustrated when one of the actors forgets a line, they keep going and she meets with them in between scenes.
Thomas has done professional theatre for more than 15 years.
Growing up, she was always surrounded by films. Her father, a movie buff, could be found in front of a screen at two in the morning.
"I was watching scary movies with my dad when I was four," Thomas said. "I probably shouldn't have because I would get nightmares and my mom would get so mad."
Her parents divorced when she was five and although she lived with her mom, she spent as much time as she could with her dad.
"My dad was probably my biggest supporter when it came to theater," she said. "I was in 'The Wizard of Oz' my senior year of high school at the community theater and my dad and my brother drove by to see me. My dad said that as soon as I came on stage he just started crying."
As a 19-year-old college freshman in Branson, Missouri, Thomas starred at the Shepherd of the Hills Adventure Park, her first professional gig. She remembers seeing her father in the same show when she was a kid, but as the bad guy. She went back to perform each year for five seasons.
Through her undergraduate studies, Thomas continued to perform at local theaters. She took a year off before graduate school and worked for her aunt, who was an event planner. Even when she wasn't in school, she was constantly working in the industry.
While working towards her master's degree in theater at Oklahoma City University, she also worked at the Oklahoma Children's Theatre. In her time there, she realized how much she liked teaching and working with children.
[READ MORE: Walker thrives on person-centeredness]
After graduating, she got an internship at NBC Universal in LA and sold everything she owned to move there. Due to a writer strike the internship fell through, but she stayed in LA and worked for Theatre East, along with other theaters in the area.
Thomas did some acting as an extra for films and waited tables but didn't earn enough to make a living.
She decided to leave LA and move closer to Missouri, where her family still lived. She accepted a job at the Dallas Children's Theatre.
With a minor in journalism, she was also an adviser for the student newspaper at Richland Community College, the Richland Chronicle. Thomas was hired as the program coordinator for Eastfield's Drama department in Fall 2010.
During her years focusing on her career as an actor, director, costume designer and educator, she would spend 60 to 80 hours a week at work.
Theater was her whole life until two little human beings were introduced into the mix. That shifted her focus.
Three-year-old Charlotte 'Charlie' and one-year-old Violet Thomas are her two energetic daughters who have become her priority.
"My first job is a mom," Thomas said. "That's my most important job I'll ever have… It's hard to be a parent, be involved and do as much as you want when you're also doing theater. You have to make choices. You have to make sacrifices. And for me, I would much rather sacrifice theater. Raising good little humans and watching them grow are really important to me."
Being a parent has made her better at time management. Her days are not only filled with class, meetings and emails, but also caring for her daughters.
Thomas' day starts at 6a.m. She and her husband wake their daughters, play for a little bit, and get them ready for their day.
"I'm usually braiding hair, putting on socks, brushing teeth, getting them water or milk or something to drink and I get my coffee ready to go," Thomas said.
Charlie and Violet attend daycare at Eastfield College's Children's Laboratory School, where they are dropped off everyday at eight in the morning.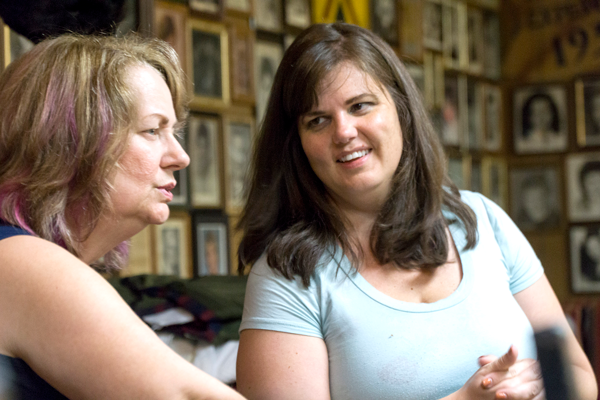 As a full-time faculty member, Thomas teaches acting, intro to theatre, film, costuming, honors film, and makeup classes.
Thomas stays involved in campus activities with other clubs and departments as the Faculty Sponsor for the Harvester Performing Arts Society.
"I'm very rarely in my office for long periods of time, except for my office hours," she said. "I'm always up and about, I don't like to stay in one place for too long."
After picking the girls up from daycare, they watch movies or spend time at a park. Charlie enjoys singing and playing, similar to her mom, which are activities they frequently do together. Before bed, Charlie asks her mom to tell her a story based on a character she makes up.
With a planner full of events, Thomas' days are filled with reminders, and she sometimes has to sacrifice time with friends and family. Still, she finds time for herself by working out and having a monthly spa day.
Long-time friend and education professor Lauren Young said Thomas shows that it's possible to have both a career and a family.
"For instance if she's costuming a play, she puts her kids to bed and then she's got her sewing machine out at her house and she just makes time wherever she is," Young said.
Besides directing and costuming plays on and off campus, Thomas also acts in commercials and TV shows. Over the summer she acted in a Cici's pizza commercial. She also appeared in the second season of the TV series, "Dallas."
[READ MORE: Leave behind your summertime sadness, become a film snob after watching these six films]
Although Thomas isn't a Hollywood celebrity, she shines a light to local theatre and is an example to students. She shows it's possible to make a creative field, like theatre into a sustainable career.
She also has musical experience as the frontwoman of 'HI M8NC,' a local rock band. She sang for five years in this band and other small bands. 
Working all of these gigs, Thomas was able to use her band earnings as down payment towards her first house.  Her last show was when she was four months pregnant.
She had to quit after the band gained popularity and it became a tiring balance with her current teaching job.  
Thomas brings her motherly devotion on set, where she is known to make an effort in theater productions and class in order to make people feel included and comfortable. During rehearsals, she will order food for the crew, aid someone with a headache or provide a listening ear.
Journalism major Josh Taylor, a member of the drama club and assistant stage manager for 'The Foreigner,' describes Thomas as someone who is very personable and available to listen to her students, whether it's a personal or an academic struggle.
"She is like the mother of all of us," he said. "She is one of my favorite teachers I've ever had throughout school because I really value a teacher who is willing to get personal with a student and invest with them, as opposed to handing them book work."
Thomas said she likes connecting her theater students to professional work atmospheres and letting them sit-in at shows and rehearsals, or having them help with the stage setup. She has plans to start her own theater company someday.
"When I started here [at Eastfield], I thought 'this is what I want to do for the rest of my life,'" Thomas said. "I enjoy the students a lot. I enjoy our program and what we do for the community. And that we provide theater and performance and a chance for the audience to escape to another world and the chance for student's to enrich their culture. So I wouldn't change it for the world."
Honeycutt provides unique work ethic, personality to the arts