District introduces progress reports to help students track grades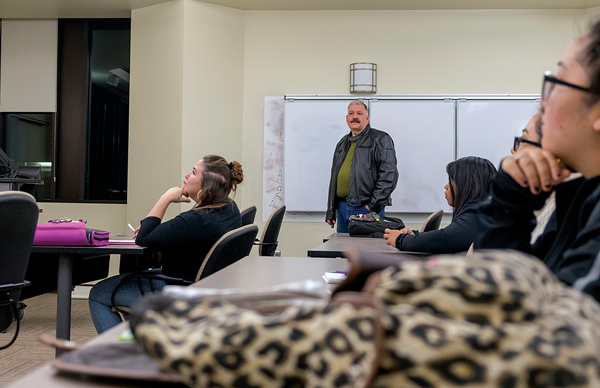 Starting this semester, students will receive progress reports for classes longer than four weeks in length.
"It's a districtwide project," Title III Director Nancy Singer said.
Any student in the Dallas County Community College District should expect to obtain two progress reports in a 16-week class, one in courses between five and 14 weeks and none for any class four weeks or less.
During convocation week, Eastfield instructed faculty to implement these progress reports into nearly all courses. Faculty were recommended to mention the new progress report policy in their syllabi and inform their classes shortly after the semester started.
Progress reports reflect students' status at that moment and do not guarantee a final grade.
Singer said that for the fall 2018 semester, a pilot system is already in place for how progress reports will be made and distributed. Professors will have a two-week window to issue progress reports that assign a grade or level of satisfaction for each student.
On the day of a report's release, students will receive a notification email. They can then login to eConnect, go to their student menu and find their progress reports under the My Personal Information section.
The DCCCD created a task force to enact measures that would ensure students received grades in a timely manner after complaints by students who said they could not determine their grades in some classes.
"One of the common concerns that students raise is that they wish they had understood how they were doing in the class earlier, that they didn't get enough feedback about their performance," Singer said. "This is a way to address that."
[READ MORE: Faculty, administration aim to establish diversity center]
Faculty and student feedback were highly encouraged by the task force during convocation week training.
"Depending on what we learn, I would suspect we might be open to making changes for spring term," she said. "It would also depend on feedback in terms of usage and the functionality of the system."
English professor Brian Roffino hopes to use his position as a certified academic life coach to use progress reports in a meaningful way. He still has minor concerns about the implementation of the new policy.
"I feel like it's another tool," he said. "If we have too much communication, [students will] just tune it all out."
Roffino said he wants his students to be engaged and know what their grades are, but he also recognizes the potential struggles with creating a rigid system for communicating grades.
In some cases, Roffino said, there isn't enough communication from professors and students.
"There are professors that don't keep up with grades until the end of the semester, and so students don't have any sense of what their grade is, which is not fair," he said.
He hopes progress reports serve as a wake-up call for students to stay focused and finish their assignments.
[READ MORE: District notifies victims of privacy breach nearly one year after incident]
If a student is struggling, he said that he encourages them to ask for advice on how to succeed, whether they are his own students or not.
"I'm always willing to coach," Roffino said. "I do expect to see more students interested in sitting down with me to solve problems and to move themselves forward after a progress report."
One benefit of using progress reports at the DCCCD colleges is that because of rising high school student enrollment, students will be more accepting of the process.
"For most of our students who have just come out of high school, they're used to getting progress reports," Singer said.
While not every student on campus is aware of the new policy, some students, especially those fresh out of or still in high school, understand the utility of having progress reports.
Lorraine Lopez, a student with an undecided major, believes that the benefits of progress reports outweigh the negatives for most students.
"They let you know if you are passing or failing and what you need to step up on," she said. "They will be beneficial because they will let your teacher see what you need help on."