Eastfield College community struggles with new cyber security requirements, processes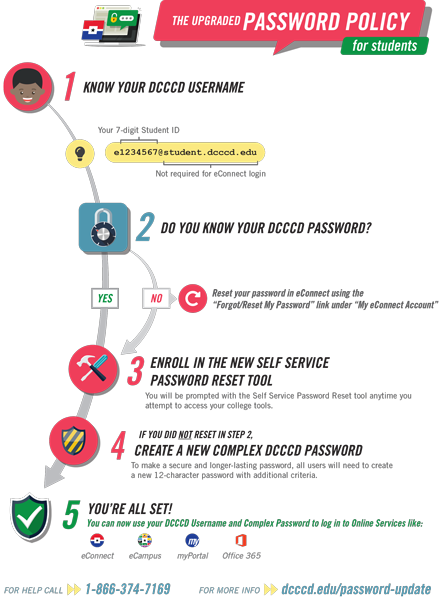 A new Dallas County Community College District password upgrade caused confusion among students and employees at the start of the semester, leading to difficulty finding classes and accessing online courses.
Anyone logging into district services such as eConnect, eCampus, myPortal and Office 356 will be required to set up a stronger password if they have not already.
Rik Jones, DCCCD executive managing director of cybersecurity and forensic services, said the change is, simply put, to enhance security.
"We're doing things like making passwords longer, stronger and more complex," Jones said. "They could pose as you, pretend to be you on Blackboard and take tests wrong or delete your homework, they could pretend to be you with your girlfriend. This prevents that."
The new passwords require 12 characters with at least one lowercase and uppercase letter, one numeral 0-9 and one special character. Depending on which computer you log in on, you may be required to use your phone to input a security code. Unlike previous passwords, this one won't expire.
"That's the industry standard now, and it's more secure," Jones said. "You aren't coming up with a password on the spot every time it expires, so you have more time to think about it. That and the longer, more complex passwords mean it's more secure."
Jones also expects students will like the new one password system more. The same password for eConnect is now used for student Outlook emails and Blackboard. Students who are signed into their student Outlook are also signed into Blackboard, and vice versa.
While some students said the change was too complicated to work through in the beginning, they did like the ability to use the same password for everything.
Ayomide Ajayi, a kinesiology major, said he likes the permanent password and the ability to use it for everything, but when he was first logging in, the complex process for creating the new password was too difficult.
"It's a security thing, and I understand, but maybe they should emphasize on security after we log in," Ajayi said. "We need to log in to see our schedule and everything."
Nursing major Ana Ramies said it would not have been such an inconvenience if the district had notified the college community earlier.
"I understand the concept,t but it's just irritating," Ramies said. "The only good thing is one permanent password for everything."
Ramies said if the change had been announced and phased in earlier, it would have been better. The sudden change at the start of the semester made it difficult to get to information quickly when she needed to.
The process requires students to set up their new password before they can access anything, including Blackboard, eConnect and student Outlook emails.
For employees, the process is more complicated. They are required to set up at least five of the 20 available security questions, a phone number for two-factor authentication and other steps for password recovery. Any system not connected to secure DCCCD Wi-Fi will not allow immediate login.
Employees, including dual credit teachers from high schools, will need a code sent to them via text message or phone call whenever they attempt to login on a non-secure device or computer.
Any employee with an office can also designate their office phone as a recovery number in case they get locked out of their account.
Work-study students and student employees were required to use the same security as employees.
Joe Coreas, a developmental math professor, said he hasn't had too much trouble with the verifications since he downloaded an app that replaces the need to receive text messages.
Developmental writing professor Selena Stewart-Alexander has had more trouble with the new system.
"I've gotten so many text messages to do the authentication," Stewart-Alexander said. "I wish we could just go back to changing the passwords every 90 days."
Stewart-Alexander said she had to spend an entire half period of one of her classes helping students log in. In eight-week format, she said that time is especially valuable. The district representatives in the Welcome Center were a saving grace, she said.
"I can just direct students to go to C-127 now," Stewart-Alexander said during the first week of classes. "I don't know how to help students. … I hate meetings but it would have been a good thing to have a time where we get together and they say, 'OK, here's how you do this.' "
The district representatives will be on campus Friday, Sept. 7, in the morning.
For more information on the new passwords, click here.