Campus commences new year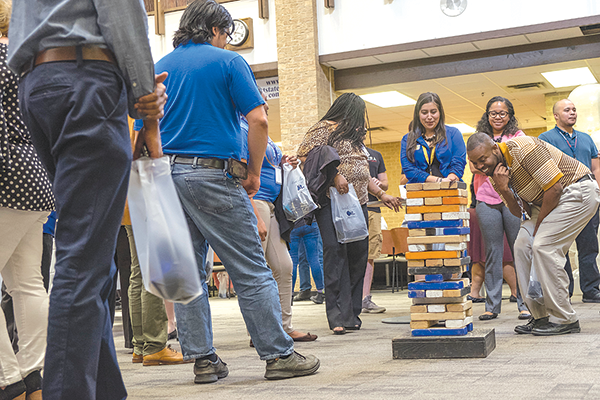 Eastfield's Focus and Finish initiative could be paying off, as the school's contact hours growth is exceeding headcount growth for the first time in more than 10 years.
"You know what that means?" said college President Jean Conway during Thursday's Convocation. Students are "taking more hours per person. That's eight-week, folks."
As of Friday, enrollment was 14,850, 23.6 percent ahead of the same time last fall. Contact hours have increased by 24.3 percent.
Focus and Finish was one of the central themes during Convocation. The new marketing campaign was created to encourage students to take more classes and complete their certificates, degrees or transfer plans faster.
Too many students linger in community college or stop classes altogether, Dallas County Community College District records show.
As part of the initiative, Eastfield has converted a large portion of fall and spring courses into eight-week terms instead of the traditional 16 weeks. This allows students to create unique course schedules that have two classes during the first half of the semester and then two different classes in the second half. The advantage is that students could take two classes at a time and still be full-time, officials say.
A professor who served on the committee to plan the new eight-week terms, Daniel Murphy, explained why Eastfield thinks this transition will work.
"The idea is that if you are part-time and you feel you can only handle one class at a time, you are still doing only one class at a time but you're taking two every 16 weeks," he said. "If you take one class every 16-week semester, it will take you 12 years to complete. Let's be completely honest. Not many people are going to finish at that point."
[READ MORE: To bee or not to bee? No question about it: Eastfield adopts new mascot]
Conway, who will retire this semester after a new president is hired, also discussed goals to increase enrollment and graduation rates, hire more staff and full-time faculty, expand community and business partnerships, and overhaul campus facilities.
In the days leading up to Convocation, employees participated in professional development training. Topics included the new progress reports policy, how to support the LGBTQ+ community, a demonstration of the campus' new 3D printer and advice on vocal care for professors.
The two training sessions about the LGBTQ+ community hosted by Chris Schlarb and Katy Launius from the Office of Student Engagement and Retention offered information about gender, sexuality, pronoun use and other ways faculty and staff can be aware of student needs.
The Disability Services Office explained the variety of ways they provide physical and academic accommodations to students.
The DSO reassured faculty that they would not be required to lower course expectations and standards. They made it clear that disabled students still have responsibilities and should meet with professors to discuss services.
Title II Director Nancy Singer explained a new district policy that mandates faculty update students on their class progress mid-semester. Students can expect to get two reports for 16-week classes and one report for eight-week classes. Classes under five weeks in length won't have progress reports.
"We've increased the graduation rates significantly: 267 percent [within 10 years]. That's amazing," said Conway. "But you know what? It's still only 13 percent [that graduate] and it's not enough."