Departing VP uses faith, education to persist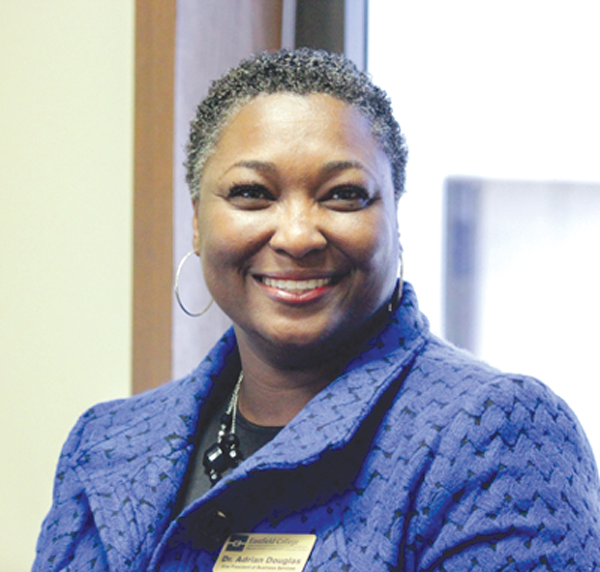 Adrian Douglas woke up and couldn't bend her body. The pain had taken over. Douglas was expecting. After being unable to conceive in her first marriage, Douglas and her second husband, Bruce, were finally pregnant.
Throughout her pregnancy, however, she had experienced sharp pains in her abdomen.
At around 22 weeks pregnant, she woke up to unbearable pain. She phoned her doctor immediately, who suggested she come right in.
Before leaving the house, Douglas went to use the bathroom.
Bruce Douglas was in front of the house, when suddenly he heard her screaming.
Bruce Douglas said the scream sounded primal and he knew something was wrong. He rushed inside the house and dialed 911 before entering the bathroom.
Douglas had given birth a 1-pound baby girl that the couple later named Angel.
"I had baby Angel in my hand," Bruce Douglas said. "She was breathing. I was talking to her, telling her 'Hold on baby. You're too early.'"
He immediately tried doing CPR on Angel, the 911 operator talking him through it.
Angel lived for 48 minutes.
Bruce Douglas said he wanted to be mad at God for taking their baby, but it was his wife's faith and positivity that allowed them to keep praising God as they moved forward.
Douglas, Eastfield's vice president of Business Services, has prevailed in her life because of her unwavering faith.
[READ MORE: Kwinton Gray strives to tell stories through music]
From a single-parent home to a doctorate, she has prioritized education and will continue her journey in higher education when she leaves in May to take on the role of president for Cloud Community College in Concordia, Kansas.
As an 8-year old, Douglas didn't miss a Sunday at True Vine Church in Alexandria, Louisiana. During her childhood she was the only one in her household who would attend church. As her mother and siblings stayed home, she would attend services with her grandmother. It was a small church that held about 80 people, but it's the place where her faith first began to grow.
"I really enjoyed going to church," she said. "As a kid, I knew enough to somewhat understand what the pastor was preaching, but there would be times when I would ask my grandmother and aunt what certain words meant."
Her mother raised her, along with her older brother, alone for years until her mother met her younger brother's father. When she would go home to visit her father, she doesn't know if she would see him drunk or sober.
Her mother stressed education, didn't believe in missing school and not going to college wasn't an option. Her mother would fill out their FAFSA and make sure they got any free income they could.
As a teenager, Douglas knew she needed an education to achieve a lucrative and fulfilling career.
"My first job was at Wendy's and I hated it," she said. "They wanted you to make the sandwiches and have them ready by the time the person was finished saying their order."
Douglas graduated high school and attended Southern University, where she obtained a bachelor's degree in accounting. She later got her master's degree in business administration from LeTournea University and her doctorate in community college leadership from Colorado State University.
The day Douglas was leaving Louisiana for Colorado, she was in an accident that totaled her car.
"I received a call from her saying, 'I need you to drive me to the airport,'" Bruce Douglas said. "Mind you, her car was still in the middle of the road. I thought she was crazy. But it also showed me this woman is determined and won't let anything get in her way."
[READ MORE: Student's herbal hobby steeped in ancient culture]
Higher education has allowed the Douglases to live comfortably and enjoy life. She wants to give back and serve the community, that's what she chose to work at a community college.
"The mission of the community college is a place that can provide open access to everybody," she said. "Anybody can get in, tuition is affordable and students can commute and go home."
Eastfield President Jean Conway said that Douglas has been a leader for many initiatives at the college, such as implementing a new budget building process and being a leader for the master plan blueprint.
"We will miss her leadership and her friendly, collaborative approach to all issues," Conway said in a campus email. "We want to wish her much success in this new role leading another college toward excellence."
In addition to professional success, Douglas and her husband finally completed the family she had always wanted by adopting a daughter, Braelyn, now 8.
With Douglas and her husband both having doctorates, they expect Braelyn to follow suit.
"If she can't beat us, she has to meet us," Bruce Douglas said.
And as Douglas takes the next step, she is relying again on her faith to lead her.
"It's God, family and then everything else," she said. "I believe this is the pinnacle of my career because everything I've done up to now, this will be a catalyst for bigger things. … As president of Cloud Community College, I'm going in to look at how we can tie into things to help people get out of poverty. I'll look at it as an assignment so we will see what God says."