Students search for lupus treatment, win scholarships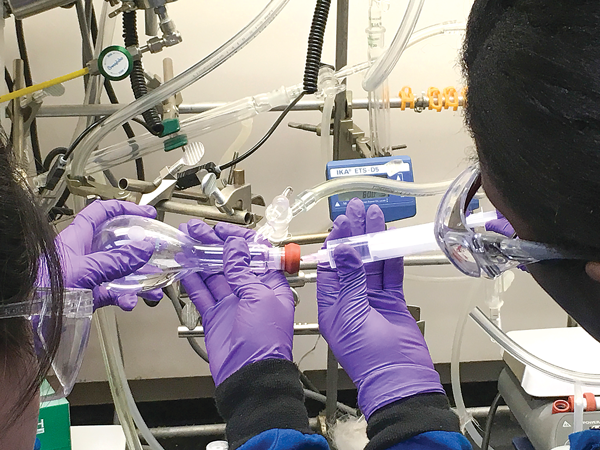 A group of Eastfield students placed third in a state science competition hosted by the University of Texas in Dallas, with each winning a $1000 scholarship to the university.
Angelica Avila, Rachel Howell, Christian Orozco and Vianney Sanchez worked on the project, which is designed to test a type of lupus nephritis treatment, with UTD PhD student Milana Thomas.
"These were some of our best and brightest students here," mentor and coordinator Murry Gans said.
The students used Cytoxan lupus medication, delivered via small particles of a stimulus-responsive hydrogel, to test their ability to release lupus treatment directly to a selected organ through heat delivery.
"We thought, 'well maybe this could one day be used in a real project,'" art conservation major and team member Vianney Sanchez said. "All of us had connections to [Lupus]. My aunt has it. I think, out of the group of four, three of us were close to someone who had it."
They planned to also include metallic particles in the treatment, which could have given them the ability to trap the hydrogel in the kidney before applying heat through infrared rays, causing the medicine to treat just the kidney, but ran out of time.
"I think eventually it would be great to do that," Sanchez said. "It would be so helpful, not only to people who have Lupus but any disease in general."
[READ MORE: New 'roadmaps' boil down degree planning]
Gans said that the experiment didn't work the first time the team tried it, so they didn't have the time to test with the metal particles.
"The first time we did it, it was total failure," Gans said. "It takes about four to five hours to run the experiment, so it was real time consuming."
Avila said so many little details went wrong in the first attempt that they couldn't move forward before getting those details right.
"Once we went back and saw what we needed to change we finally got it," Avila said. "It was a super exciting moment."
The students had access to the graduate lab at UTD with PhD student Milana Thomas for two Saturdays.
Most of the communication about the project took place on the weekends on Skype.
The contest, whose scholarship is available through the Young Women in Science and Engineering program, was among high school and community college schools.
Eastfield placed behind a high school that claimed both first and second place.
The team from Mountain View College did not place and Richland College's team dropped out, leaving the Eastfield team as the only college group.
Gans said he was proud of his students, especially considering that they did this on their own time while high school students had class periods in school dedicated to their projects.
He was proud of his students for choosing a challenging project. Other, simpler projects would have been less time consuming and easier to execute, he said.
"We could have built a drone a flown it around to crash it and fix it," Gans said. "That would be kind of meaningless, but they decided to tackle something they were actually interested in. This is above and beyond."
Sanchez, one of the students in the team, said the experience she had working with others on the experiment is one of the biggest things she is walking away with.
Sanchez will be attending Texas A&M this fall, so the scholarship the team won will not apply to her tuition there. The three other students will be attending UTD.
Avila wants to return to the project when she transfers UTD and try to add the metal particles to make the delivery method useful for real life application.
"A lot of us are going to UTD in the fall, so hopefully we can pick the experiment back up," Avila said.