Criminal justice graduate killed in the line of duty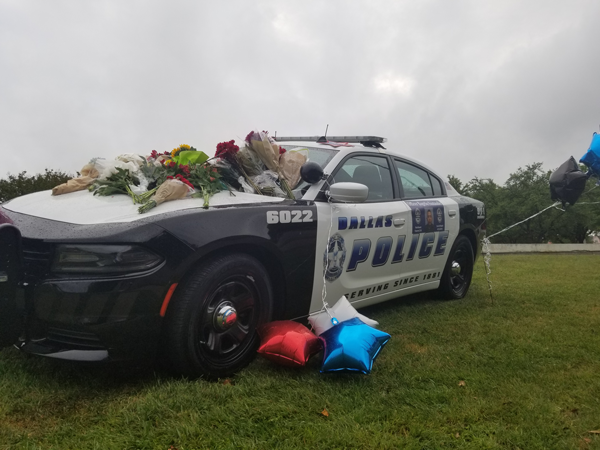 By JAMES HARTLEY and COLIN TAYLOR
@JamesHartleyETC
Dallas police officer and Eastfield graduate Rogelio Santander died April 25 after being shot while on duty.
Santander and Officer Crystal Almeida were responding to a call at a Home Depot in Lake Highlands when the two were shot.
Santander, 27, graduated Eastfield with an associate degree in criminal justice in 2012 and joined the Dallas Police Department on Dec. 3, 2014.
Patrick Patterson, criminal justice program coordinator, called Santander a hero, but said he didn't know him well. He remembers Santander as a quiet student who came to class and then left for work.
Santander is the ninth Dallas police officer to die in the line of duty in two years.
Police arrested Armando Luis Juarez in connection with the shooting.
[READ MORE: Redactions to police records keep students in dark]
Police say Juarez shot Santander and Almeida when they tried to arrest him on a felony warrant. A loss prevention employee was also wounded in the shooting.
Juarez fled the scene and was arrested after a manhunt, police said.
Dallas Police Chief Renee Hall said the department is heartbroken.
"Our hearts are very heavy," Hall said at a news conference, asking for prayers for the officers and their families the day of the incident.
Mayor Mike Rawlings said he is upset to see the dangers and lack of respect police officers face.
"It sobers us to realize what officers walk into, day in and day out," Rawlings said at a news conference. "And how quickly they can become victims."
Patterson said Santander was one of the students who stuck around after going through his introduction to criminal justice class, where students learn about the high attempted suicide and divorce rates in law enforcement as well as the dangers of the job.
"I tell people all the time, in criminal justice you're not going to be liked," Patterson said. "You may be respected, but you're not going to be liked. People do not like people who stand for what's right."
Patterson said he was surprised to see in the photos on the news how much Santander had changed since he was in the introduction to criminal justice class.
"When he was here, he still had the boyish face," Patterson said. "After he became a cop, he became a little bit more rugged. I know that look a mile away. The job makes you grow up quick, and you carry a lot of stress with you. You may not think so, but it's going to show."
Santander graduated from Skyline High School, attended Eastfield and transferred to Texas A&M-Commerce.
In 2015, he returned to Eastfield for a certificate in criminal justice and also attended El Centro for a Certificate of Dallas Police Recruitment from El Centro.
A public visitation was held April 30 and the funeral was held May 1.
"This young man went to school for what he wanted to do, and he did it," Patterson said. "That's what I'm most proud of him about."