(East)field of Dreams: New plan to improve campus in board's hands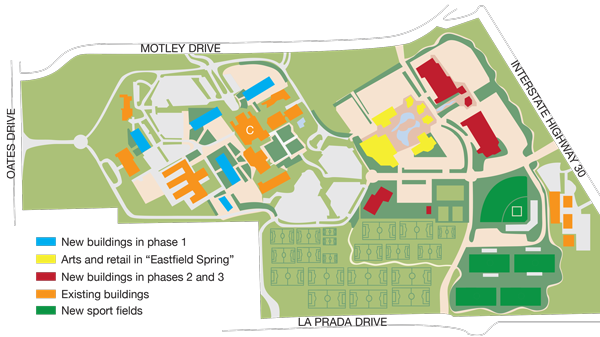 — Video by David Silva
Eastfield would demolish N, A and F Buildings and add a new retail and fine arts center and tournament-level sports facilities under a proposed master plan for the campus.
The master plan, which started at Eastfield and became a Dallas County Community College District-wide initiative, aims to predict trends in education and future needs for district campuses and get ahead of the curve.
Eastfield's master plan calls for more than 15 new buildings over 20 years. New buildings will be built before old structures are demolished.
The plan would also move the entrance of the college to face Interstate 30.
At this point, the master plan is more like a dream plan, Vice President of Business Services Adrian Douglas said.
No price estimates have been placed on the changes, and the master plan could be turned down or modified by the Board of Trustees.
"We know what our plan is, which we feel really good about," Douglas said. "So if we're asked, we know if we need to prioritize things."
There's no indication yet as to how long it will take for the Board of Trustees to make any decisions on master plans.
History professor Matt Hinckley, president of Eastfield's Faculty Association, said he personally supports the master plan.
"My first impression was just how ambitious it is," he said. "What a good vision for the future of this college it is. The college is approaching 50 years old. A lot of our facilities are aging and in need of a lot of maintenance. Some of them are just out of date. Our infrastructure is woefully inadequate. When the college was built, most of the buildings didn't even have elevators."
Hinckley said that inaccessible bathrooms, too few power outlets for computer labs and student power needs and poorly built foundations all mean Eastfield is in real need of new structures to replace those that will not last.
Some structural issues, due to buildings on campus being built on a manmade hill, cannot be fixed, President Jean Conway said during a recent presentation to the Board of Trustees.
Those buildings that are structurally unsalvageable — N, F and A — will be demolished if the plan is approved.
The plan, which is broken down into five-year, 10-year and 20-year phases, also includes forming a partnership with the city of Mesquite to create a retail and community space around a natural pond and the new fine arts center, dubbed Eastfield Springs. Eastfield Springs will occupy the current baseball field on campus.
"It's important for people to understand that everything is phased," Conway said. "It's not all going to happen at once. We've got plans for, 'Well, you're going to tear down this building, what are you going to do with us?' So the plans are truly looking at that."
Hinckley said the new education buildings and new fine arts building sound like good ideas, as long as they are done right.
"If they build a fine performing arts center, will it have the same number of classroom facilities and the same number of art studios and the same number of music practice rooms?" Hinckley asked. "Or an increased number to accommodate growing student demand in the new facility? I think they should, obviously. If they don't that would be a problem, but let's hope that they do."
Douglas said the whole master plan is designed to be flexible and that planners will continue to gather community input on designs and functionality, especially for classrooms in any new buildings.
"There may be teaching methodology that we are not even anticipating," Conway said. "If we, in our plan, make it so that spaces are flexible, then it will let the teaching process and the learning process evolve."
Conway and Douglas said adequate space is one of the primary concerns around the master plan.
Some details, such as what faculty offices will look like, are still under consideration.
"I think where we will look at going is offices that can be modular, that can be also flexible spaces so that we're able to adjust and accommodate staff and needs as we see fit or as we deem necessary," Douglas said. "It could be that there could be fewer offices, more open spaces with cubicles, we don't know. But it needs to be something that can be flexible, and right now with office spaces and doors, with everyone right there, it's not very flexible."
Conway stressed that faculty and staff input will be an important part of the process throughout the execution of the master plan, especially when it comes to details that directly impact them as users, such as office space.
"We will present, 'Here's the challenge, help us solve this,' " Conway said. "It's important that the users of those spaces help us with the solution."
The first master plan forum since the board heard the proposal will be held on April 12 at 2 p.m. in room S-100.
Hinckley said that faculty might not be supportive of modular offices from a safety standpoint.
"Most faculty opted to have their windows frosted," he said. "I think that they want to feel secure in their office, so a cubicle kind of office where you don't even have a door would certainly become a security concern for a lot of our faculty."
Hinckley also stressed that classroom flexibility should include the ability for any classroom to become a computer lab when needed.
He suggested offering laptop carts to classrooms so that professors can pull them out or leave them in the cart, depending on their needs.
Eastfield also hopes to see national sports tournaments come to campus.
This would require building a new baseball field and four new soccer fields.
Currently, every sport at Eastfield goes out of state for national tournaments, and baseball and soccer go out of the district for regionals or tournaments.
"We don't have anywhere for those tournaments in the district," Conway said. "They're revenue producing."
The sports complex is not the only renovation aimed at increasing revenue.
With the Eastfield Springs idea, Conway said the college hopes to better the local economy through a partnership with the city of Mesquite.
If the plan moves forward, Mesquite and Eastfield would like to have retail and restaurants in the Eastfield Springs area, with the focal point being the natural pond on campus and the planned new performance arts center.
Douglas said that would also increase the aesthetic appeal of the campus.
"Students want to be in a beautiful, inviting place," Douglas said. "It's what draws them here. It's the first thing they see when they come to our campus. They don't see a class. They see grounds."
Planners want to see more green, park-like space on campus, where students feel comfortable spending time outside.
Patios and "sticky spaces," areas where students gather outside of class to study, hang out with friends and meet for group projects, are a big part of the design.
"We can have just different inviting spaces for students because we want our students to be on campus as much as they want to be and need to be," Douglas said.
Other aspects that planners have taken into consideration are sustainability  (Douglas said she expects the buildings to be built to Leadership in Energy and Environmental Design standards) and safety, as well as addressing the need for a new maintenance and facilities space that is closer to what will become the campus center.
The Pleasant Grove campus will also undergo some renovations under this plan, which may require some community partners such as chambers of commerce to relocate off campus.
This would allow the campus to offer more courses that Conway said some leaders at the campus have been requesting.