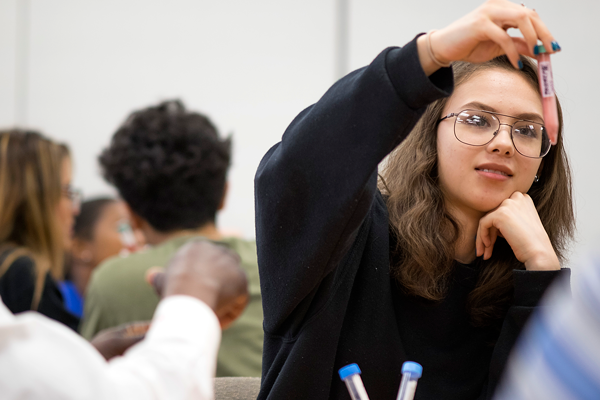 With topics ranging from fetal pig dissections to learning how to repair stroke damage in mice, Eastfield's STEM week showcased current science-related research.
The week, which was held March 5-9 and sponsored by the Science, Technology, Engineering and Math Division, featured games and activities along with opportunities to participate in creative learning.
The week kicked off with a STEMinar presented by a post-doctoral fellow at University of Texas Southwestern Sterling Ortega. Ortega told students about studies surrounding the immune system of a mouse and its part in stroke recovery.
In Ortega's lab, the research on mice focuses on observing a stroke and the effects it has in the mice with hopes of finding better stroke rehabilitation methods for humans.
"How do we help [stroke patients] recover?" Ortega asked. "Most people would say, 'Well, it's a brain disease, let's help the brain. The neurons that got damaged or killed, let's replace them.' We do that, but we don't go directly to the neuron, we use the immune system… the white blood cells in your blood."
Architecture major Abednego Leal said that he was glad he attended the STEMinar even though he went on a whim.
"I always knew about lab mice being used to research medical science, but I had no idea that the immune system could play such a pivotal role in rehabilitation for strokes," he said. "Learning about that made the presentation go from mildly interesting to truly fascinating."
Other events included a solar observation and a demonstration in the chemistry lab.
Attendees to the solar observation had the opportunity to look through a telescope and observe a solar minimum, a period where the sun displays little to no sunspots. This occurs in a cycle every 11 to 12 years.
In the chemistry lab, facilitators demonstrated the use of a variety of chemical mixtures to change the color of flames to vibrant reds, blue-greens and purples.
Other experiments included a chemical reaction that spouted a rainbow of foam, milk that appeared to move on its own thanks to an added drop of dish soap, and the magic of a reigniting candle.
Wednesday featured a not for the faint of heart fetal pig dissection hosted by biology professors Pebble Barbero and Danita Bradshaw-Ward. Participants donned latex gloves to poke and prod the organ structure.
"We chose to dissect a pig because it is most like a human, and just to kind of give the students an idea of what it looks like inside them," Barbero said.
When students asked about what are the differences between a pig and human organ structure, Bradshaw-Ward explained how the reproductive systems differ, such as humans having pear-shaped ovaries and pigs having oval-shaped ovaries.
"Female pigs can have litters, and we are not necessarily designed to have litters," she said. "We have multiple babies, but usually over three is rare, and it's quite difficult for a human female to carry that many children."
Students had the opportunity to learn how easy it can be to extract DNA from strawberries as well as from themselves on Thursday.
The ingredients needed for the extraction were items found in almost any home: dish soap, a meat tenderizer and cold 70-percent alcohol.
Students stored the DNA they extracted from strawberries or their cheeks in small vials and made them into necklaces to take home as gifts.
On the last day of STEM week, a trivia contest was held testing students' knowledge of leading female figures who were unparalleled pioneers of their time. Contestants were tasked with identifying the person's name given only a brief description of some of their work and accomplishments.
Once the contest was over, three winners were given a coupon for a free Subway sandwich.
"Our main goal, as always, is to expose the students, staff and other faculty members to the wide variety of topics that occupy STEM," said Amy Vance, interim executive dean of the STEM Division.
When asked what topics she might want to see presented next year, Vance commented on how well Eastfield's sports teams have been doing and how she wanted to see something that would tie in with them.
"I would like to see something related to the physics of sport or food chemistry."