Women's panel examines where #MeToo is today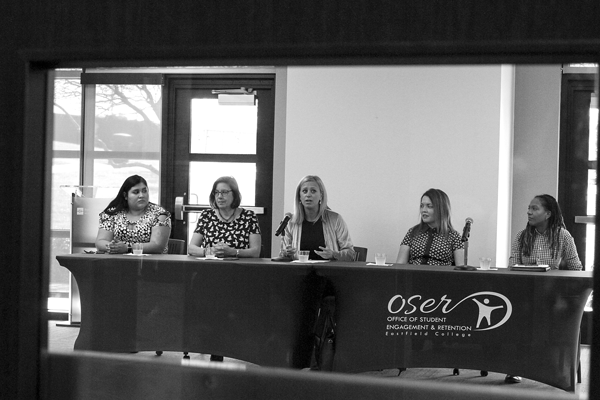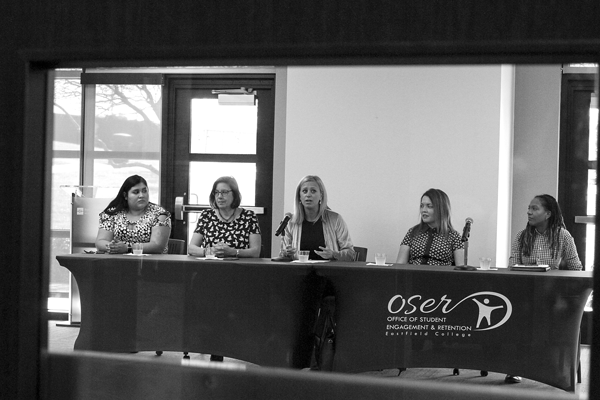 The #MeToo movement has encouraged thousands of women to speak up about their stories of sexual assault and discrimination in society today. Women like Judith Dumont, who told students about her own story of sexual assault during a panel discussion March 22.
"I was date raped at 16, and I didn't speak up about it until I was 24," she said.
Dumont said that after attending the women's march on Washington she was, "glad that I shared my story and I'm going to keep talking about it."
Dumont, the executive dean of Workforce, Corporate and Continuing Education, was one of five women who sat on the women's panel. Although most Americans now know about the #MeToo movement, the truth is that it started long before any of the recent stories involving celebrities surfaced. Fellow panelist India Stewart, a sociology professor, pointed out that  people might not know it, but this movement did not start with Harvey Weinstein.
"#MeToo as a movement was started by a woman of color," she said, "We don't necessarily acknowledge the work that Tarana Burke has been doing for a very long time."
Burke, an African-American civil rights activist, started the #MeToo movement back in 2006 on MySpace. While the lawsuits against Harvey Weinstein and other high profile men has brought major attention to the #MeToo movement, they are only a piece of the ongoing story. For Dumont, the #MeToo movement is about empowerment.
"The legacy I want to provide for future generations is that you don't speak up after it happens, you speak up as it's happening" Dumont said.
Aley Salcedo, a former Eastfield student leader of the year, spoke about having an active voice in local government.
"How many of you live in Mesquite?" Salcedo asked students.  A few hands rose up across the room. "I will tell you right now, I have never seen you guys at a town hall meeting."
Salcedo shared her experience about speaking up to the Mesquite city council and why she voices her opinion on issues such as bathrooms for transgender citizens.
"When they started the bathroom bill, I was on it, because if someone is doing everything right and yet they can't go to the bathroom of their choice because of how they identify. That's wrong, and it makes no sense," Salcedo said. "We have come across this idea today that if you vote it doesn't really matter, bologna, it does matter and you really can make a difference."
Joanna Cattanach, Democratic nominee for Texas House District 108, spoke about being a women in politics and the harassment she has faced from both men and women.
"I know what it's like to experience sexual harassment in the workplace and I know what it's like to not report it," She said.
Cattanach also said women in the #MeToo movement have had an impact on politics.     
"Until last year, the Texas state legislature didn't have a sexual harassment policy," she said, "there was no punishment for it because there wasn't a policy against it. The #MeToo movement helped bring that to light. It's not just the men. Women are vicious to each other and  when we take part in dehumanizing terms we are all lowering the level of conversation."
Tracy Everbach, a professor of journalism at the University of North Texas and co-author of "Mediating Misogyny," picked up on the issue of harassment on the internet, but said that social media is not all bad.
"The women's march came to fruition because of social media," she said, "Someone had an idea the day after the election and began sending messages out via Facebook and Twitter and the whole thing came together."
She pointed out that although the #MeToo movement has been good, there are consequences to social media.
"The book that we recently came out with discusses this problem of women getting harassed on social media by rape and death threats simply because they are willing to speak out,"  Everbach said.
She also talked about holding social media providers accountable for the content they allow on their platforms.
"Social media companies are going to have to start taking responsibility for these types of comments because social media is no longer just a place where we go to share photos of our families," she said.
During the audience questions segment, Dumont said knowing when someone is okay with how you are acting towards them is critical to making sure you have their consent.
"Consent is always about if it can happen, when it can happen, and how it can happen," Dumont said. "And when those three things are taken away from you, that is when it becomes dangerous."