2018 Primary results: Professor wins on election night, Burkett loses state Senate bid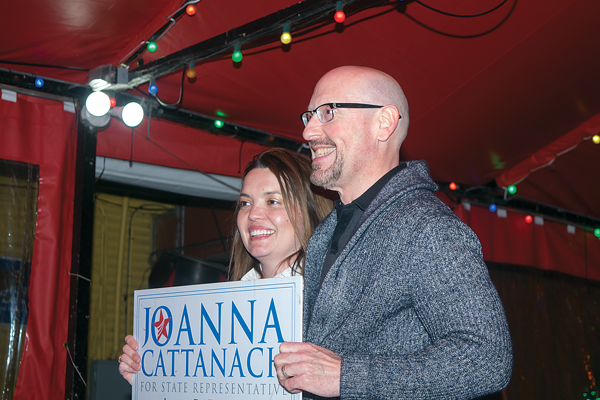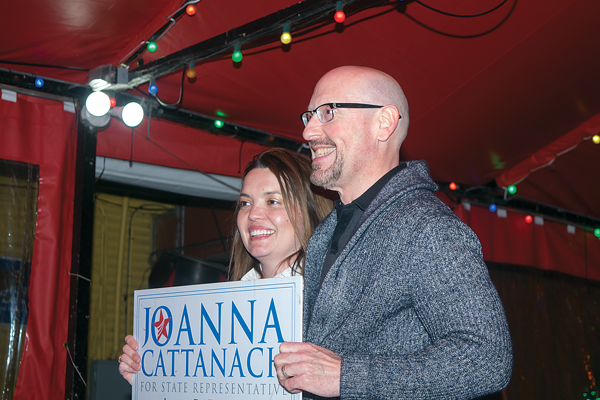 Eastfield graduate Cindy Burkett lost her bid for a seat in the state Senate while adjunct professor Joanna Cattanach won her race, earning the Democratic nomination for House District 108.
Burkett said that the hardest part of the race had been the personal attacks.
"It's been really nasty," she said. "We worked it really hard. You could always do something different I guess. … But we've put about 16,000 miles on my car since Sept. 5, just being out in the district."
Partially in response to President Donald Trump's victory in the 2016 election, Democrat voter turnout was unusually high for a Texas midterm primary. More Democrats entered traditionally uncontested elections this year, prompting speculation of a possible "blue wave."
While Republicans held a lead in voter turnout, according to early voting numbers, Democrats did record a notable jump in turnout from 2014 midterm primaries.
This year, more Democrats voted than in the 2014 midterms. Republican turnout, on the other hand, worried some party leaders.
Abbott sent out a call to Texas conservatives to get to the polls in the middle of early voting, seeing the Democratic turnout surge. While turnout in the primary election does not impact directly the results of the general election, it can be a good indicator of what to expect in November.
Races on both sides went uncontested, but every U.S. House seat in Texas had a Democratic candidate, a rarity in the deep-red state.
Hall vs. Burkett
One of the most divisive races on the Republican side was between incumbent state Sen. Bob Hall, R-Canton, and Burkett, R-Sunnyvale, who gave up her seat in the Texas House of Representatives to run against Hall.
The two attacked one another in ad after ad, arguing about which candidate could claim the title of most conservative.
At press time, Hall had a 7 percent lead over Burkett, with 75 percent of precincts reporting. Hall will face Democrat Kendall Scudder in November.
As supporters shuffled into the small conference room in the Springhill Suites in Rockwall, a campaign staffer set up a lop-sided projector to cast a live-updated spreadsheet of the results. The first wave of results, 6 precincts, showed Burkett with a lead of only a few hundred. While the supporters chatted and ate party foods, the mood felt tense. There was a good chance Burkett would lose.
She said herself that, while she had a gut feeling she would secure the Republican nomination, the race would be a "nail-biter"
Terry Reid, 64 of Sunnyvale, said she was hopeful but uncertain about what the night would bring as the first wave of reports came in.
"Cindy Burkett personally goes out and touches more people and she always has," Reid said. "She walks her neighborhoods all year long, unlike some people who just go walk two weeks before the primaries.  But she's been outspent. They've spent hundreds of thousands of dollars against her, and that makes it hard."
The Burkett-Hall race was contentious to begin with. Nasty, as Burkett put it.
It was characterized by back-and-forth volleys of dramatic political attack videos, with deep voices and supposedly damning facts about each candidate's opponent.
At 10 p.m., the race was still close. Burkett took to the center of the room to say she wasn't giving up hope, but that supporters who needed to go home should go.
"It's shaping up to be a long night," Burkett said. But nobody left.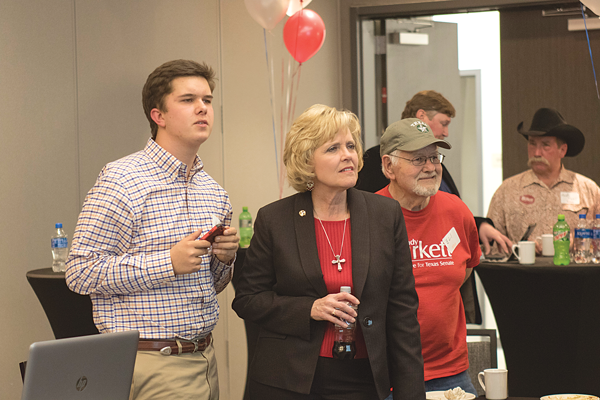 Cattanach vs. Duffy
Cattanach, an adjunct journalism professor and Democratic candidate for the District 108 Texas House seat, was either at the polls or walking neighborhoods every day of early voting.
She sat with fellow Democrats, all women running for office for the first time, around a patio table at Manny's Uptown Tex-Mex restaurant in Dallas. Between announcements from Brandy Chambers campaign manager Tina Sohne and returns scrolling across the bottom of two TV screens showing "American Idol," the women waited anxiously for election returns.
Catannach's race, unlike Burkett's, was not tight. She defeated Zac Duffy 63 percent to 37 percent, at press time.
She will face off with Rep. Morgan Meyer, R-Dallas, in November. Meyer has been uncontested in his primary in the last two elections, securing his seat in 2016 with nearly 73 percent of the vote. He won in 2014 by nearly 61 percent.
Cattanach's race mirrors many across the state in which Democratic, first-time candidates are challenging Republicans in seemingly secure seats.
Cyndi Garza, a 45-year-old member of the Texas Latina List, said she hopes the blue wave opens up dialogue about differing ideas.
"The other party has good ideas and we have good ideas," Garza said. "Nothing is black and white and nobody's talking anymore. Everybody gets in their little corners and sticks to whatever extreme point and there's a lot of people in the middle."
Brandy K. Chambers, a Democrat running for Texas House in District 112, was uncontested in her primary. She is preparing to face incumbent Rep. Angie Chen Button, R-Richardson, in November.
"I want the overall election result numbers to show Democrats that we can make a difference," Chamber said. "That we do have hope, that if we actually show up and believe we can make a difference then we will."
Cattanach said she is looking forward to getting some sleep before she begins her challenge against Meyers, but that the work is not done.
"It's never been won by a Democrat, never been won by a woman, never been won by someone who didn't live in Park Cities," Cattanach said. "All of those are real challenges. Challenges for another day, not tonight."
Governor
The Democratic race for governor will go into a runoff between former Dallas County Sheriff Lupe Valdez and native Houstonian Andrew White, who both failed to reach more than 50 percent of the vote Tuesday.
Republican Gov. Greg Abbott found little competition in his race to secure his party's nomination for a second term in the governor's mansion.
He will face off in November with the winner of the Democrats' runoff.
Dallas County Sheriff
With the retirement of Lupe Valdez from the Dallas County Sheriff's office, the seat had multiple contestants.
Democrat Marian Brown and Republican Aaron Meek, who graduated from the Eastfiled Criminal Justice Training Center, came out on top in their primaries and will face each other in November.
— Aria Jones contributed to this report