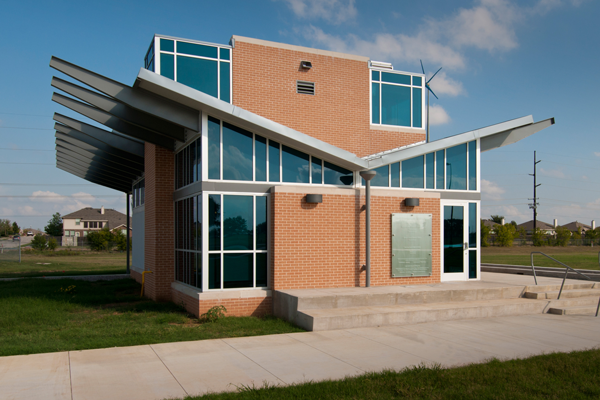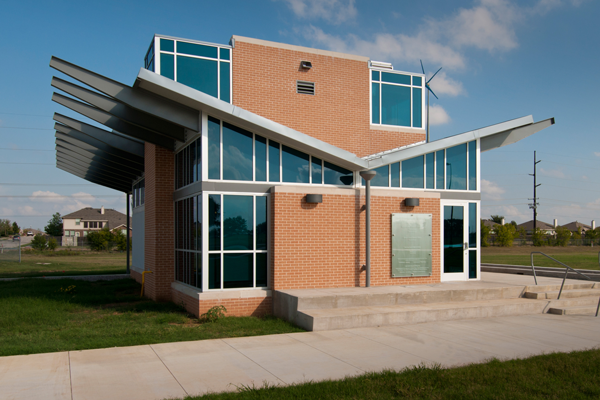 By Karina Dunn
The opportunity to make zero energy homes a standard rather than an exception is getting closer thanks to research conducted at locations such as the Zero Energy Research Lab at UNT's Discovery Park.
To achieve net-zero energy use, renewable energy resources such as solar, geothermal and wind are combined to power a building. If done right, the system creates excess energy to return back to the power grid.
At UNT's lab, researchers use a centralized computer system to measure how efficiently energy is used. Their goal is to reduce the amount of wasted energy humans produce, getting as close as possible to a net of zero wasted energy.
The program's adviser, Dr. Yong Tao, designed the lab. He spoke last month at an Eastfield Science, Technology, Engineering and Mathematics seminar.
"By using these technologies more, buyers and implementers would make the right decisions to change the status quo and adapt further change," Tao said.
According to eGauge, the lab has used approximately 2.08 megawatts per hour of energy over the last 30 days, which translates to about $270.81. The amount of total energy generated is 234 kilowatts per hour, or 0.234 megawatts. A net of about 1.85 MWh was purchased, approximately $240.28. With a savings of around $30, the lab could save $360 per year.
"By understanding these things, future occupants or seekers, homeowners, have a knowledge of this energy efficient technology," Tao said. "Make the right choice to implement the policy and challenge the status quo."
According to Tao, energy consumption ties directly to human activity, and when people understand that they might make adjustments to save energy and spend less on bills, reducing overall energy use.
"It's [difficult] to convince people to change their behavior on moral and financial grounds," Tao said. "Hopefully, this will convince people to change their lifestyles … or convince [willing politicians] to adapt policies to implement the technology."
Visitors and students are invited to the lab to conduct research or act as volunteers, working in the lab as they would in real life to determine how a human presence impacts energy consumption.
Because the zero energy technology exists on a grid, he explained, the energy produced by using household appliances — such as refrigerators — or through daily activities — such as opening windows — can be recycled using an energy renewal system.
The lab includes living and work areas so researchers can study the effects of human activity on energy consumption directly. Due to the impact of human behavior and activity on energy consumption his field also includes work with psychologists.
"Energy is multidisciplinary, meaning there are many subjects and areas involved," Tao said.
Robert Xiong, founder of Helios Oil and Gas Equipment, completed his graduate studies at UNT with Tao from 2011 to 2013. He said energy conservation is a hot topic, and scientists must relate their research to "real life."
"The [grid] allows a way to change one factor in the lab at a time," Xiong said. "In one to 10 years, we can compare different changes and know which factor is most important to predicting energy consumption over the next 20 years."
In 2003, Tao, five at Florida International University faculty members, three staff members and more than 300 students participated in the second annual Solar Decathlon. As a team, they were tasked with building a single family home that incorporated solar energy and sustainable construction.
"It was a chance for me to take a hundred or so students… and gain hands-on experience," Tao said. "That's where I learned a lot more about [construction] design."
While the decathlon took place in 2003, competitors did not learn the results until 2005. It was then that each zero energy home was transferred to the U.S. National Mall for judging. Tao said his team won "several awards… related to the impact of thermal science and solar applications." According to Tao, solar power and energy efficient designs did not appeal to mainstream interest at the time, so he witnessed the advances in the technology as it developed. Tao himself believed it to be an emerging area of research, an interest that led him to the studies he conducts today.
Over time, Tao wants to expand the research performed at UNT. After overseeing the construction of a zero energy home in China and a few other labs in the U.S., Tao would like to see the project taken to another level.
"My favorite part is having a real research facility, being able to materialize a dream to have a real house and a real building," Tao said. "I would like to see an entire zero energy community. I see a village with many buildings, restaurants, shops, so we can get zero energy homes employed as soon as possible."