Media Days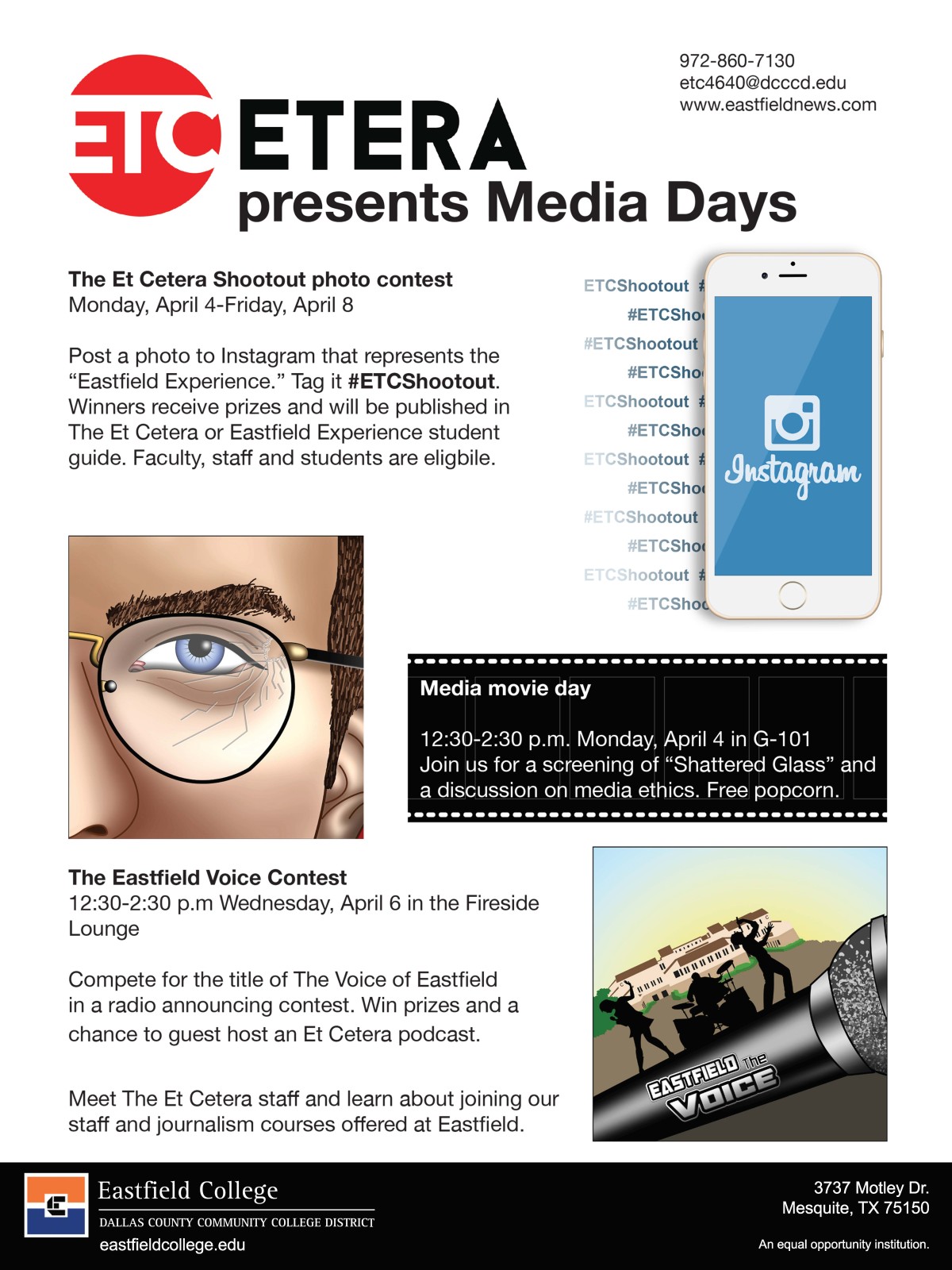 Rules
The Voice
Contestants must be Eastfield students and may register in advance. Only 15 contestants will compete. Pre-registered contestants who arrive late to the contest will lose their spots.
Contestants will be given a script and have several minuted to prepare before performing. Judges will weigh delivery, voice-modulation and poise. The best announcers will appear to be talking rather than reading.
Each judge will choose a top contestant from Round 1 who will compete in a second round for the title of The Voice of Eastfield. The winner will receive prizes and the chance to co-host an Et Cetera podcast.
ETC Shootout
Post a photo to Instagram that represents the "Eastfield Experience." Tag it #ETCShootout.
The contest starts 8 a.m. Monday, April 4 and ends noon Friday, April 8. Winners will be announced on social media Friday afternoon.
Submit a photo that represents what the "Eastfield Experience" means to you. Is it a club or organization? Could it be the nature and the landscape of the campus? What about quirky actions of your friends in the Pit or a teacher in the classroom? Capture your best photo expressing your "Eastfield Experience" and then post to Instagram using the hashtag #ETCShootout.
Photos will be judged on originality, composition, overall impact, artistic merit and subject matter relevance to the Eastfield Experience. Judging will be conducted by a panel of Et Cetera employees and at least one guest judge with photography experience.
Winners receive prizes and will be published in The Et Cetera or Eastfield Experience student guide. Faculty, staff and students are eligible.