ETC Photo Shootout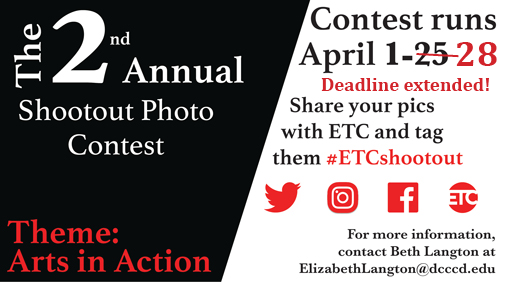 In connection with the Literary & Fine Arts Festival, The Et Cetera student newspaper is holding a photo contest.
Post a photo to a social media account – Instagram, Facebook, Twitter – that represents "Arts in Action." Tag it #ETCShootout and share it with TheEtCetera.
The contest starts April 1, 2017, and ends noon Friday, April 21. Winners will be announced on social media the week of April 24.
Use the monthlong Literary & Fine Arts Festival as inspiration.
Photos will be judged on originality, composition, overall impact, artistic merit and subject matter relevance. Judging will be conducted by a panel of Et Cetera employees and at least one guest judge with photography experience.
Winners receive prizes and may be published in The Et Cetera or Eastfield Experience student guide. Faculty, staff and students are eligible.