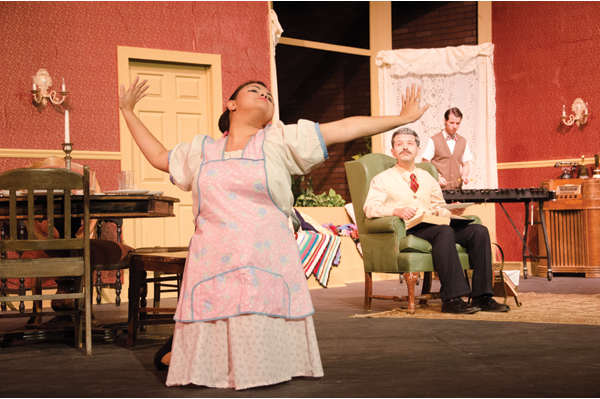 By Kristen Dixon, Staff Writer
When looking for happiness many people concentrate on money and power.
In "You Can't Take it With You," a play performed by the Eastfield College Harvester Theatre Department last week, the Sycamore family finds happiness through simplicity.
This production's humor was so contagious, the audience couldn't help but laugh.
Unfortunately, because of low attendance on opening night, few people were able to enjoy the energetic performance. The small crowd did not deter the actors from putting on a hilarious show.
The play is about the struggle of Alice Sycamore, played by Ashley Vessells, to prove to her future in-laws that her family is normal and not the mess they actually are.
The Sycamores find joy through a simple life while the Kirby family, Alice's soon-to-be in-laws, are the exact opposite.
They are prosperous and well known in the business world. Mr. Kirby runs a corporation, and his son Tony, played by Tanner Keeling, is the vice president.
Tony and Alice met at work and fell madly in love.
Alice was afraid her family would make the Kirbys rethink letting their son marry her. She set up a day to have them over where she could orchestrate a perfect appearance. Tony had other ideas. He brought them over a day early so they could see the real Sycamore family. I loved the chaos it caused.
The visit blew up just as Alice had feared. Just as the night was ending, Paul, played by Colby Calhoun, and Mr. De Pinna, played by Morgan Solórzano, blew up the basement with fireworks. This landed everyone, including the Kirbys, in jail.
Vessells and Keeling give strong performances in their leading roles. Their love for each other is seen with every look and simple gesture. Instead of just blurting out memorized information, the emotions appear real.
I especially liked the scene where Tony and Alice share a sweet kiss just before Alice's grandpa walks in to say goodnight.
Other notable performances were given by Kayla Anderson, who played Gay Wellington, and Lindsey Stewart as the grand Duchess Olga. Both portrayed their characters excellently.
Overall, "You Can't Take It With You" was comical and the cast put on a great performance. Even though the audience was small, the cast performed as if the house was full. The play showed that happiness can be found without power and even people who come from completely different worlds can find love.