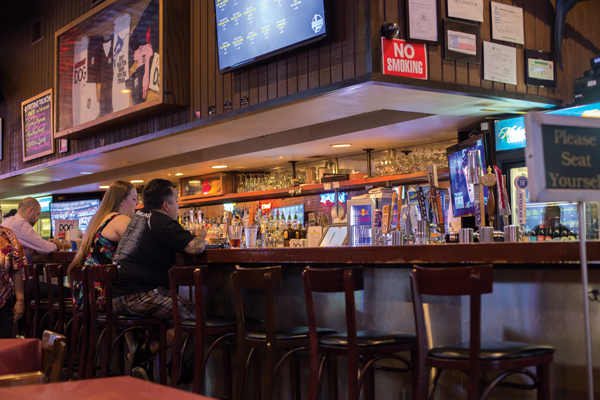 By MACKS PREWITT
Reporter
@TheEtCetera
There are two types of people in the world: those who like to spend money and those who don't.
I am someone who can easily talk myself out of almost every purchase I want to make.
Except when it comes to food. I will spend money on food more than anything else.
However, it does have to be good food.
Angry Dog, located at 2726 Commerce St. in Deep Ellum, has food that is not only worth the price but also the drive into Dallas.
To quote the Angry Dog homepage: "We are a bar and we serve the best bar food around."
Items on their menu include nachos, hot dogs, burgers, grilled cheese and the occasional chicken-fried steak.
I had "The Burger," and it was definitely in the top three best burgers I've ever eaten.
[READ MORE: 'Woptober' revives everything bad about 2000-era rap]
The meat was seasoned and cooked extremely well and the toppings blended well to make a delicious meal.
The fries that come with the meal are served in a dish shaped like a dog bowl and are the paragon of potatoes.
Our server told us to try the fries first before adding salt, and they were perfect the way they were.
Sean Belknap, my brother-In-law, got the nachos and said he would definitely order them again.
Chips topped with cheese, sour cream, guacamole, beans and your choice of chicken, beef or both.
Angry Dog has a great location among the small local shops that populate Deep Ellum's streets.
If you are going to a concert at the nearby Bomb Factory, look no further than just around the corner.
If you are window-shopping at the numerous boutiques that line the roads, stop by, rest your feet and grab a bite to eat.
Like any restaurant, it does take a while for you to get your food.
But the wait staff is friendly, the service is great and the time flies by because it's so easy to relax.
[READ MORE: Movie Review: 'Joneses' puts new twist on spy genre]
Before you know it, you are digging in to some of the best eats in Deep Ellum and Dallas.
Angry Dog is a bar and grill in the artsy part of town that serves admittedly "bar food."
But this bar food is some of the highest quality food I've ever tasted.
With orders at an average of $9 a piece, Angry Dog is the place to be.
Plus there is beer.
I don't know if that is a deciding factor for you people, but if it is, then they have it.
It is a bar, after all.