Iris Bechtol sharpens her craft of sculpting, painting, photography and teaching by pushing herself and others to step outside of their comfort zone
By MAYRA ROSALES-MONTOYA
@TheEtCetera
Iris Bechtol walks among the artwork in Gallery 219, viewing a show she curated from the best of student artwork. Sculptures sit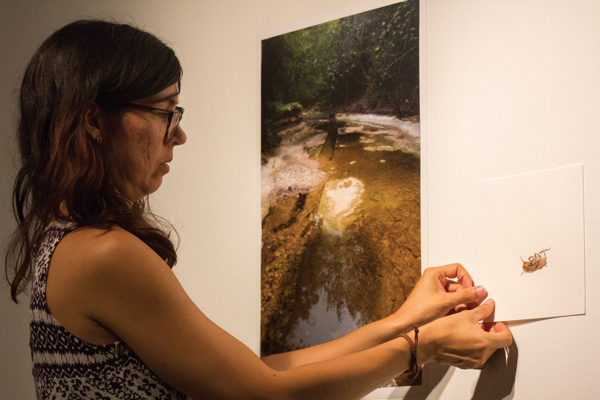 atop white podiums, and paintings and drawings created with a variety of techniques and colors line the walls.
But Bechtol is drawn to an unobtrusive piece, a white lump wrapped in thin strings hanging from the ceiling.
It's by far the most minimalist piece in the room, but she sees past the lack of detail.
"There's a weight and tension and quietness to the piece," Bechtol said. "I'm really drawn to these pieces that aren't necessarily what you would visually look at and say, 'Oh, this is really beautiful.' But it's actually beautiful to me."
Bechtol, campus galleries director, curator of the permanent art collection and an art professor, teaches in the same room where she sat as a student in the '90s.
Art professor David Willburn, a former classmate of Bechtol, said she uses her experience in art and the manipulation of a material to teach her students ways how to express their creative personalities, said
"She wants people — students, me and you — to think, to always be thinking about what we're seeing and thinking about why we are looking at the things we're looking at," he said.
Bechtol earned a bachelor's degree in fine arts at the University of North Texas and a Master of Fine Arts from the University of Texas at Arlington. Before working at Eastfield, she was the art gallery director at El Centro College.
[READ MORE: Students, faculty and staff submit their 'Eastfield Experience' photos during #ETCShootout]
Bechtol curates shows for the two campus galleries — Gallery 219 and H Gallery — from student, faculty and professional work. She also oversees the college's permanent collection of 142 art pieces displayed across campus. Though she admires contemporary art, Bechtol tries to offer diverse works.
"Most of the time, we have our own perception of how we view the world," she said. "We also have our own ways of transforming those perceptions and making something. … You have to be careful not to only present your own taste."
Artist Melissa Mohammadi met Bechtol over social media through mutual friend Willburn. The women admired each other's work, and Bechtol invited Mohammadi to present a piece alongside hers in last month's "In Good Company" show.
"I haven't known her very long, but I've loved communicating with her and I think she's really passionate, very warm and generous," Mohammadi said.
Bechtol sculpts, paints and practices photography. Her current work is focused on changing photographs into other forms of art, "examining the manufactured archive that is photography, how it is manipulated, how it shapes perception and usurps the real," she says on her website, irisbechtol.com
Students show up to classes with a wide range of experience, Bechtol said.
"Some students may have more exposure to contemporary art, and so they might take more risks," she said. "Some already come to us very skilled."
[READ MORE: Despite glossy look, 'Resident Evil 4' rerelease pointless]
Some have no experience, and others thoughtlessly throw work together and call it "art," Bechtol said. She pushes all her students to consistently question their own work.
"Even as someone who is a professional artist, if you're satisfied with what you're doing, you're going to just make boring work," she said. "If you keep pushing yourself, then your work gets better, or at least it's unexpected and interesting."
Willburn said Bechtol's love for life and nature make her a great artist, teacher and curator. Her style reflects her smart personality and her unique way of perceiving things in life.
"It's very conceptual," he said. "It's driven by an idea, and then materials are brought into place to sort of represent the ideas. … She is a thinker. She wants to make work and she wants to look at work and she wants to show work that engages people in a kind of higher order of thinking. Which is why I think she is perfect for a college environment, because she is so invested in critical thinking in her own life and in her own work."
— Emily Martinez and James Hartley contributed to this story
[READ NEXT: Wilder's legacy persists through film, humanitarian works]