'Bridge' plot thrills, exhilarates, entertains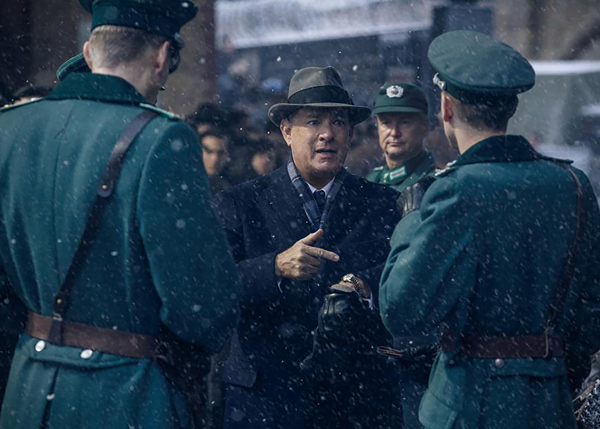 The Cold War heats up in Steven Spielberg's new dramatic thriller "Bridge of Spies."
When the FBI captures a Soviet spy in New York, the Bar Association asks insurance lawyer James B. Donovan (Tom Hanks) to step up and defend the man in a court case due to his known patriotism and his proven ability to fight criminal cases in court.
Soviet spy Rudolf Abel (three-Time Tony Award winner Mark Rylance) stands strong in his claim that he is not indeed a spy at the start, but as he gets to know Donovan he opens up about his real life in Russia.
Rylance provides a stunning performance. One emotional scene stands out among the rest, where Abel tells Donovan that the lawyer reminds him of a man who Abel knew as a child. When partisans, Soviet men in favor of Nazi Germany during World War II, came to
Abel's house and beat his mother and father to death, the man was beat as well. However, the friend of Abel's father stood back up every time he was knocked down, earning him the name "Standing Man" and causing the partisans to let him live.
Abel honors Donovan by giving him that name.
The second half of the film feels like a separate movie.
After Abel is convicted and sentenced to 30 years in prison, the spy plane of Francis Gary Powers (Austin Stowell) is shot down and an American student studying in Germany is arrested on suspicion of being a spy. Donovan is asked by the CIA to negotiate a trade for Powers, but not for the American student.
Donovan, however, is determined to rescue both through cunning and sheer skill in negotiating. "Bridge of Spies" is everything we've come to expect when Spielberg and Hanks work together.
The drama is thrilling and intriguing, and Spielberg impresses again with his ability to prove that cookie-cutter films are not the only ones with the potential to be blockbusters. Avoiding cliches, useless characters and plot devices that can cause clutter, screenwriters Matt Charman and the three-time Academy Award winners Ethan Coen and Joel Coen weave an intricate, electrifying story based on true events and people.
Like "Woman in Gold," "Bridge" shares an emotional and fascinating true story in a rarely seen form. Spielberg manages to match his other historical dramas such as "Saving Private Ryan" and "Lincoln" in the massive scale of the film and the level of intensity. Spielberg and his star-studded cast captivate through the suspenseful moments, such as when Donovan is thrown in an East German prison.
Another is when Powers is shot down by the Soviets. He fights to reach his aircraft and activate the self destruct by climbing up an oxygen tube as he plummets from 75,000 feet.
Hanks' charismatic personality shines through in the role of Donovan as he struggles at first to uphold the constitutional right to a fair trial, then later on as he works to free two Americans in exchange for one Soviet spy.
The film exhibits no noticeable flaws. The story is captivating, the acting is stellar, the cinematography is perfect and the movie is overall electrifying.